LeBron James Hired a Security Firm To Follow Bronny James To His Basketball Games
As LeBron James takes on the NBA playoffs, there's another team he's always rooting on with everything he has. LeBron "Bronny" James Jr. is a member of the Sierra Canyon Trailblazers, who thankfully aren't up against the elder James' Los Angeles Lakers. The high school squad, one of the best in the country, might actually do alright if they came up against some pros, though.
Bronny might have the most famous name, but he's a developing freshman player at the backseat of this fearsome teenage team. This is where kids with a real shot at going pro come to play. It's his name that makes life a little different, even as he rapidly improves on the court. So how do the other kids handle all the excess international attention?
Teenage Bronny James can't escape his world-famous legacy
It doesn't matter what Bronny does on the court. He will always get more attention than anyone else on whatever team he joins. He's even got the most cameras on him when he comes up against other young legacy-saddled players. Bronny went scoreless against Dwayne Wade's kid Zaire, per Bleacher Report, yet most coverage focused on the son of King James nonetheless.
Bronny's privilege is obvious. He grew up around the game, with an intimate connection to someone who has seen and done it all. He has institutional knowledge that other players don't. But his name comes with a cost, too.
He will never be able to develop at his own pace, instead suffering from the pressure of constant cameras, SportsCenter highlights, and paparazzi stalking. Bronny gets a leg up, sure, but the pressure of expectations weighs far heavier on him than the average player.
Why LeBron James hired a security firm to shadow his son
RELATED: Why Charles Barkley Believes ESPN is Exploiting Bronny James
As soon as Bronny joined the Trailblazers, the curious crows started showing up to see him. A freshman, 14 at the start of the season, he was unlikely to get much playing time before his older, bigger, more experienced teammates. Yet the crowds still came to see him. The school and Bronny's dad were prepared with a solution: a seven-man security team, as the New York Times reports.
If that seems like a bit much for a high school kid playing with and against other schoolboys, think again. CNN reported that a disgruntled fan threw what looked like a yellow Starburst at Bronny.
It was likely a result of frustrations over James Jr.'s celebrity status and Sierra Canyon's losing 70-62 effort. But that was one of only three losses for the entire season, highlighting how absurd and awful the moment was.
How Bronny James and his team manage to stay loose despite all the pressure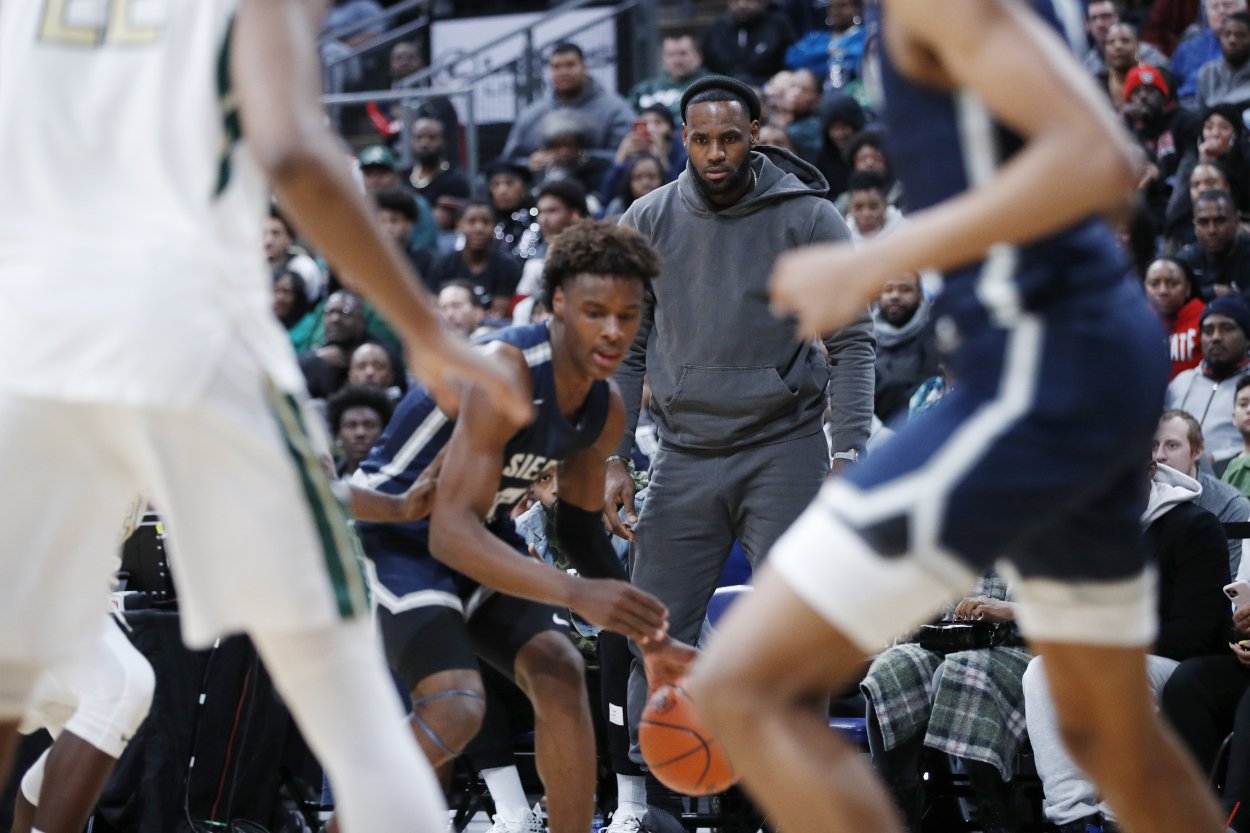 Bronny is quickly rising through the Trailblazers' ranks. Three players, in particular, are setting the example he follows: Amari Bailey, Ziaire Williams, and Brandon Boston Jr.
All three are no-doubters for Division I recruitment and have strong cases for the NBA. They have their own followings, but mainly from the recruitment side of things. How do they cope with the extra attention on the young addition to their squad?
According to the Undefeated, they don't bat an eye at any of it. In fact, they're having the time of their lives. Taking advantage of Bronny's security, they're able to get private moments amongst themselves to act like goofy teens.
Insulated from the barrage of media requests and stalking paparazzi, they're known for trading candy, playing video games, and having big laughs together. If this is what the future of the NBA looks like, it should be a fun ride once they're ready.