LeBron James' Insistence on Apologizing to Isaiah Stewart Proves He's Still Desperate to Uphold His Reputation
LeBron James is well known for his off-court philanthropy. He's given back quite a bit to his hometown of Akron, Ohio, including funding the I Promise School for at-risk kids. The Los Angeles Lakers star seems to be a legitimately good guy who does a lot for his communities. But there's plenty of solid PR strategy surrounding LBJ as well, which helps protect his image when he does make mistakes.
After James and Detroit Pistons forward Isaiah Stewart got into a scuffle (to put it mildly), LeBron tried to apologize on the court. But he also reportedly reached out and tried to get Stewart's phone number to apologize again.
The fact that this second attempt to make amends became public comes across as another PR move to keep the four-time MVP's reputation squeaky clean.
LeBron James and Isaiah Stewart had a dust-up during the recent Lakers-Pistons game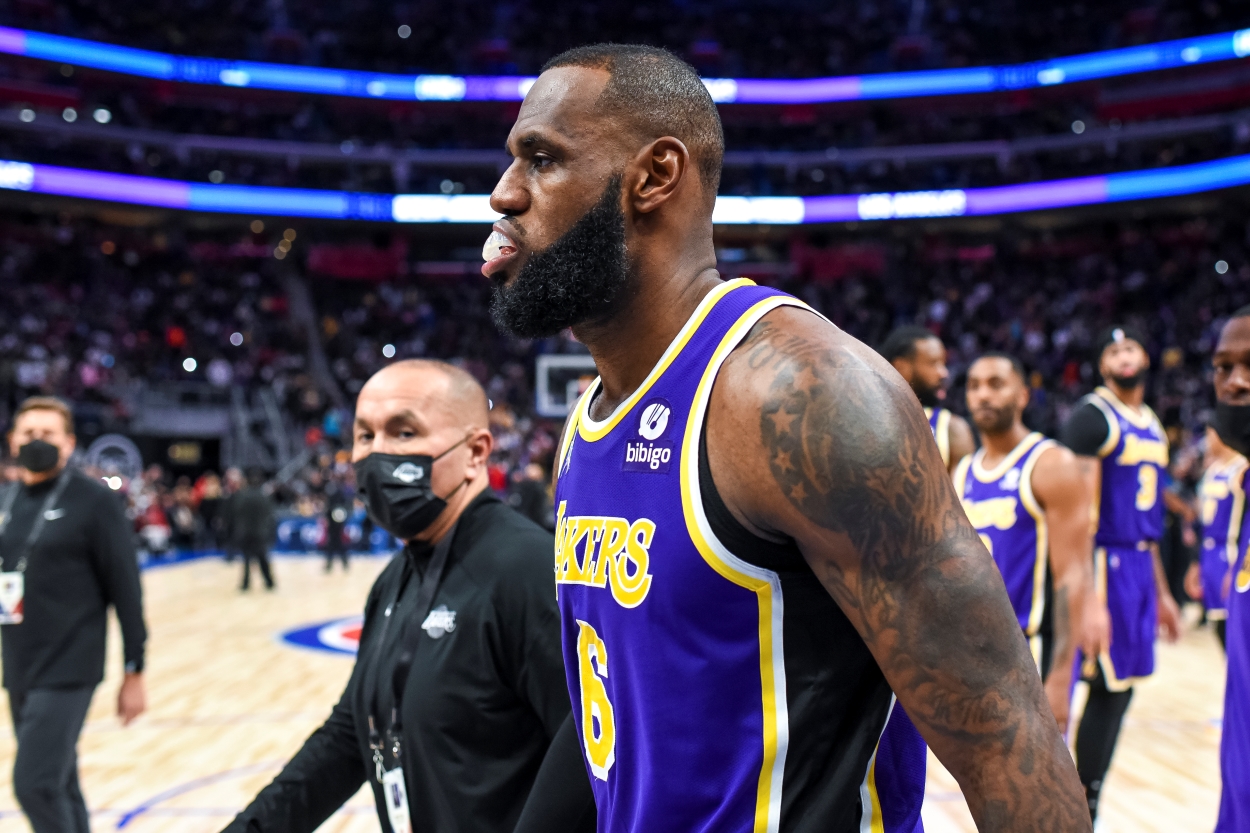 During the third quarter of LA's game in Detroit on Nov. 21, James and Stewart were boxing each other out on a free-throw attempt. Whether intentionally or unintentionally, LeBron's closed fist caught the 20-year-old squarely in the face.
Stewart — bleeding profusely — went right back at The King. He had to be held back by teammates and coaches. Then he ran back at James and needed to be restrained again. And again.
Both players were ejected and subsequently suspended by the league — the four-time NBA champion for one game and the second-year Washington product for two.
The fact that this happened in Detroit made the situation even tenser. The Malice at the Palace in 2004 will always be in the back of NBA fans' minds whenever a serious fight breaks out. That was definitely the case when Stewart was repeatedly going after LeBron in a full rage.
The next day it was made public that James attempted to get Beef Stew's phone number to issue another apology.
Another request for forgiveness is admirable. But it doesn't have to be leaked publicly.
LeBron's second effort to reach out looks like another PR stunt
Trying to contact Stewart again appears to be another one of LeBron's PR acts as he tries to keep his image as the face of the league spotless.
During an appearance on The Pat McAfee Show, Shams Charania of The Athletic said, "I'm told LeBron James did try to track down Isaiah Stewart's number postgame to apologize to Stewart again and let him know that it was an inadvertent hit to his face."
Is it a bad thing that James wanted to apologize to Stewart again? Of course not. But why do we need to hear about it publicly? (And if the punch was intentional, which it certainly could be, this entire thing looks even more fake).
And this wouldn't be the first time James and his team have tried to make Bron-Bron look good.
"The Decision" was a poor call by LeBron. His national TV special announcing his move from Cleveland to Miami wasn't the best look. So that was followed up with a "What Should I Do?" commercial, according to CriticalMention.com, where James asked if his decisions should be made based on what the public wants him to do.
Of course they shouldn't. But the commercial made him appear apologetic and humble.
The 36-year-old is a constant media presence. But behind some of those appearances are attempts to make sure LeBron is painted in a positive light.
That's nothing new for celebrities. But there are few people in the world as famous as LeBron James. His image needs to stay clean. If he's suspended for punching another player in the face, damage control needs to kick in ASAP, and it did.
The next step for LBJ would be to get LA rolling on the court
The "scoreboard" taunt has always been unrivaled. The Lakers, though, haven't been able to drop that one very often this season.
The 2020 NBA champs are 9-9 and sit ninth in the Western Conference. Plenty has been made of Anthony Davis' inconsistencies and Russell Westbrook's clunky fit. But LeBron has also missed 10 games due to injury.
Add another one to that list via suspension.
But if the 36-year-old returns to the court after his punishment and leads LA on a winning streak, most of the discussion surrounding this incident will fade.
LeBron and his crew have done what they can to make this situation look as good as possible. (We obviously don't 100% know that it was someone from James' camp who leaked the information. But the entire situation seems a little fishy.)
Winning clears almost all ills, though — if James wants to put this controversy in the past, producing on the court and helping the Lakers win games is the best way to do it.
Like Sportscasting on Facebook. Follow us on Twitter @Sportscasting19.