Lebron James Is Closing in on an Embarrassing NBA Record
LeBron James may still look, act, and play like a man 10 years younger, but the fact is he's moving into the later stages of his career. As he does so, James will get the opportunity to set multiple records as he collects more statistical achievements. That's not always a positive, however, and there's at least one NBA record James will likely set that could be downright embarrassing for him. 
LeBron James' career overview
In one of the least shocking selections of all time, the Cleveland Cavaliers made James the number one overall pick in the 2003 NBA Draft. Almost immediately, James showed he had the ability to become a star in the league.
He led the undermanned Cavs to the NBA Finals by 2007 though they were swept by the San Antonio Spurs. In 2010, James departed for the Miami Heat along with Dwyane Wade and Chris Bosh. He'd lead the Heat to four Finals' appearances, winning two. 
James returned home to Cleveland in 2014, eventually helping the Cavs win their first-ever championship in 2016. James made the NBA Finals every year from 2010-2018. The 2018-2019 season, his first with the Los Angeles Lakers, was the first year he didn't appear in the Finals since 2009.
Over the course of his career, James has racked up some unbelievable stats on his way to establishing a Hall of Fame legacy.
Where LeBron James stands among the all-time statistical leaders
On his way to becoming one of the greatest to ever play in the NBA, James has compiled some amazing statistics over the course of his career. His career accomplishments involve a fast climb up the leaderboard on countless statistical categories. This includes:
Third all-time in points
Eighth all-time in assists
Eighth all-time in minutes
Fifth all-time in free throws made
In 2018, he also became the youngest player ever to score 30,000 points, passing the late, great Kobe Bryant. James was 33 years and 24 days old when he joined the 30K club while Kobe was 34 years and 104 days old. 
While James' place on the top 10 in many categories is proof of his greatness, there's one leaderboard he'd probably rather not be so high on.
The one embarrassing record LeBron James is closing in on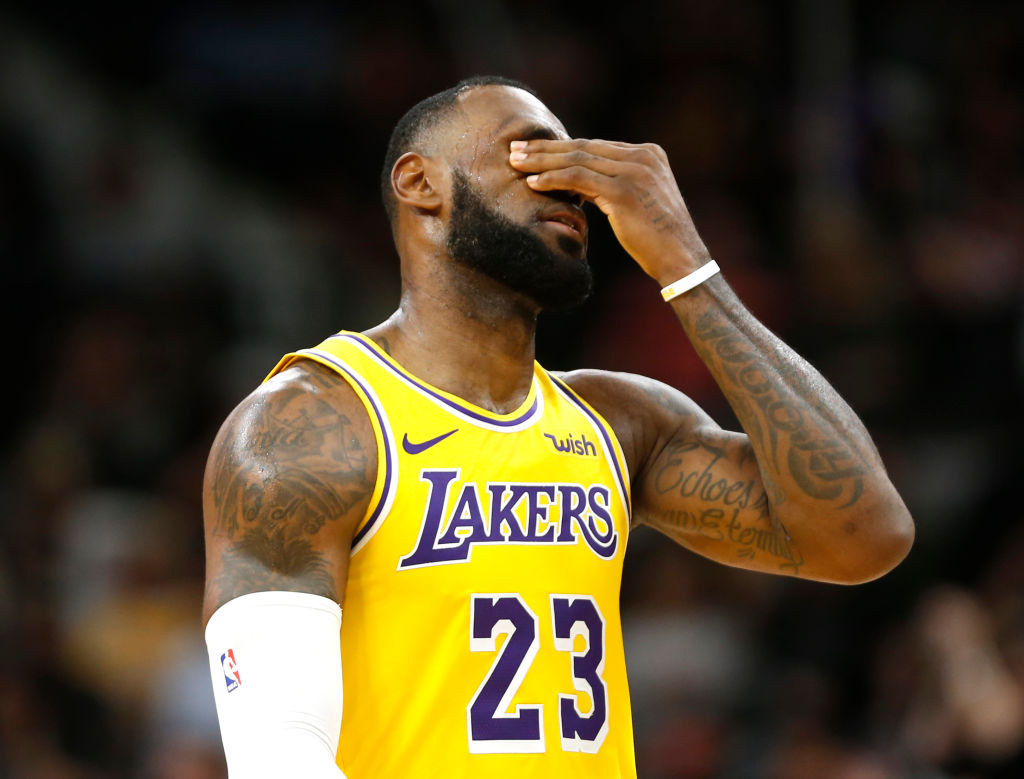 While James' list of accomplishments is outshined by few players in NBA history, there's at least one somewhat ignominious record he will likely soon possess. He's set to pass Karl Malone for the most turnovers in a career all-time. Malone has 4,524 while James has 4,402. Barring an unexpected, early retirement, James will catch the Mailman in short order.
This may seem like a black mark on James' record, but it's really not much of one at all. James has been the facilitator of his teams' offenses pretty much since entering the league.
His knack for racking up turnovers isn't a statement about how careless he is with the ball. It actually shows how much he handles the ball for his team. While he's a forward, he essentially functions as a point guard, running his teams' offenses. 
This stat isn't evidence of James' lack of ability. Far from it. It's proof that James has bested most players in terms of longevity, minutes, and time spent handling the ball. Look at the previous record holder: Malone is a Hall of Famer who went down as one of the greatest power forwards to ever play in the league. James could certainly keep worse company.
James may not want to hold this record, but it shouldn't serve as a blemish on an otherwise sparkling NBA career.