LeBron James Just Made His Feelings About Donald Trump Known and Sent Out a Stern Message While Doing It
For practically his entire presidency, President Donald Trump has made his feelings about kneeling during the national anthem known — he finds it disrespectful. While the national debate about the issue subsided for a bit, it has come back in the aftermath of George Floyd's killing, and now even more people are passionate about their stance. One athlete who has always made his opinions known — and has pretty much been on the opposite side of Trump's the entire time — is LeBron James. In fact, James just let the world know how he feels about the president.
NBA players and coaches have been kneeling during the national anthem
RELATED: LeBron James Refuses to Stay Silent About Social Justice After Lakers Clinch Top Seed
The 2019-20 NBA season resumed recently after it had been suspended since March due to COVID-19. Majority of the players and coaches have since knelt during the anthem to protest social injustices and racism in America. Many have also worn shirts that read, "Black Lives Matter".
"The national anthem took two minutes. There were guys who needed towels and things to get under their knees. And yet, someone kneeled on another human being's neck for eight minutes. That's nuts," LA Clippers coach Doc Rivers said, referring to Floyd's death, according to Sports Illustrated.
Oklahoma City Thunder players even knelt despite an Oklahoma state lawmaker, Rep. Sean Roberts, threatening to pull tax breaks from the team, according to Yahoo Sports.
"If the Oklahoma City Thunder leadership and players follow the current trend of the NBA by kneeling during the national anthem prior to Saturday's game, perhaps we need to reexamine the significant tax benefits the State of Oklahoma granted the Oklahoma City Thunder organization when they came to Oklahoma," Roberts wrote in a statement, according to Yahoo Sports.
Donald Trump continues to oppose the anthem protests
RELATED: Donald Trump Says Multiple Blatantly False Statements While Discussing Football
With all of the NBA players kneeling recently, Trump tweeted, "People are not happy that players are not standing for our National Anthem."
He also discussed the protests during a recent appearance on Fox & Friends.
"When I see people kneeling during the playing and disrespecting our flag and national anthem, what I do personally is turn off the game," Trump said, according to USA Today.
He continued to say that he thinks it's "disgraceful."
"We work with (the NBA), we worked with them very hard trying to get open. I was pushing for them to get open. Then I see everybody kneeling during the anthem. That's not acceptable to me."
Trump also addressed Black Lives Matter during the interview.
"Black Lives Matter," he said, according to USA Today. "Nobody has done better for our Black community than me — nobody. With the possible exception of Abraham Lincoln, it's true. Criminal justice reform, opportunity zones, best employment numbers in history. Again, nobody has done for the black community – by far. I'll give the one exception: Abraham Lincoln."
LeBron James addressed Donald Trump's comments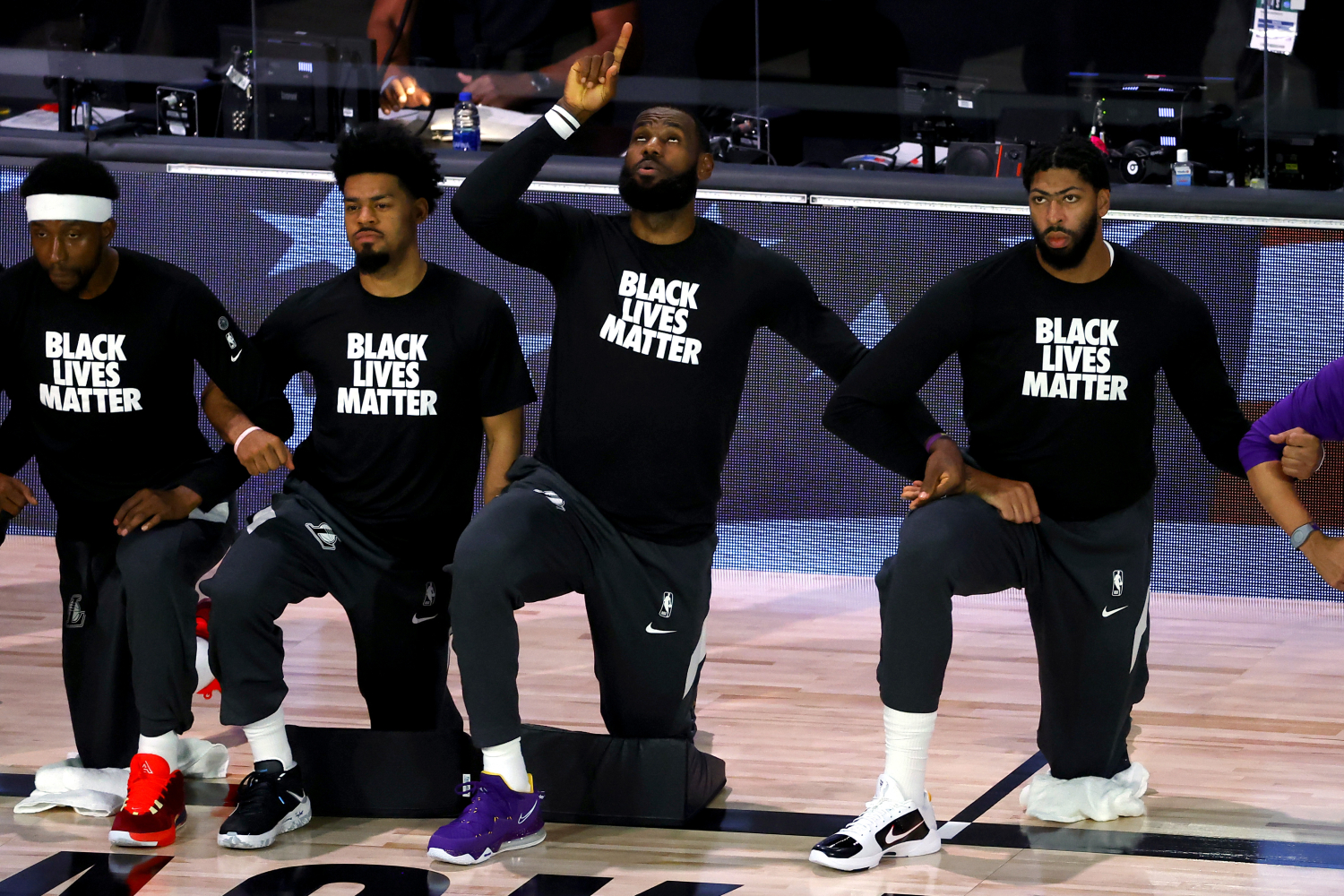 RELATED: Who Was the First MLB Player to Kneel During the National Anthem and Support Colin Kaepernick?
After the LA Lakers' recent game against the Thunder, James was asked about Trump's comments.
"You trying to make me laugh right now? I appreciate that," James said, per ESPN. "I really don't think the basketball community are sad about losing his viewership, him viewing the game. And that's all I got to say."
However, James continued as he talked about the game of basketball and the platform that it gives to issues like this.
"Our fans not only love the way we play the game, we try to give it back to them with our commitment to the game," James said. "But also respect what else we try to bring to the game and acknowledge it – what's right and what's wrong. And I hope everyone, no matter the race, no matter the color, no matter the size, will see what leadership that we have at the top in our country and understand that November is right around the corner and it's a big moment for us as Americans."
James also said, "But the game will go on without his eyes on it. I can sit here and speak for all of us that love the game of basketball: We could care less."
LeBron James has never decided just to shut up and dribble, and that certainly isn't going to start now.