LeBron James Kept Kyrie Irving and Gordon Hayward From Building a Dynasty in Cleveland
When LeBron James went back to the Cleveland Cavaliers during the summer of 2014, he turned the Cavaliers into championship contenders. This came after they were perennial losers during the four years he was on the Miami Heat. However, the relationship between James and guard Kyrie Irving ultimately soured over the years, which led to Irving leaving the Cavaliers. If James had not gone back to the Cavaliers, Kyrie Irving could have potentially started a dynasty in Cleveland with Gordon Hayward.
James came back to the Cavaliers with championship experience
During LeBron James' first stint with the Cleveland Cavaliers, the franchise could not surround him with the pieces to win an NBA championship. James led the Cavaliers to the NBA Finals during the 2006-07 season, but the San Antonio Spurs swept them. They then never made it back to the NBA Finals during his first stint in Cleveland. 
James left and went to the Miami Heat in the summer of 2010 and learned what it takes to win a championship. James, Dwyane Wade, Chris Bosh, and the Miami Heat went to four straight NBA Finals from 2010-11 through 2013-14. They ultimately won back-to-back titles in 2011-12 and 2012-13. 
This all then led to James returning to the Cleveland Cavaliers to win a title in his home state. The Cavaliers finally had another star too in Kyrie Irving as well as the pieces to trade for another star, which they ended up doing when they traded for Kevin Love. Irving instantly became the Robin to LeBron James' Batman despite never reaching the playoffs before playing with James. His skills, though, were probably a big reason why James wanted to play with him.
Kyrie Irving was dominant despite the Cavaliers' struggles as a team
The Cleveland Cavaliers selected Kyrie Irving with the No. 1 overall pick in the 2011 NBA draft. Irving ultimately earned the Rookie of the Year award in 2011-12 as he averaged 18.5 points per game and 5.4 assists. He continued to improve over the next couple of seasons too. He earned All-Star selections each of the next two years, scoring over 20 points per game each season. The Cavaliers struggled as a team, though.
The Cavaliers went 21-45 during Irving's first season and then 24-58 in 2012-13. Then, in Irving's third season, the Cavaliers went 33-49.
It was clear the Cavaliers were not championship contenders. Kyrie Irving was definitely talented and proved he had an elite ability to score. He did not have the ability, though, to just will a team to victory like LeBron James does. However, no matter what happened during the summer of 2014, the Cavaliers were going to be better during the 2014-15 season.
James kept Irving and Hayward from building a dynasty together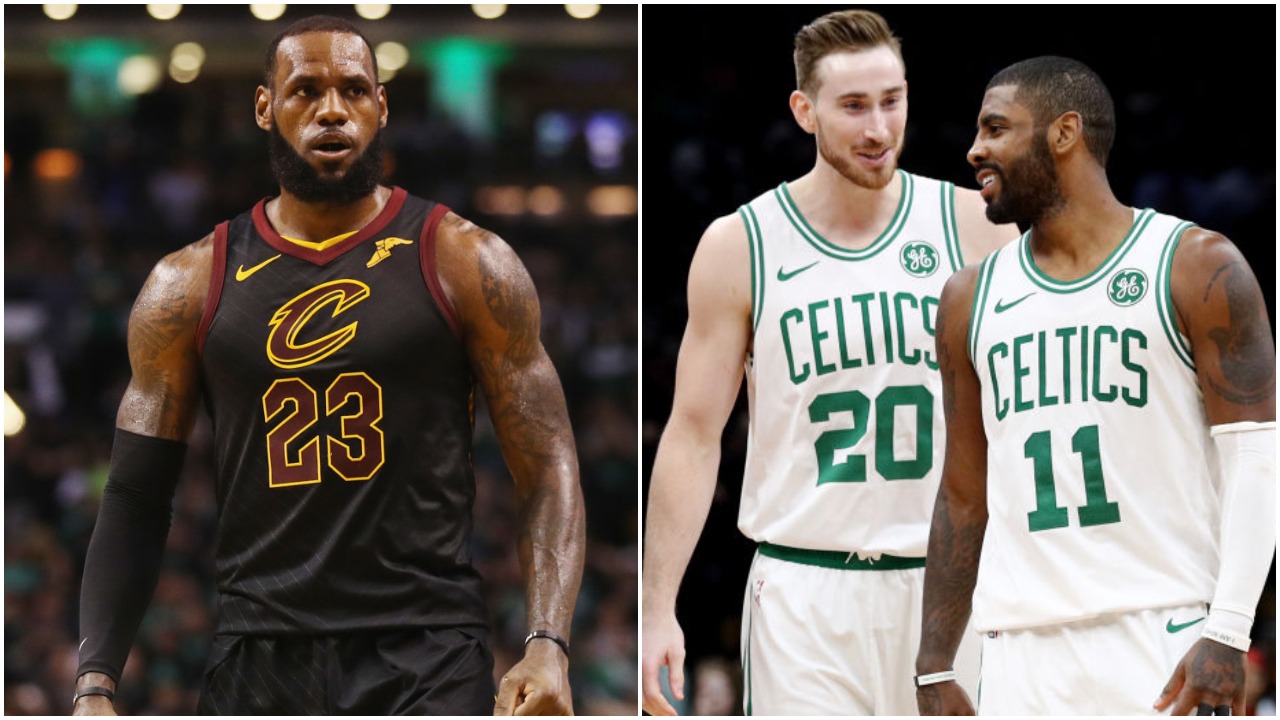 Fans of the Cleveland Cavaliers should definitely be thankful that LeBron James did come back home. He helped them win their first-ever championship. However, had James not gone back to the Cleveland Cavaliers, Kyrie Irving could have built his own dynasty with Gordon Hayward. 
During the summer of 2014, Gordon Hayward was a restricted free agent, and he actually visited the Cleveland Cavaliers.
"I actually went to Cleveland on a visit when I was a restricted free agent (in 2014), and Kyrie came in and was saying how much fun it'd be if I was on the team and kinda recruited me to go there," Hayward said in 2017 during his introductory press conference with the Boston Celtics, according to NBC Sports. "And then LeBron came and that kinda squashed that whole thing."

Gordon Hayward
Former Cavaliers general manager David Griffin even later admitted that the Cavaliers received a commitment from Hayward, according to NBC Sports. He also said that Irving had commitments from Trevor Ariza and Channing Frye before James announced his return, NBC Sports reported.
So, if LeBron James had not gone back to the Cavaliers, Gordon Hayward and Kyrie Irving could have teamed up and started a dynasty on the Cleveland Cavaliers. That is if the Utah Jazz would not have matched the Cavaliers' offer as Hayward was a restricted free agent.
Irving and Hayward ultimately played together on the Boston Celtics, and it did not work out. However, Hayward was not as good as he typically is. He got hurt in their first season together and then was still recovering during their second season. Hayward averaged 19.3 points per game during 2014-15 in what could have been his first season with the Cleveland Cavaliers. He potentially would not have gotten hurt during the 2017-18 season either had he still been on the Cavaliers during that season.
Anyone would, obviously, much rather have LeBron James than Gordon Hayward on their team. The Cavaliers made the right choice. However, had James not gone back, the Irving-Hayward duo could have been special on the Cavaliers. They could potentially still be on top of the Eastern Conference too.