LeBron James Kills the Nagging Narrative That Has Surrounded Him All Season
LeBron James and the Los Angeles Lakers are realizing that life without Anthony Davis is tough. They lost their third game in a row, losing to the Washington Wizards after having a chance to push it to double overtime.
James' minutes have seen a considerable increase since Davis has been out with an injured calf. The King is tired of people offering their opinion on how he should handle his workload.
Lebron James shoots down the narrative that he should rest
Without Anthony Davis, the Lakers are forced to rely on LeBron James more. In February, he's averaged 38.2 minutes per game, an increase from 33.8 minutes a game. James and the Lakers haven't looked their best in recent weeks, which has outsiders suggesting that The King should take some rest. The four-time MVP isn't interested in taking time off and doesn't know where the rumors came from.
"It's growing to a point where it's not even coming from me anymore. It's just like, 'OK, LeBron should take time off' or 'Why is his workload at this?' I think this whole narrative of 'LeBron needs more rest,' or I should take more rest, or I should take time here, it's become a lot bigger than what it actually is," said James per ESPN.
James did admit, "We all need more rest, s—." The Lakers are coming off the shortest offseason in NBA history, just 71 days. Despite the brief layoff, LeBron James says it's his job to be here for his team when healthy.
"I'm not pushing myself. My job is to go out when I'm available, when I'm healthy to go out and play, and that's what it's all about," James said.
He says he isn't pushing himself, but The King and his men have looked sluggish in recent games.
The Los Angeles Lakers have struggled in recent games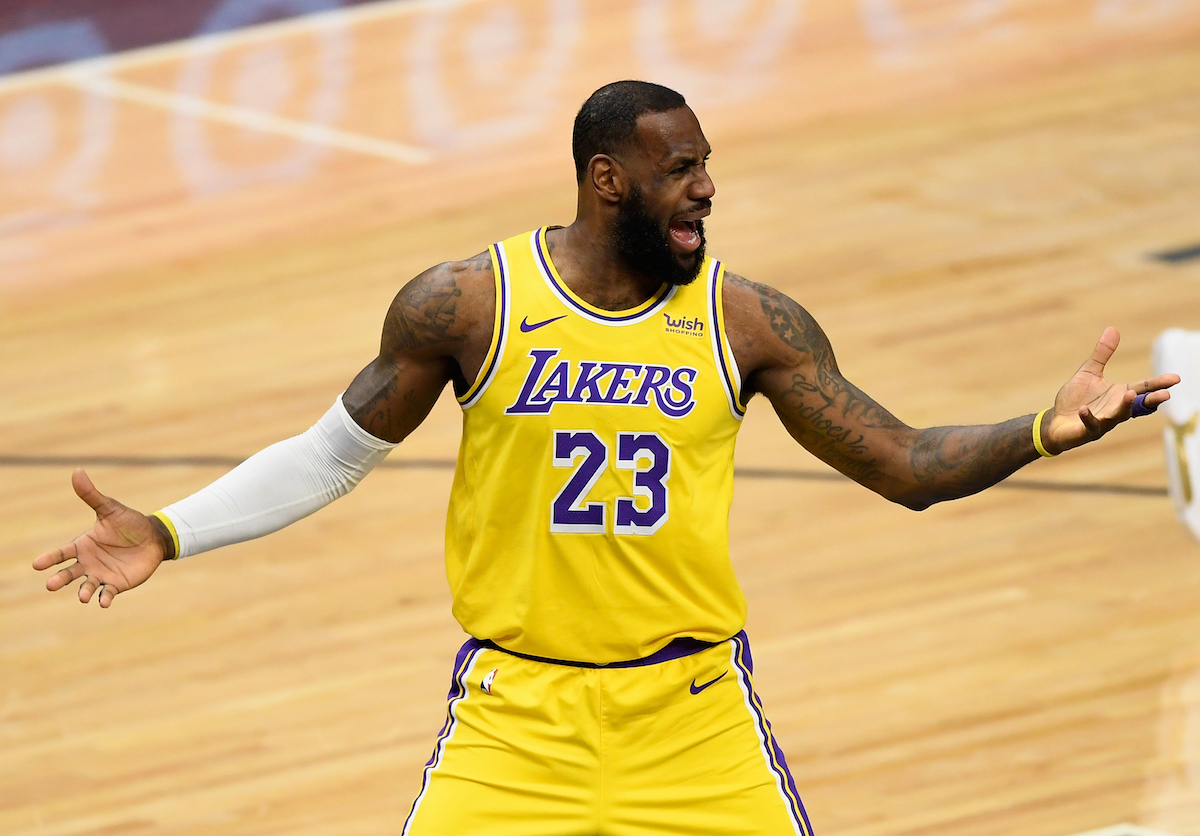 The Lakers started the season strong despite having a historically short offseason. They were 21-6 entering their Valentine's Day matchup against the Denver Nuggets. Since that game, LA hasn't looked like a championship contender. 
The team has lost four of their last five, struggling without Anthony Davis on the floor. James has done his best to pick up the slack, but he's endured his own problems. The King's shot 24.3% from 3-point range in February, a dropoff from 42.9% in January. The Lakers' issues in recent games are missing clutch shots, even unguarded free throws.
"I got to make the free throw up there; it's an easy point for us. I take that responsibility, for sure, and I got to be better," said James.
LA has fallen to third in the West after claiming the top spot for most of the season. They have a tough stretch of games coming up, so will they continue to rely on Lebron James? If James has any say, he is going to be out there to play.
"I'm here to work. I'm here to punch my clock in and be available to my teammates," said James.
LeBron James hears the talk surrounding his conditioning
Looking at LeBron James' stats, he continues to play exceptional basketball despite being 36 years old. He is averaging 25.8 points, 8.1 rebounds, and 8.2 assists per game. Although he's heard the chatter for time off. James isn't ready to sit on the sidelines.
"I've been hearing it for five, six, seven years now, and I'm still going strong. So I don't need a handout; I'm not looking for a handout," James said.
The Lakers haven't had guard Dennis Schroder during their skid, as he has been out for COVID-19 protocols. The team will have to get things right quickly because the Utah Jazz are the next opponent on the schedule. Utah has the league's best record, led by Donavan Mithcell's strong season.
Lakers head coach Frank Vogel knows that, despite the talk of load management, James will be ready to lead the team out of their recent losing streak.
"He's doing everything he can for us. He's a workhorse," Vogel said.
LeBron James doesn't need rest, but he is tired of that narrative surrounding his 2020 campaign. The four-time champion knows the challenge ahead without Anthony Davis and is ready to help the team get out of their slump.
"I'm going out and playing the game. I'm doing my job, and I'm trying to do it at a high level," James said.
Stats courtesy of ESPN