LeBron James and the Lakers Could Welcome Back an Old Friend to Help The King in His Quest for a 5th NBA Title
After recently forming a Big Three with LeBron James, Russell Westbrook, and Anthony Davis, the Los Angeles Lakers now need to add some depth to truly build a title contender.
Since the Westbrook trade, several names have been connected to the Lakers, but LA could ultimately bring back an old friend to help James win his fifth NBA title: Dwight Howard.
Dwight Howard has had two stints with the Los Angeles Lakers
Dwight Howard is no stranger to the Lakers. During his prime, when he had just come off scoring 20.0 or more points per game for a fourth time in five seasons with the Orlando Magic, Howard went to the Lakers via trade to play with Kobe Bryant in 2012.
He ultimately averaged 17.1 points and led the NBA in rebounding for the fifth time in six seasons with 12.4 boards per game, but the Lakers failed to meet expectations. LA went 45-37 and reached the playoffs, but after a late-season Bryant injury, the San Antonio Spurs swept the Lakers in the first round.
Howard then left and went to the Houston Rockets that next offseason but returned to LA in 2019-20 as a completely different player. He was no longer a dominant big but still a solid role player and a strong defensive presence for LeBron James and company. Howard averaged 7.5 points, 7.3 rebounds, and 1.1 blocks for LA in 2019-20, and he ultimately helped the Lakers win a championship, James' fourth title of his career.
But during the 2020 offseason, Howard went to the Philadelphia 76ers in free agency. He posted 7.0 points and 8.4 rebounds per game for the Sixers last year.
Now, though, could Howard be on his way back to LA for a third time?
Dwight Howard could play with LeBron James on the Lakers again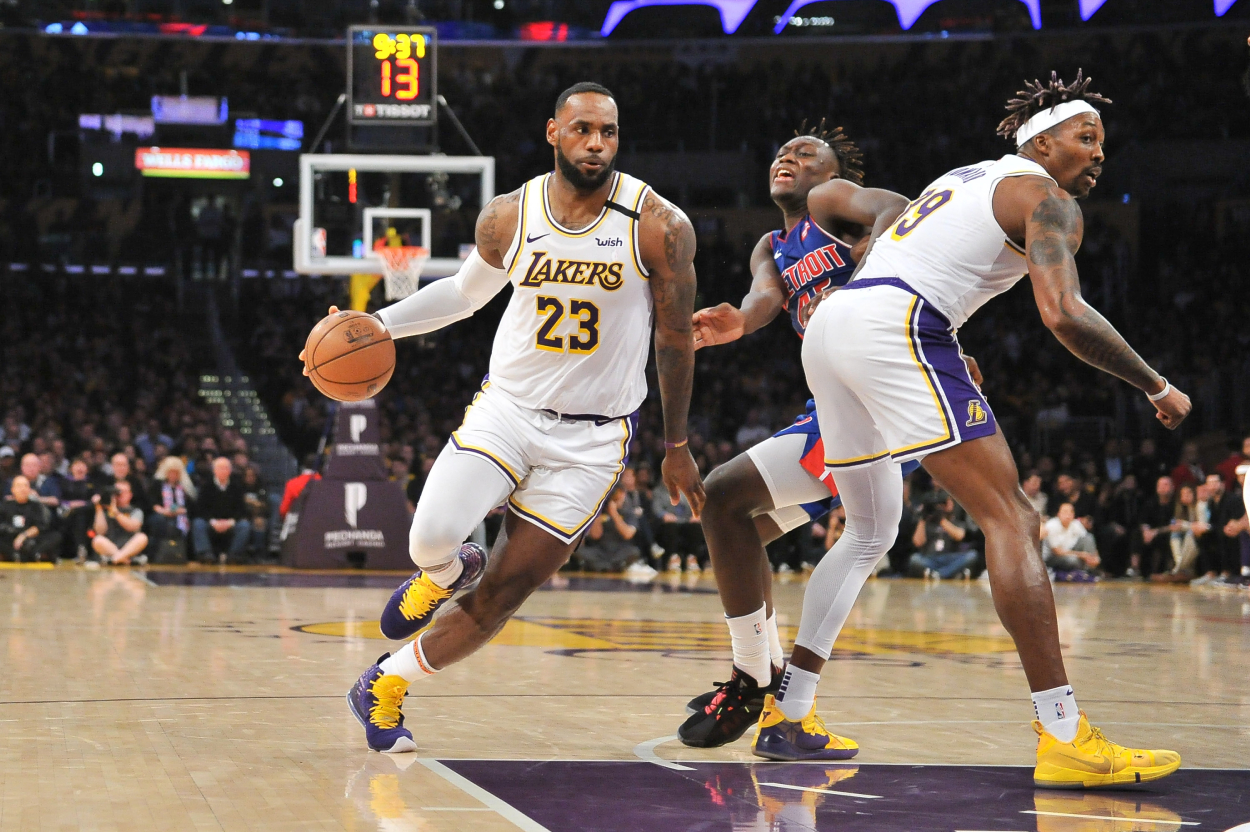 The Lakers don't have too many players on their roster after trading for Russell Westbrook. They, of course, have Westbrook, LeBron James, and Anthony Davis, as well as Marc Gasol and Alfonzo McKinnie.
They need depth.
Given that Westbrook, James, and Davis can be one of the most talented Big Threes in NBA history, though, there should be plenty of talented veterans interested in joining the Lakers to try and win a championship.
One player reportedly interested is, yes, Howard.
"Guess who might be back for a third time? Yup, Dwight Howard is ready to return and play center," Broderick Turner wrote in the Los Angeles Times.
The Lakers need another big. Davis could spend a lot of time at the five in 2021-22, but they need someone who can back him up or play the five whenever Davis plays at the four. Howard may ultimately be one of their best options, as Andre Drummond is a free agent. He is also more athletic at this point in his career than Gasol and can help the team greatly on the defensive end.
Howard averaged 0.9 blocks in 17.3 minutes last season and had a defensive win share — which estimates how many wins his defense contributes to his team — of 2.6.
No, Howard is no longer a landscape-changing player, but he can be the helpful role player the Lakers need to win another title.
What other players could also team up with LeBron James in LA?
The Lakers don't have a ton of flexibility financially, but LeBron James is a player other guys want to play with to try and win titles, so there are plenty of veterans LA can seriously consider signing.
Broderick Turner reported that Patty Mills is a name that has been linked to the team. Wayne Ellington and Carmelo Anthony are also other guys who are reportedly interested in coming to LA.
While the Lakers need the depth down low that Howard can provide, they also need shooting. James shot 36.5% from 3-point range last season while Westbrook shot 31.5%, and Davis only posted a 26% shooting percentage from long range. Mills, Ellington, and Anthony are all guys who can bring shooting to LA, so they almost make too much sense, especially since Anthony has been close friends with James for years.
All in all, the Lakers have several options to fill their championship-contending roster around their Big Three, and the names mentioned above may not even come to LA. But a squad with Russ, LeBron, and AD surrounded by Dwight, Melo, Mills, and/or Ellington could be dangerous.
We'll see which veterans are welcomed to the Lake Show next.
Stats courtesy of Basketball Reference