LeBron James and the Lakers Have More 'Knowledge' Than the Entire NBA, According to Carmelo Anthony: 'What We All Bring to the Table Is a Wisdom That a Lot of People Don't Have'
According to their critics, LeBron James and the Los Angeles Lakers have one glaring weakness: They're old — like really old. On the court, age can become an issue in several areas. LA's stars might not be as athletic as they used to be, and they're also more susceptible to injury, which means their lack of youth could play a significant role in their downfall this upcoming season.
But it could also have a hand in their success.
In fact, Carmelo Anthony, one of the team's many new additions, recently said he thinks the Lakers have the "most knowledge" in the NBA.
LeBron James and the Lakers are very, very old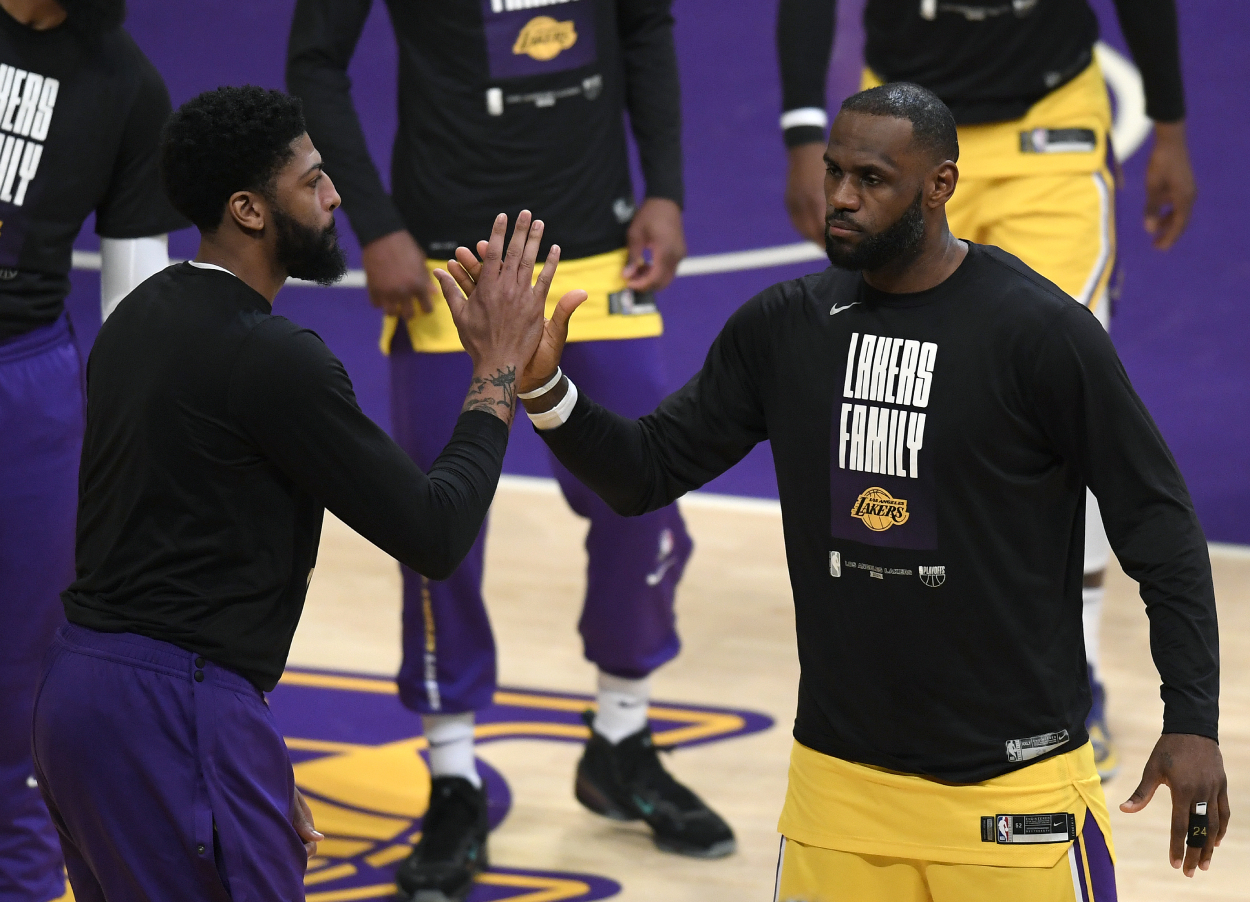 We all know where LeBron James is at in his career. He's looking to tie Kobe Bryant in terms of titles, as James has a chance to win his fifth championship in his 19th season this year. A couple of months after the season starts, James will also turn 37 years old.
So, the Lakers are already centered around an aging superstar, but, after completely turning over their roster this offseason, they have somehow gotten even older.
In addition to James (and Anthony Davis, who is only 28 years old), the Lakers now have Carmelo Anthony (37), Trevor Ariza (36), Rajon Rondo (35), Dwight Howard (35), DeAndre Jordan (33), Wayne Ellington (33), Russell Westbrook (32), and Kent Bazemore (32). LA has also added a couple of younger guys like Kendrick Nunn (26) and Malik Monk (23) to go with Talen Horton-Tucker (20), but, all in all, they have nine players who are 32 years of age or older. That easily makes them the oldest team in the league.
But does it also make them the smartest?
Carmelo Anthony said LA has 'the most knowledge' in the NBA
Carmelo Anthony has had a decorated career in the league that has seen him earn 10 All-Star and six All-NBA selections. However, he has yet to win a championship, so he's attempting to do that now on the Lakers.
Anthony recently appeared on First Take to discuss his new team, and he seems to think their age can be an asset for them.
"We old as hell, Steve, you know that, in basketball sense," Anthony said to Stephen A. Smith on the Sept. 14 episode. "But I just think that what we all bring to the table is a wisdom that a lot of people don't have. The way that we're gonna be able to come together, hold each other accountable, have each other's backs. We have the most knowledge on this one team than the whole NBA have, I think. So, if we can't put that together and make something work, then that's on us. That's not on nobody else."
They're old, but Anthony has a point. The Lakers have two former MVPs on their roster in James and Westbrook. Anthony, James, Westbrook, Davis, Howard, Rondo, and Jordan have also combined for 57 All-Star selections. LA has multiple players who have won championships as well in James, Davis, Howard, Rondo, and Ariza.
That's a lot of success on one team.
All they have accomplished and where most of them are in their careers, though, makes it championship or bust for the Lake Show this upcoming season.
It's championship or bust for Carmelo Anthony, LeBron James, and the Lakers
They might be old, but the Lakers have a lot of skill on their roster. James and Westbrook are two historically great passers who can also score as well as anyone in the league, while Davis is one of the top big men in basketball. Those three also have great shooters to kick it out to when needed in Anthony, Ellington, Nunn, Monk, and others. Rondo, Howard, and Jordan should be great role players, too.
That significant amount of talent, though, means their goal is to win a title. And anything short of that will be a failure.
"I have to win (a championship); there's no if, ands, or buts about that," Anthony said on First Take. "I know what that does; I know the pressure that that puts on us as a team, as an organization. But what other pressure do you want? What other pressure we want? We want to go out there, and we want the target on our back. … It gotta be (championship or bust). I mean, it have to be. There's no playing around with that."
Whether the Lakers win it all or fall short in 2021-22, it's safe to say their age will play a significant role in their season either way. For Anthony's sake, hopefully it works in their favor.
Stats courtesy of Basketball Reference