LeBron James and the Los Angeles Lakers Traded for Russell Westbrook, but a Buddy Hield Trade Would Have Been the Better Choice
LeBron James and the Los Angeles Lakers shook up the NBA just hours prior to the 2021 NBA Draft as they made a blockbuster trade for Russell Westbrook.
LA concurrently had another trade in the works, though, one that would have seen the team acquire shooting guard Buddy Hield from the Sacramento Kings.
Westbrook is obviously the bigger name and the better player. But would the Lakers have been better off trading for Hield?
LeBron James and the Lakers decided to bring Russell Westbrook to LA
The trade: Lakers acquire Russell Westbrook from the Washington Wizards for Kyle Kuzma, Montrezl Harrell, Kentatvious Caldwell-Pope and the 22nd pick in the 2021 draft.
Westbrook is already a hall of famer. He was the league's Most Valuable Player in the 2016-17 season after averaging a career-high 31.6 points per game to go along with 10.7 rebounds and 10.4 assists per game, becoming the first player to average a triple-double for an entire season since Oscar Robertson. He's already the NBA's all-time leader in triple doubles.
Westbrook will bring a ferocity, attitude and competitiveness to the Lakers that the organization wouldn't have been able to find anywhere else. But does he fit alongside James and Anthony Davis?
Since he entered the league, the most successful rosters built around James have been those loaded with shooters. Westbrook is not one. Over his 13-year career, Westbrook is a 30.5% shooter from three. He's best going downhill and attacking the rim, but James and Davis, while solid three-point shooters, are also both at their best from the mid-range and in.
Westbrook doesn't have any problem getting shots up, either. He averaged more than 22 field-goal attempts alongside James Harden in Houston, more than 20 next to Paul George in each of their two seasons together in Oklahoma City, and 19 last season next to Bradley Beal in Washington. How will James feel when Westbrook shoots seven times during the fourth quarter of a close game?
James and the Lakers could have brought Buddy Hield to LA in Westbrook's stead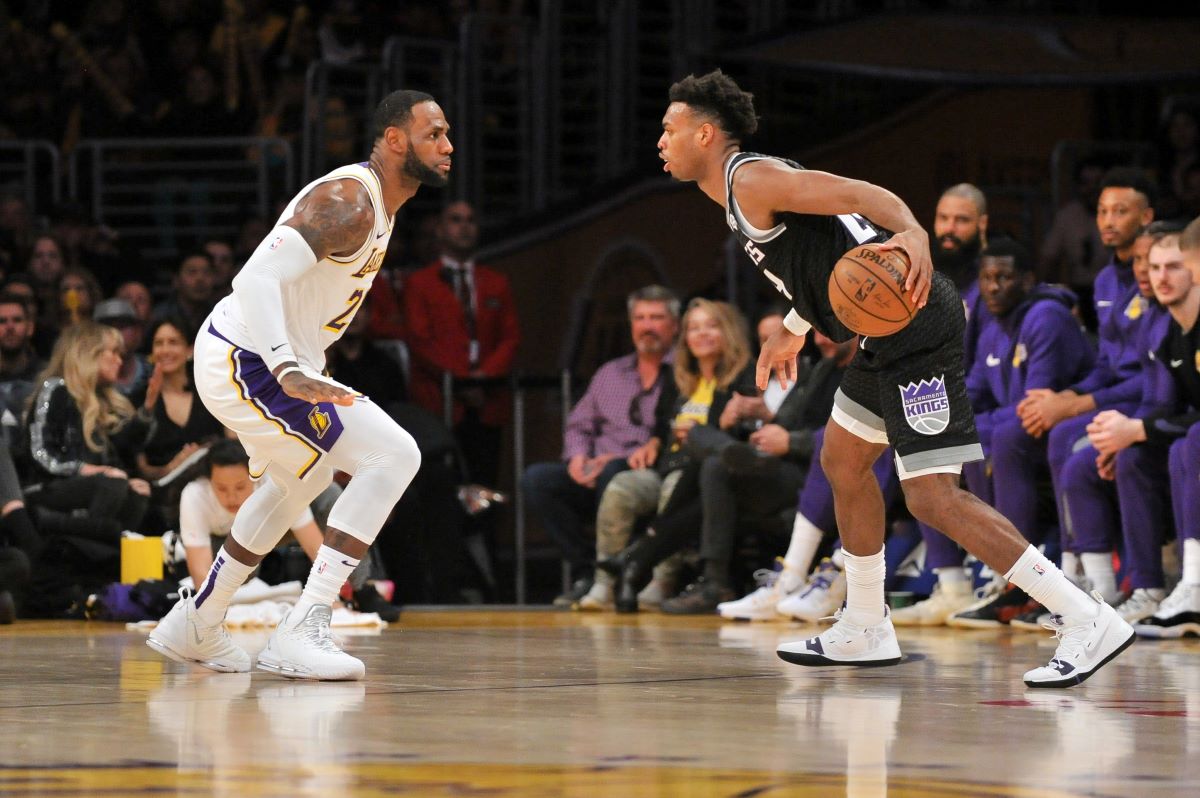 The (rumored) trade, according to ESPN: Buddy Hield to the Lakers for Kyle Kuzma and Montrezl Harrell.
Hield is definitely less talented and less of an all-around player than Westbrook. He's not a fantastic shot creator and isn't the playermaker or facilitator Russ is. Hield's No. 1 skill is his ability to shoot the ball, which he does at the highest level.
Hield is a 40.6% career three-point shooter and shot 39.1% on a whopping 10.2 attempts per game last season, according to NBA.com. He shot the same percentage as Damian Lillard, for reference.
If he were to get out of Sacramento, where's he counted on to be a significant source of offense, and was thrown into the friendly confines of a James-led system, Hield would thrive.
Hield would have made the Lakers' offense more complete alongside James and Davis
Westbrook is the better player, but Hield would be the better fit for Los Angeles. Westbrook creates spacing issues on offense and his shot selection is going to complicate matters even further.
Hield, on the other hand, could be a natural fit next to James and Davis as a spot-up shooter. Trading for Hield instead of Westbrook would have also kept Caldwell-Pope on the Lakers' roster. LA would have had the ability to use the No. 22 pick in the draft, or put it in a trade for another rotation piece, as well.
Westbrook will give James, Davis, and the Lakers a third star and another chance at an NBA title. Hield would have presented them with a much simpler path.
All stats courtesy of Basketball-Reference
RELATED: Michael Jordan's Charlotte Hornets Could See Playoff Success Again After Winning the 2021 NBA Draft