LeBron James Is a 'Little Kid,' According to His Former Lakers Teammate and a Past NBA Foe: 'He's the Goofiest Person Alive'
When LeBron James entered the NBA, everyone expected him to be like Michael Jordan or Kobe Bryant, but while the current Los Angeles Lakers star is as talented as those guys, his personality isn't quite the same. Yes, James is still a competitor. He's also confident in his abilities and knows he can dominate a game on any given night. But the No. 1 overall pick in the 2003 draft doesn't have that fierce persona where he acts like everyone's out to get him and that it's LeBron against the world. He has somewhat of a lighter side.
In fact, James' former Lakers teammate, Kyle Kuzma, and his past NBA foe, Gilbert Arenas, both recently said he's just like a kid.
LeBron James is a 'little kid,' according to his former Lakers teammate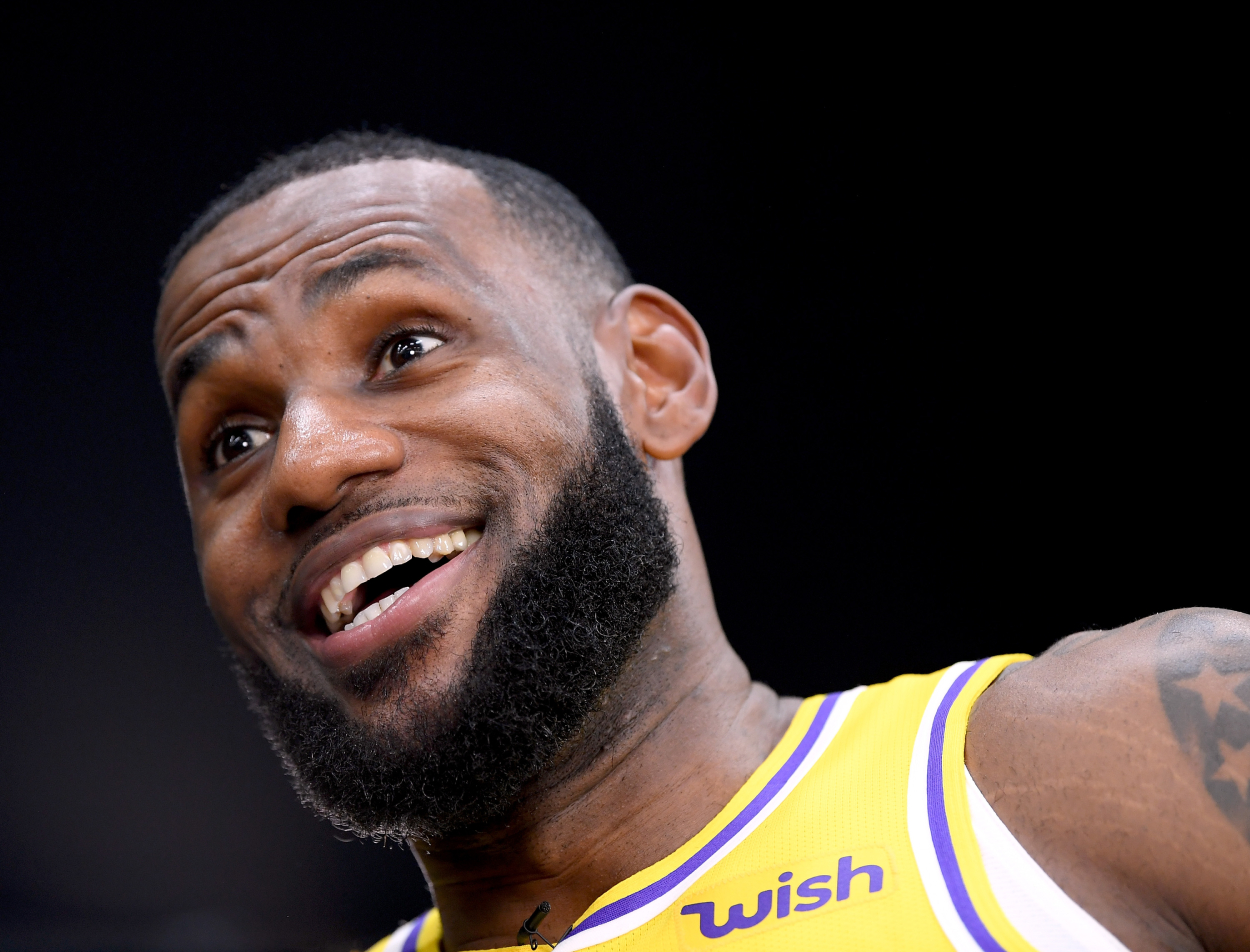 Kyle Kuzma played with LeBron James on the Lakers for the past three seasons. They even won a championship together in 2020, so he has spent some significant time with The King.
LA recently sent Kuzma to the Washington Wizards in a deal for Russell Westbrook, but he has since revealed what James is actually like as a person.
"Man, he's like a little ass kid," Kuzma said on the Sept. 7 episode of No Chill With Gilbert Arenas. "He's a little kid, man. He is a grown man, and he's like this alpha, and he's like this super serious person, but he's like an 18-year-old, too, at the same time. And I just feel like that's the best part about him because you understand everyone is human."
Kuzma added that while many people put athletes and celebrities on pedestals, they're actually not very different from normal people.
"He jokes around a lot; he's always laughing, dancing, just doing funny s—," Kuzma said. "I think that's the cool part for sure."
Gilbert Arenas agreed that The King is 'the goofiest person alive'
Gilbert Arenas had some intense playoff battles against James and the Cleveland Cavaliers during the early stages of LBJ's career. Arenas' Wizards played the Cavs in the playoffs in three straight seasons between 2006 and 2008, and although he didn't play during the 2007 postseason, Arenas has certainly gotten to know the four-time NBA champ over the years.
"I think because of who he was coming into the NBA as, he had to give this persona of the Michael Jordan and Kobes, not realizing that whatever age you come into the NBA in, usually that's the age of your personality for a while," he said to Kuzma, as James entered the league as an 18-year-old. "Unless you meet a wife and she upgrades your mentality, or you have veterans that's teaching you. So, when Kobe comes to the Lakers; it's all veterans, so he has to be serious. … LeBron goes to a young team — young mentalities. So, even though he's moving up, and he's becoming the veteran, he wasn't taught."
Arenas then added that whenever people ask him about James as a person, he also stresses that he's essentially like a kid.
"[I say], 'Yo, he's the goofiest person alive; he's the goofiest person alive,'" Arenas said. "I said, 'The personality you see right now, the Taco Tuesdays and all — that's his personality; that's his real personality.' The stuff that you see on TV, that's who he had to create for the world. 'If I let you see who I really am, you're gonna judge me for it.'"
LeBron James leads his teammates in his own way
James' personality hasn't resulted in a lack of success. He's won four championships, four Finals MVPs, and four league MVPs.
The kid from Akron just leads in a different way than Jordan or Bryant did.
"LeBron is totally different than Mike from a personality standpoint," former NBA player Brendan Haywood, who played with James and Jordan in his career, said in 2018 to The Ringer. "LeBron is a great people person. He loves to interact with his teammates. He's a hard worker as well. But they're different people as far as their approach. Mike's approach is, everything is competition. … The difference is Mike wants to win at every little thing. That would be the biggest difference between the two. Both of them are great guys. Both of them work hard. Both of them are extraordinary leaders."
No, James isn't trying to beat your grandma in cards or roll quarters better than a security guard, but he knows how to get the best out of his teammates, which has resulted in him becoming one of the greatest NBA players to ever live. He leads his teammates his own way, and he has become an NBA legend because of it.
Like Sportscasting on Facebook. Follow us on Twitter @sportscasting19.