Isaiah Thomas Could be a Perfect Fit With LeBron James and the Los Angeles Lakers
Former NBA veteran Isaiah Thomas put himself back on the map when he scored 81 points in a Seattle pro-am game. He's now looking for a path back into the league, and among a handful of suitors are LeBron James and the Los Angeles Lakers.
Thomas had a brief stint in LA late in his career, playing in 17 games with the franchise during the 2017-18 season. He also played alongside James earlier that year in Cleveland.
Injuries eventually ended Thomas' NBA career, but if he's healthy enough to drop 81, even in a pro-am game, a return to the league isn't out of the question.
Isaiah Thomas had a solid career and an all-time season with the Boston Celtics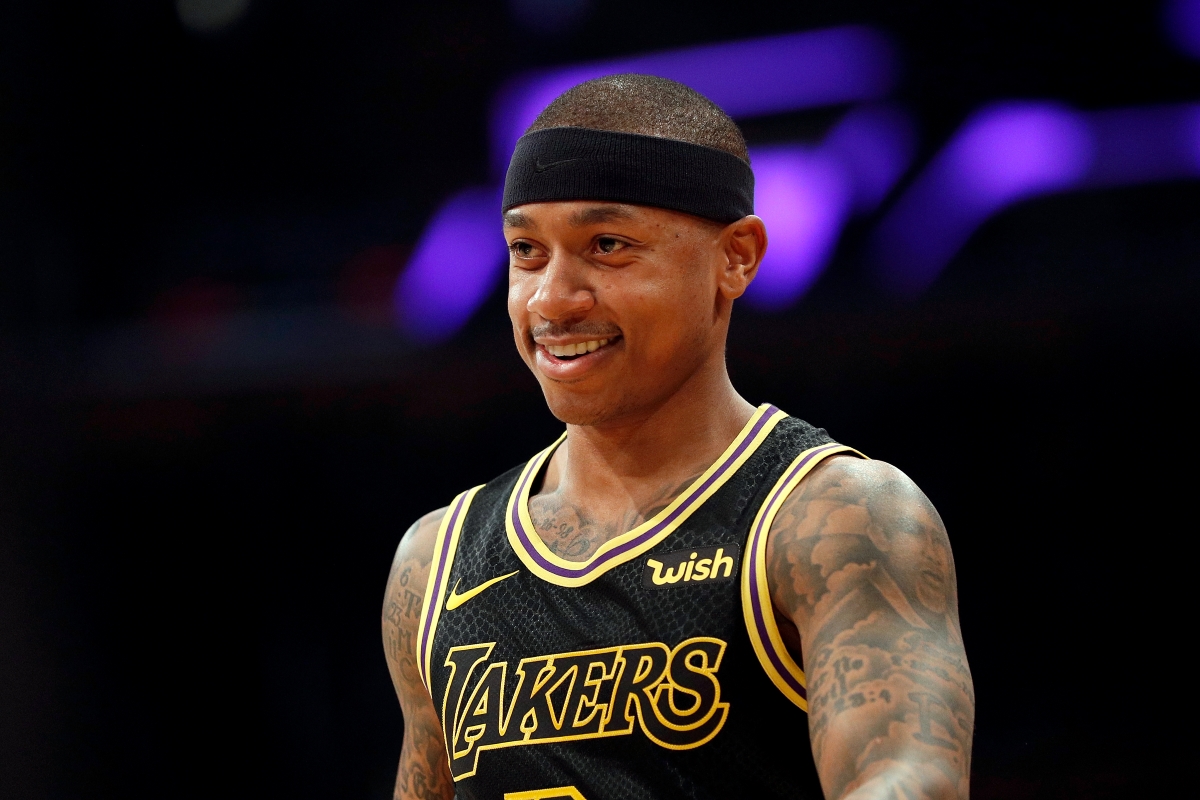 Best known for his run with the Boston Celtics and his heroics during the 2016-17 season, Thomas was one of the NBA's most enjoyable players to watch. At 5-foot-9, he was athletic and he could score, but he was also passionate, tough, and gritty. The saying "don't leave anything on the court" could have been his mantra. But after the Celtics' playoff run that year, injuries quickly derailed the point guard's career. He played just 32 games the following season with the Cavaliers and Lakers before fading out of the NBA shortly thereafter.
Thomas averaged a career-high 28.9 points during that 2016-17 season. He led Boston on a magical postseason run to the Eastern Conference Finals. He scored 53 points two weeks after the death of his sister, on her birthday, in an overtime win in the second round of the playoffs. During that postseason, he fought through a hip injury that ultimately ended his NBA career. He was the heart and soul of that Celtics team.
But his game in the Seattle pro-am league has made NBA teams, and James, take notice
His heart and determination to play through literally everything in 2016-17 is one of the most incredible stories of the past decade. But it also did irreparable damage as he only played 87 more games across the final four seasons of his career.
However, the University of Washington product found himself back on the NBA's radar after dropping 40 points in the first half alone in Seattle. He looked like his old self, scoring at all three levels. His point total has to be taken with a grain of salt because of the competition, but 81 is nothing to scoff at.
Isaiah Thomas has drawn interest from teams, including the Los Angeles Lakers
Teams around the league are obviously hesitant to bring Thomas back. The last few seasons of his career did not go swimmingly, and his injury history remains. But the Lakers would be an interesting fit if he were to return.
He wouldn't be coming back as a key piece in LA. He would likely play only a handful of minutes in spot duty, especially as he rounds back into NBA shape. But Thomas would be around arguably the greatest player of all time in James and another superstar in Anthony Davis. After acquiring Russell Westbrook from Washington, the Lakers began to fill out their roster, but any team with James as the centerpiece could use shooting and occasional playmaking.
Thomas would also bring something unquantifiable to LA. Even during his best seasons, the diminutive point guard played with heart. After fighting to get healthy and return to the league, he wouldn't take anything for granted. His attitude and hard work would rub off on the rest of any roster he ends up on.
Thomas' career flamed out due to injury. That's a huge question mark for any player, especially one who's 32 years old and is years removed from his peak seasons. But the Lakers, along with James, would be taking a low-risk, high-reward shot on a player who was twice an all-star and a proven playoff performer. The opportunity is there for both player and team. Now it's just a waiting game to see if LA pulls the trigger.
All statistics courtesy of Basketball-Reference.