LeBron James and the Los Angeles Lakers Just Lost a Key Role Player to a Western Conference Foe
The Los Angeles Lakers have once again undergone a massive overhaul of their roster. While the combination of LeBron James and Anthony Davis remains in place, the rest of the team has a new look, headlined by the addition of former MVP Russell Westbrook.
Beyond the stars, LA's role players have drastically changed this offseason. Longtime Lakers Kyle Kuzma, Alex Caruso, and Kentavious Caldwell-Pope have left town as newcomers Carmelo Anthony, Kendrick Nunn, and Trevor Ariza enter the mix.
The Lakers have also said goodbye to a key veteran and a vocal leader on and off the court, even if he was a benchwarmer who appeared in just 12 games last season.
Lakers veteran Jared Dudley is retiring and joining the Mavericks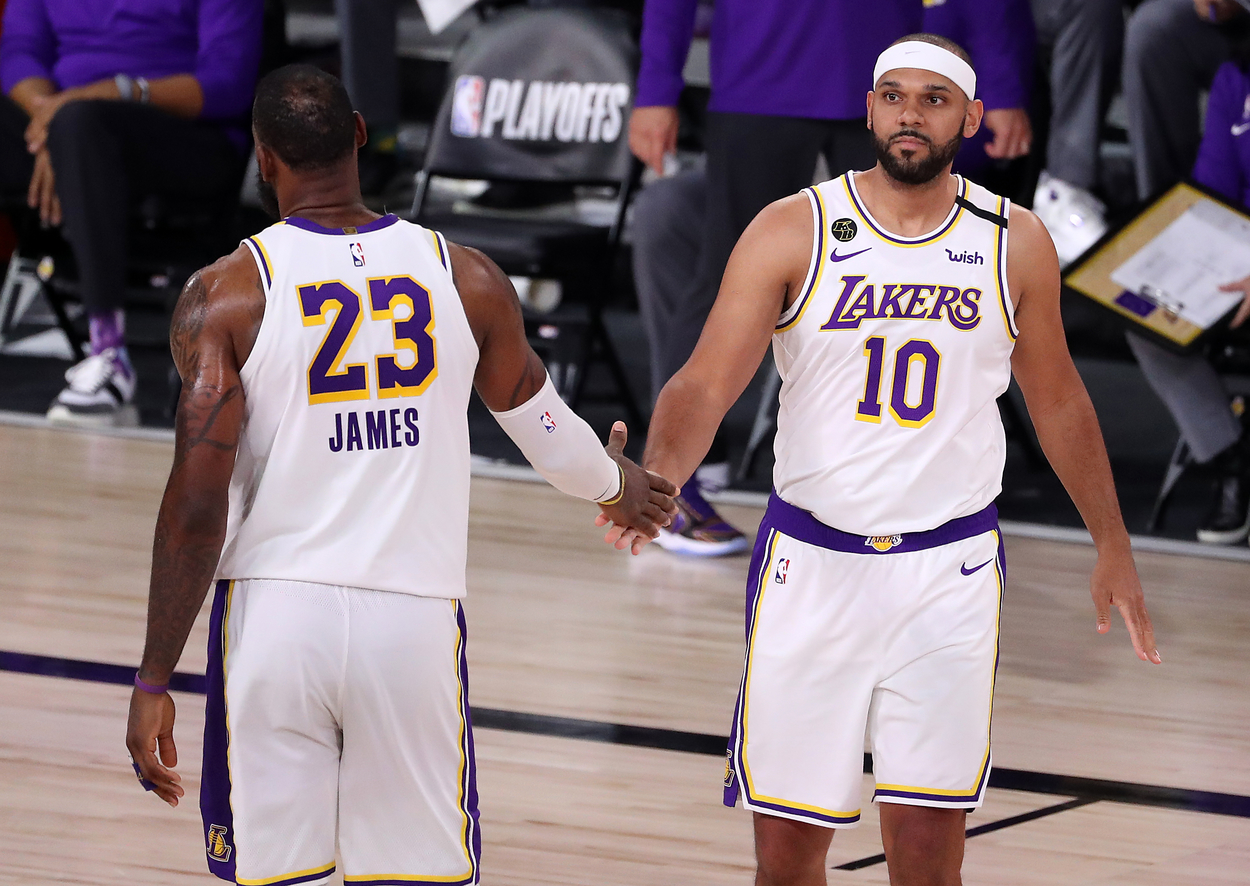 After 14 years in the league, Jared Dudley is trading in a uniform for a clipboard.
He announced his retirement on Twitter, as well as his new position with the Dallas Mavericks coaching staff. The 36-year-old will become the right-hand man of new Mavs head coach Jason Kidd.
Dudley had a solid yet unspectacular career by the numbers. After entering the league in 2007, he spent 14 seasons with seven different teams, averaging 7.3 points per game. His best season came in 2011-12 when he averaged 12.7 points for the Phoenix Suns while starting nearly every contest.
However, Dudley's role on the court became more limited as he got older. In his last two seasons in LA, he appeared in just 57 regular-season games, averaging 7.8 minutes and 1.3 points.
LeBron James seems crushed by Dudley leaving LA
Dudley's production on the court was somewhat minuscule with the Lakers. But his role as a leader and mentor was never underappreciated by his teammates and others across the NBA.
NBA veteran Kendrick Perkins was one of the former players effusing praise for Dudley. The former Boston Celtics center tweeted out, "Jared Dudley is the definition of ultimate teammate and professional. You don't play as long as he did and walk into a coaching role if you aren't! Congrats on your gig with the Mavs, they got a good one! Carry on…".
Of course, no one's voice rings louder across the NBA than LeBron James.
James made it known how disappointed he was to see Dudley leave the Lakers, tweeting, "Congrats to my guy if this true, which is probably is!" However, a face-palm emoji and a certain four-letter word in all caps followed the well wishes.
The Lakers are going to miss Dudley's leadership
In a 2018 piece on The Athletic, former Brooklyn Nets head coach Kenny Atkinson detailed how Dudley impacted his young team. The Nets were fresh off back-to-back last-place finishes and added Dudley over the summer.
Atkinson explained:
"His intelligence in terms of how to play the pick-and-roll, he does little things that are hard for people to see on the floor," Atkinson said. "Off the floor, we walked through something today offensively, and he had two suggestions, and you're like, 'Yes, that makes sense.' We went over the end of the game film, and he has a comment and not a know it all comment. He opens up discussion, and he engages the coaches because of his vibrant personality. Then, he engages the other players. It's unique. I haven't been around a guy that vocal and that energetic in terms of his leadership."

Michael Scotto, The Athletic (2018)
The leadership Atkinson discussed is the same leadership the Lakers will now be losing. With lots of new pieces in LA, Dudley was someone who could help get everyone on the same page and focused on the common goal.
While LA's roster features no shortage of veterans, a few have had their leadership abilities come into question. Westbrook has faced criticism in the past for being a bad teammate, as has Anthony. James has been endorsed by Dudley as a great leader, but it's hard to expect him to fill Dudley's shoes while still maintaining all his production on the court.
To make matters worse, Dudley is leaving to join the Mavericks, who are led by superstar Luka Doncic. The 22-year-old has already earned comparisons to James after three seasons in the NBA. Now, with Dudley mentoring Luka, the Mavs could elevate to the next level while the Lakers slide further away from a championship.
All statistics courtesy of Basketball Reference.