LeBron James Might Team Up With Banana Boat Buddy
The Los Angeles Lakers are trying to surround LeBron James with the pieces he feels he needs to win another NBA championship. Carmelo Anthony might soon be part of the championship puzzle.
Numerous veterans around the NBA appear to be interested in taking a pay cut to play with James and the Lakers. Although LA might prefer to sign someone like DeMar DeRozan, inking Anthony could appease James and provide some cohesiveness in the locker room.
LeBron James tends to have an influence in personnel decisions
LeBron James wanting to play with friends is nothing new.
James' decision to leave the Cleveland Cavaliers and join the Miami Heat in the summer of 2010 was motivated by a desire to win a championship. However, it also gave him a chance to play with Dwyane Wade.
Wade joined James again in Cleveland for LeBron's second stint with the Cavaliers. However, James understood the Cavs needed to make drastic changes to make a deep playoff run in 2018. Alas, the Cavs traded Wade and others to reshuffle things and be more competitive.
LeBron has had a pretty singular influence in LA. His friendship with Anthony Davis led the Lakers to acquire The Brow ahead of the 2019-20 season. That move obviously paid off, as the Purple and Gold won a championship.
Having come up short this season, both James and Davis lobbied for the team to trade for Russell Westbrook. It didn't take too long for that move to come together.
Now, James is targeting a partnership with another buddy and member of his 2003 NBA Draft class.
The Lakers are reportedly interested in signing Carmelo Anthony
Carmelo Anthony is one of the best scorers in NBA history. Might he bring that scoring acumen to LA?
Jordan Schultz of ESPN reported the Lakers have interest in signing Anthony once free agency opens on Monday. Schultz noted that Anthony shot a career-high 40.9% from beyond the arc last season, and the Lakers sorely need perimeter shooting.
It was not long ago that Anthony was struggling to find employment. But he proved he is still a very capable NBA player during his two-season stint with the Portland Trail Blazers.
The 37-year-old knows how to get to his spots. He can score in the post and still excels at creating space to get off his dribble pull-up jumpers. The three-point shooting is a big bonus, especially if LA can add other shooters to complement James and Davis' dominance in the paint.
James and the Lakers need more depth after the Westbrook trade, and Anthony could add good depth. However, he might also have a strong market.
Anthony is drawing interest from one of his former employers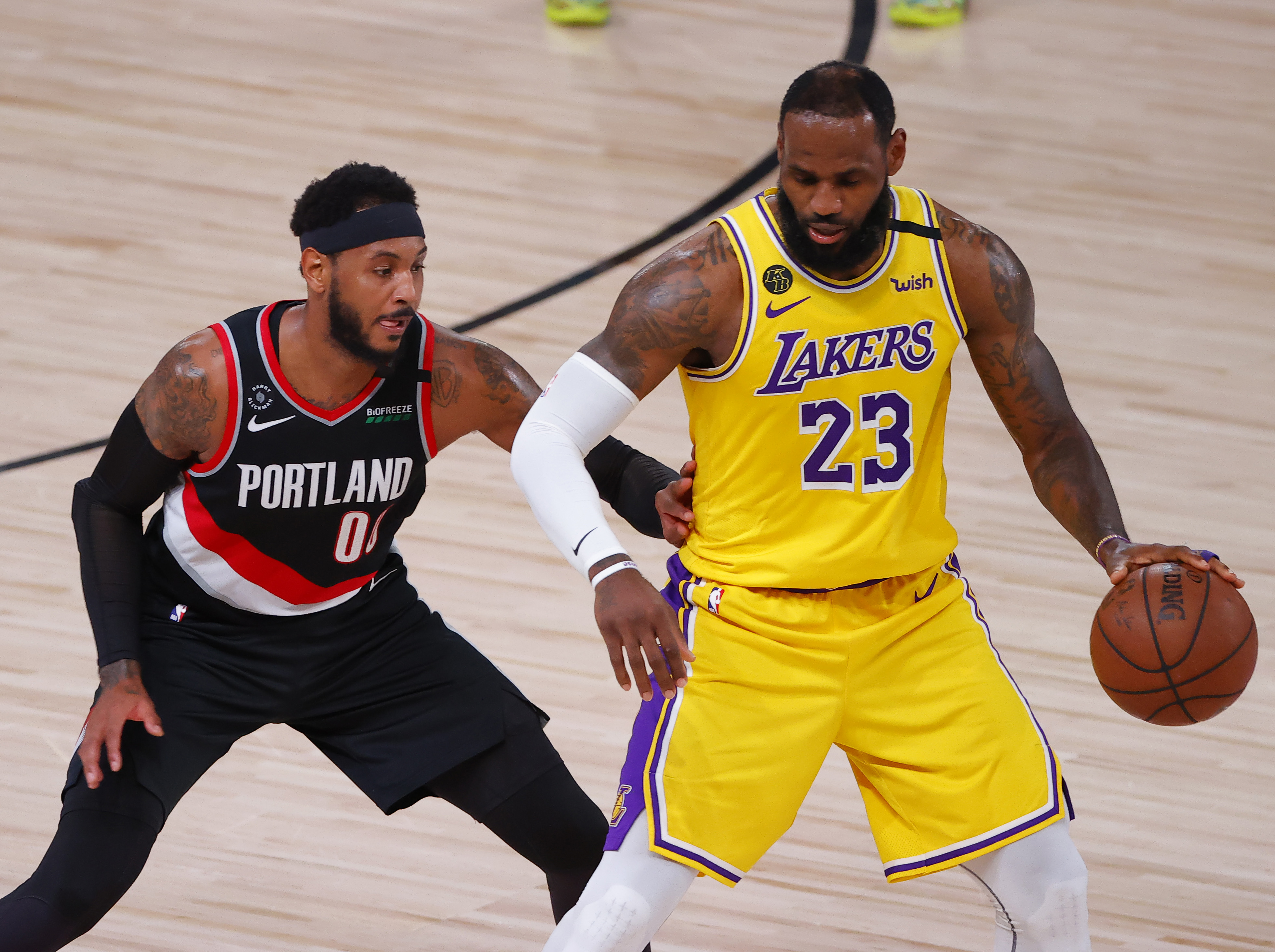 The Lakers are going to have competition in their pursuit to sign Anthony.
Schultz reported the New York Knicks also have interest in Melo. President of basketball operations Leon Rose was Anthony's agent back in the day.
Anthony became a staple of the Knicks organization during his seven-year run in the Big Apple. He made seven All-Star teams and won a scoring title. Maybe he feels a strong desire to go back to New York and join a Knicks team that appears to be building something.
It could come down to money, as well as motive. Anthony's desire to win his first NBA championship might incentivize him to sign with James and the Lakers. That said, the Knicks have more cap space and thus could entice Anthony with a more lucrative offer.