LeBron James Needs to Learn From Damian Lillard About How to Handle Being a Star
LeBron James is playing like an ageless wonder, but that hasn't translated to the Los Angeles Lakers playing like NBA title contenders. Instead, his control over the organization has become the prominent discussion.
James' massive influence over the Lakers' roster construction is no secret, placing more pressure on the franchise. However, the four-time NBA champion must take a page from Damian Lillard's playbook to help the franchise finally move forward again.
LeBron James holds significant control over the Lakers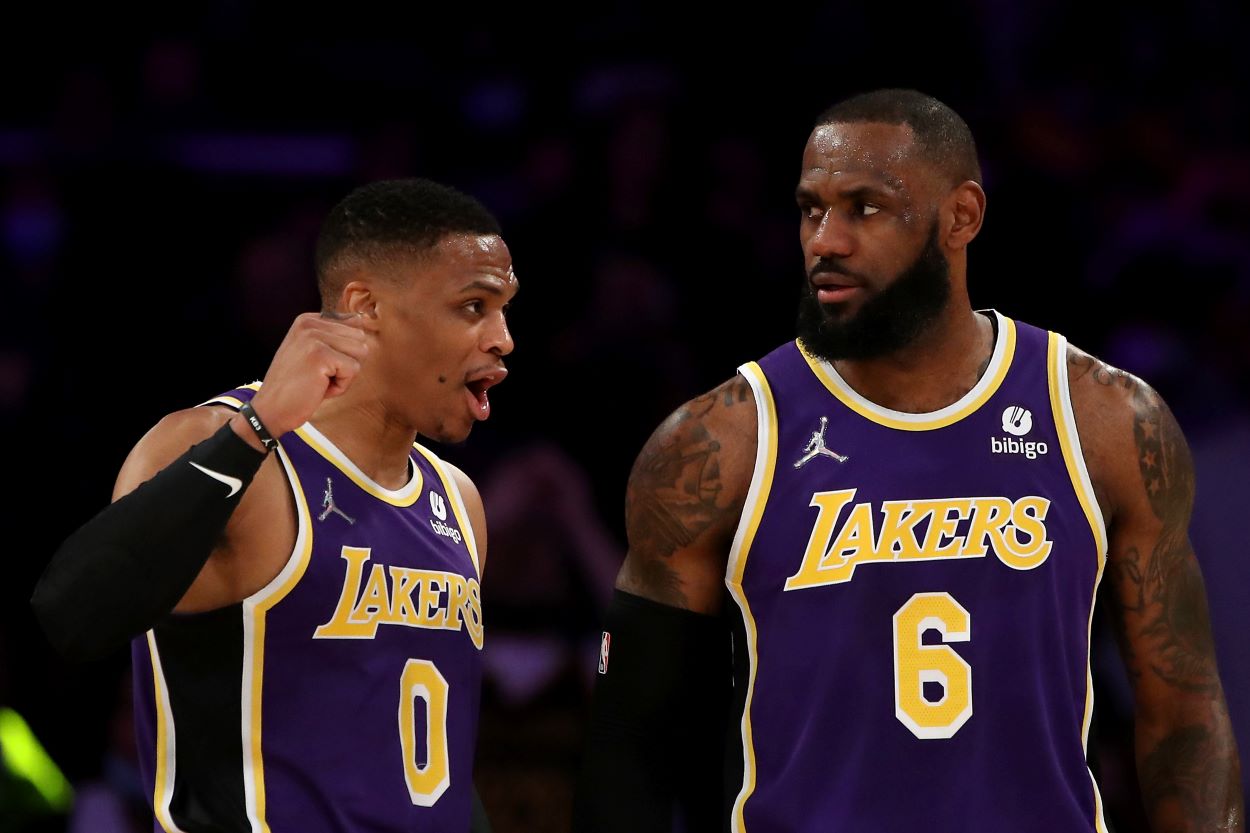 The more LeBron James shoots down any notion that he holds a significant influence on the Lakers' decision-making, the more apparent it becomes.
The star forward has played a factor in the disappointing position engulfing the franchise. James has certainly earned the right to garner a say in the roster construction, but there comes the point where too much control creates a negative impact.
The Lakers are floundering due to a roster that doesn't possess the supportive firepower to push them forward. Meanwhile, the organization is stuck with Russell Westbrook through at least next offseason.
James may have reaffirmed his long-term commitment, but it's shaded another wrinkle into the dilemma. All that only further underlines the 37-year-old possesses a tight grip over the franchise, making it time for him to take a page out of Damian Lillard's playbook.
LeBron James needs to embrace less roster influence like Damian Lillard
Over the last few years, Damian Lillard has become one of the most talked-about star players.
His unwavering loyalty to the Trail Blazers has baffled many due to the team repeatedly falling short of building a championship contender. His perspective still hasn't shifted even after the Blazers shipped off teammates CJ McCollum and Norman Powell before the trade deadline.
All of that would push any star player to grab control of the situation, but Lillard isn't of that mindset.
"I can't go in there and say 'Do this and do that, do that' and be putting other people's lives and they families in they situation out like it ain't nothing," Lillard said on the Volume's The Draymond Green Show via NBA.com. " I never felt comfortable operating like that. Before now, I've reached a point where I knew that I can't ask the team to say 'Give me an opportunity to win' and then not be willing to deal with the hurt that comes with that.
"And that don't mean I'm going in there telling them 'Do this' or 'Do that' but I'm telling them 'I'm not going to tell y'all what to do but I'm also not going to stop y'all from doing y'all job. I want y'all to give us a chance to win.' That's my stance is like, give us a chance to win."
Could Lillard force his will upon the Blazers' front office? Of course. Has his lack of aggression in that department previously hurt his chances of building a title contender in Portland? Probably. However, it's the six-time All-Star's overall approach of trusting the front office that James could glean from.
Yes, James is in a different situation moving through Year 19 of his career, with Father Time trying to creep into the picture. Ultimately, it's the reduced influence that could finally lead to the right supporting cast around him.
Lakers know the task ahead to keep LeBron James
The 18-time All-Star's commitment comes with an obvious caveat: Build a championship contender.
James' recent praising of Oklahoma City Thunder general manager Sam Presti clearly signals that he will closely watch Rob Pelinka. There may not be any internal friction, but the pressure is on Pelinka to reconstruct the roster.
He wants to spend the rest of his career in Los Angeles but on teams that vie for NBA titles. Moving Russell Westbrook sits as priority No.1 as that will allow the franchise to bring together a more balanced group. The Lakers would love to trade for Lillard, but that is likely off the table as the Blazers will rebuild the team around him.
Nonetheless, the game plan is simple in Los Angeles, and it's up to the front office to get it done.
Like Sportscasting on Facebook. Follow us on Twitter @sportscasting19.
RELATED: LeBron James Can Flip the Switch on the Lakers Season by Abandoning His Latest Obsession