LeBron James' New Big 3 Is Still No Match for His Miami Heat Trio
The deal came across as a shocker before the NBA draft on July 29. The Los Angeles Lakers traded three players and their first-round pick to the Washington Wizards for former NBA MVP Russell Westbrook. That will once again put LeBron James front and center of a superstar trio, the third such group he's belonged to in his career.
Of course, that doesn't count the James-Larry Hughes-Zydrunas Ilgauskas Medium-Sized Three with the Cleveland Cavaliers in 2006–07.
James' first Big Three with the Miami Heat won him a pair of rings. His second significant trio with the Cavs got him his third. James and Anthony Davis have already won a championship together for the Lakers. The arrival of Westbrook gives James the opportunity for a fifth title, which would be his fourth as part of what some in LA would call a tres grandes.
LeBron James helped mastermind the Westbrook deal, along with Davis
While the Westbrook news was a big surprise to many, reports say the move was in the works for weeks.
Part of the confusion came when there were dueling rumors surrounding the Lakers. Reports had LA was close to sending Kyle Kuzma and Montrezl Harrell to the Sacramento Kings for Buddy Hield. Suddenly, Kuzma and Harrell were Washington-bound. Changing directions that quickly often leads to a pulled hamstring.
Next season will be James' age-37 season and, after a durable career, The King is showing signs of tread wear. He's missed 60 games in the last three seasons with the Lakers. James missed 71 games over his first 15 NBA seasons. Westbrook turns 33 in November, while Davis is 28 and entering his 10th season.
It's hard to call this the best Big Three of James' career, given the advanced ages of two of them. As is often the case, James' original Big Three remains his best.
The Miami Heat-era Big Three was a force of nature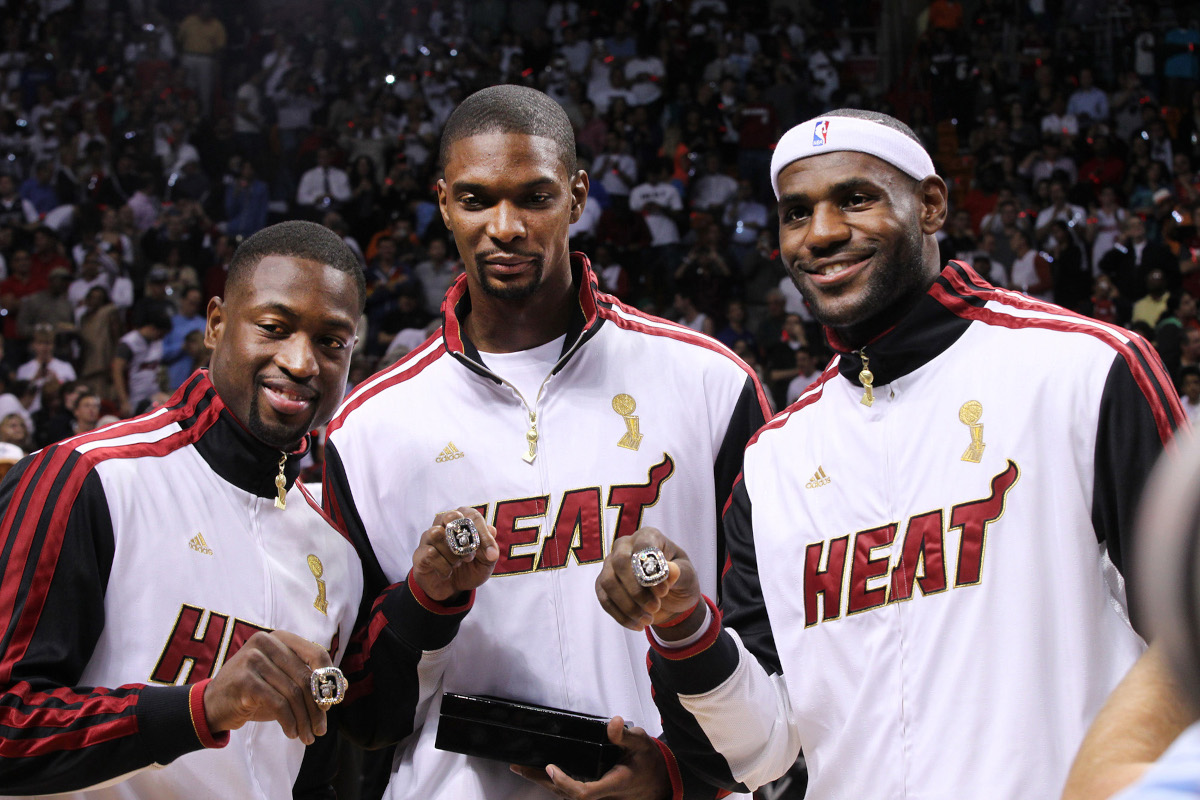 LeBron James got a lot of heat for "The Decision," and deservedly so. But it's easy to have that sort of hubris when you're 25 years old and already own two NBA MVP awards. When James and Chris Bosh decided to join forces with Dwyane Wade on South Beach, it was a confluence of stars that were all near their zenith.
Wade was the wizened one of the group at 28, while Bosh had turned 26 a few months before the trio signed with the Miami Heat. All three players had to adjust their games, which made the entire NBA world howl as the Heat got off to a 9–8 start in 2010.
They figured it out. Over four seasons, Miami was 224–88, went to four straight NBA Finals, and won titles in 2012 and 2013. Bosh is already a Hall of Famer. Wade will be in 2023. Three years after he finally retires, James will join them in Springfield.
Three of the top five picks in one of the most storied NBA drafts of all-time played together for four seasons, and all were younger than 30 when they came together. It just doesn't get a lot better than that.
The Big Three led by LeBron James in Cleveland had a shorter shelf life
When LeBron James decided it was time to come home to Cleveland in 2015, he did so with the knowledge he'd be teaming up with former Rookie of the Year and two-time All-Star Kyrie Irving. But after James arrived, the Cavaliers traded away their No. 1 picks from 2013 and 2014, Anthony Bennett and Andrew Wiggins, to bring Kevin Love from the Minnesota Timberwolves.
The Cavaliers went to three straight NBA Finals and won the franchise's first championship in 2016. They weren't much of a Big Three in the 2015 playoffs. James was there, but Irving injured his knee in Game 1 of the Finals. Love went down with a shoulder injury in Game 4 of their first-round sweep of the Boston Celtics.
After the 2016–17 season, the group fell apart when Irving demanded a trade. He wound up in Boston, while Cleveland made one more Finals run. Much like Bosh in Miami, the big man — in this case Love — had to make the most concessions of his touches and shots.
Depending on what James has left, the new group of Lakers has a window of maybe a couple of years. But Anthony Davis might want to study the histories of LeBron James-led Big Threes. They don't seem to go as well for the big guys.
Statistics courtesy of Basketball Reference.