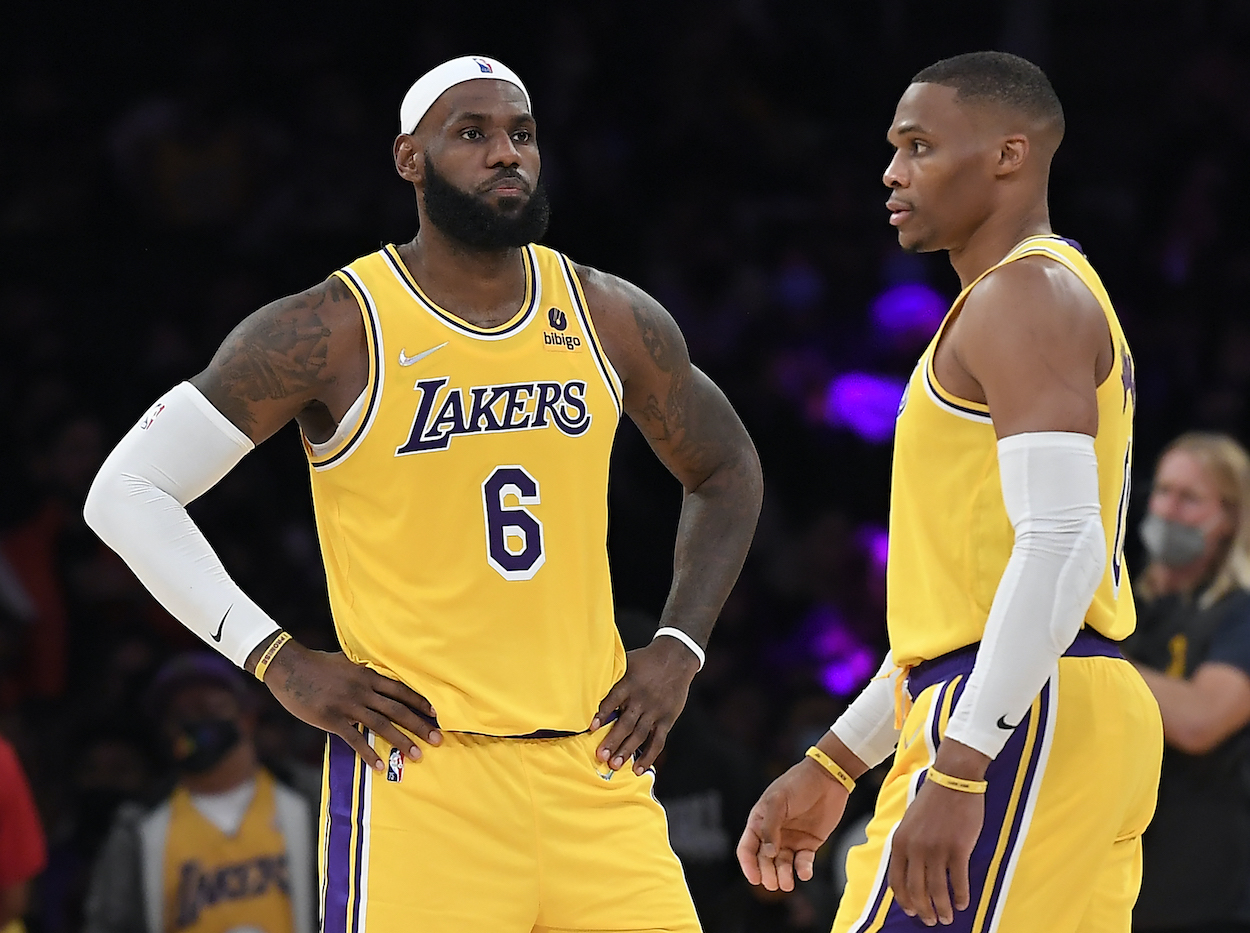 LeBron James and the New-Look Lakers Just Watched Their Worst Nightmare Come to Life Much Earlier Than Expected
The Lakers' nightmare involving Russell Westbrook is already coming to life.
It was all sunshine and roses when the Los Angeles Lakers traded for star point guard Russell Westbrook this summer. The nine-time All-Star was expected to be the missing piece needed to complete LA's championship puzzle, but it didn't look that way Tuesday night.
In the Lakers' season-opening loss against the Golden State Warriors, Westbrook shot poorly from the field and didn't look comfortable at all beside LeBron James on the court. It's possible LA's biggest offseason gamble could become the team's worst nightmare.
The concerns surrounding Russell Westbrook's fit with the Lakers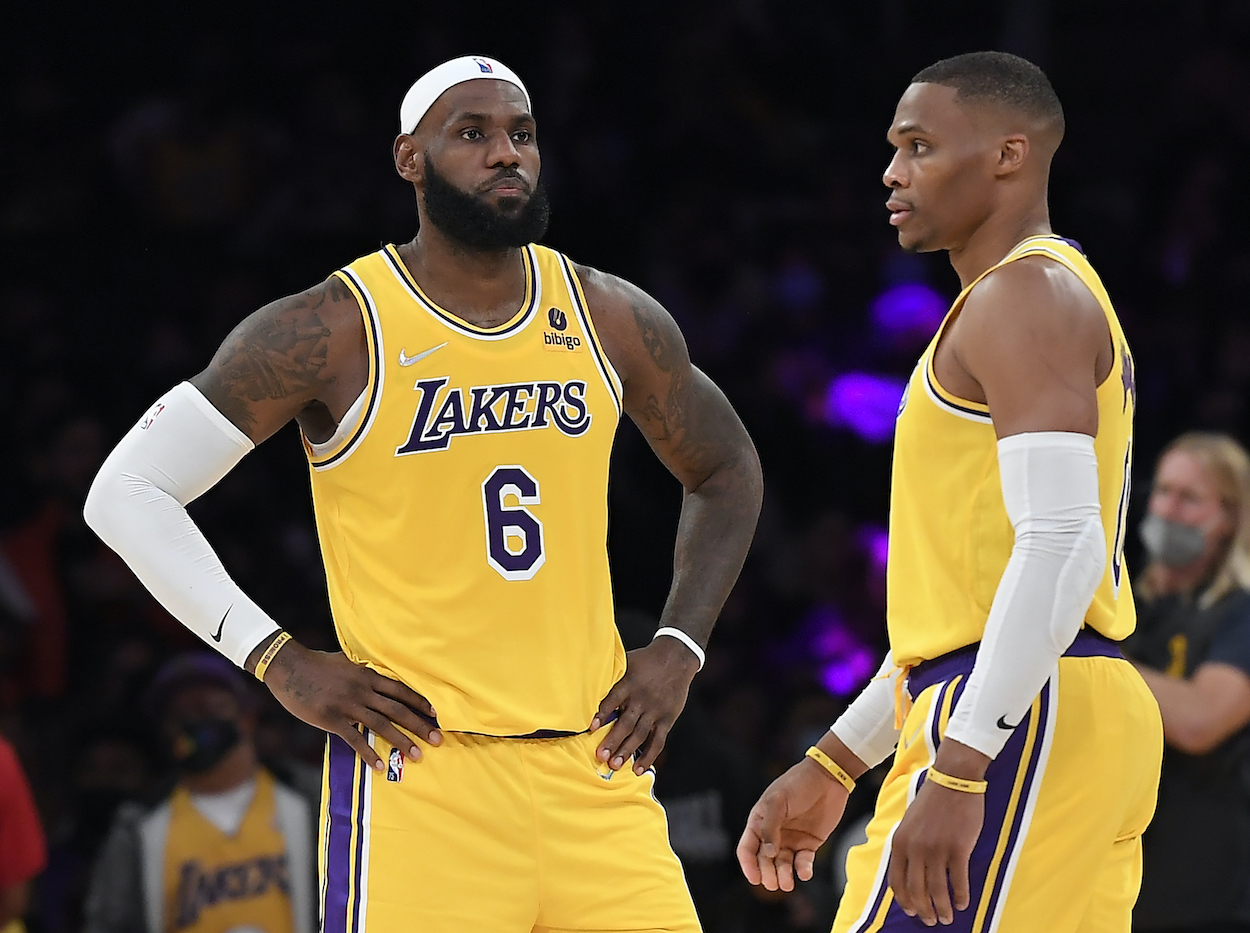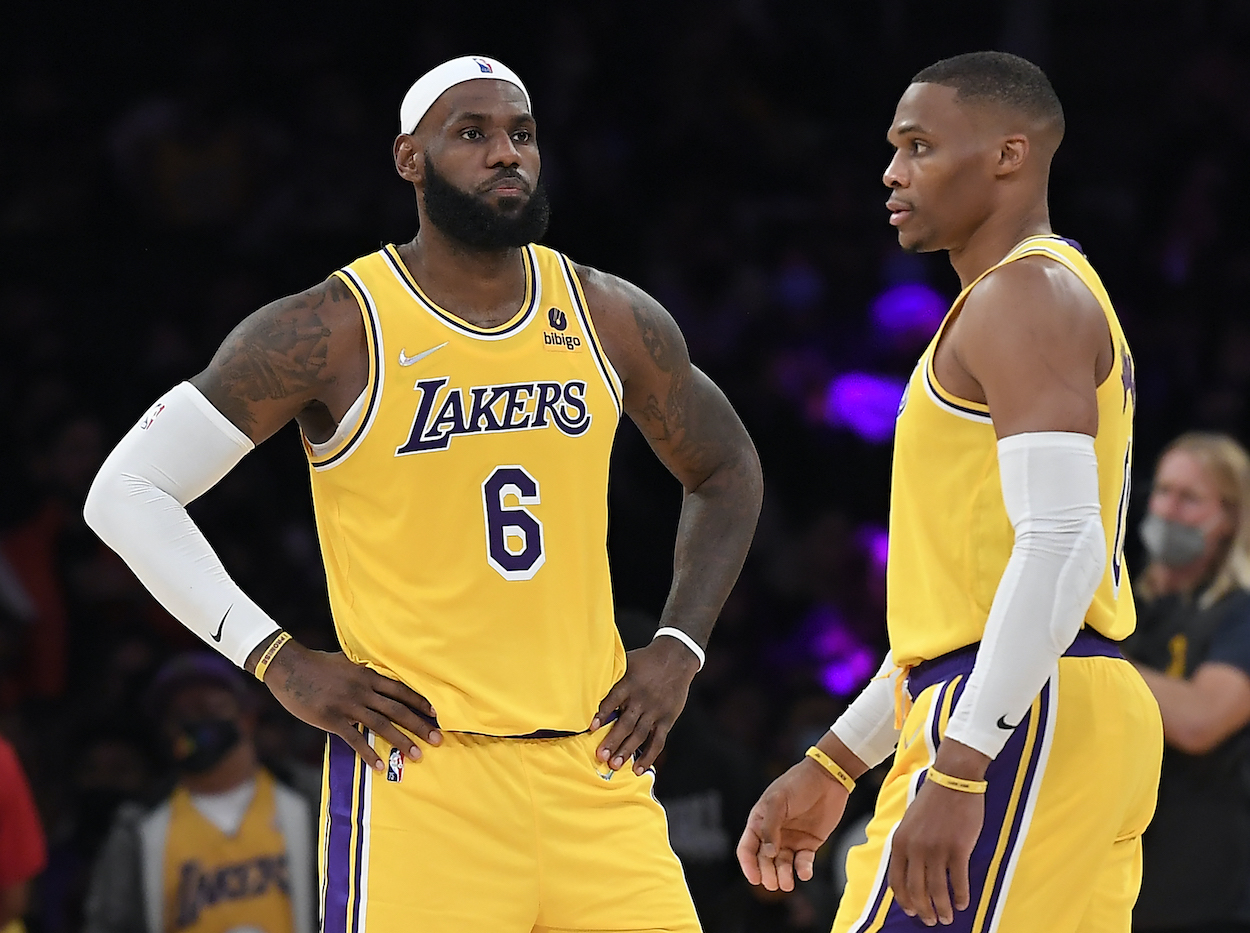 When Westbrook joined the Lakers in the offseason, many fans understandably believed it would be the beginning of a dominant title run. After all, James, Westbrook, and Anthony Davis are three of the most unstoppable players at their respective positions around the NBA.
But others were more skeptical. Westbrook has always been a ball-dominant point guard who needs an extremely high usage rate to make the greatest impact on the offensive end. On the other hand, James thrives on offense when he's the captain of the ship and surrounded by capable shooters who can space the floor and give him room to operate.
Put the two on the same floor together, and you get a concerning clash of styles.
It's possible the sheer talent will eventually win out, but it wasn't a promising debut for LeBron and Westbrook on Tuesday night.
LeBron James and the Lakers are already watching their worst nightmare come to life
In the Lakers' season opener against the Warriors, LA fans received a hurtful reminder about how their star free agent signing got the nickname "Westbrick" in the first place.
In 35 minutes played, Westbrook shot an abysmal 4-for-13 from the field and 0-for-4 from three, and none of his 3-point attempts even looked like they had a chance of going in. He finished the game with just eight points, five rebounds, four assists, and four turnovers. Not only did Westbrook struggle to shoot the ball, but he also failed to create for his teammates the way he's done so consistently in years past.
And that's not a coincidence.
Westbrook has always been able to rack up points and assists despite his inefficient offensive game because of his career usage rate of 32.4%. That's the second-highest mark in NBA history behind only Michael Jordan, according to StatMuse. But Westbrook's usage rate in his Lakers debut? Just 19.3%.
The only way Westbrook can make his full presence felt on offense is if he constantly has the ball in his hands and is attacking the rim. That's not possible right now with LeBron and Davis on the same court.
Yes, it's only one game, but this is a problem that won't be going away without some serious changes.
Is benching Russell Westbrook a realistic solution for the Lakers?
Look, I know benching Westbrook sounds ludicrous, and it likely won't happen all season considering he's getting paid more than $44 million this year, but just hear me out for a second.
Charles Barkley hinted at the idea on Inside the NBA Tuesday night, and he made some compelling points. LeBron and Westbrook don't work on the court together. They just don't. They play their best basketball when they're running the show, so why not let them both run their own?
Trot out James to start the game and throw Malik Monk or Wayne Ellington in the lineup for an extra shooter to space the floor. James will excel in the point guard role alongside Davis and a few snipers along the 3-point line. Now, do the same with Westbrook off the bench. Let him run his own unit with Dwight Howard pick-and-rolls, Carmelo Anthony spot-ups, and a rotation of shooters around them.
It doesn't have to be a complete benching, but head coach Frank Vogel should at least experiment with different lineups to see if Westbrook feels more comfortable without James next to him on the court. With all the depth at their disposal, the Lakers could build a well-oiled, two-unit machine akin to the platoon system John Calipari deployed at Kentucky in 2015.
Unless LeBron and Westbrook can magically change their styles of play this late in their careers, playing them apart might be the only option.
Like Sportscasting on Facebook. Follow us on Twitter @sportscasting19.