LeBron James Has Nobody but Himself to Blame for His Issues With the Los Angeles Lakers
The Los Angeles Lakers appear to be a team destined for the NBA's play-in tournament this year. LeBron James and his team will likely have to win at least one game, maybe two, just for the right to face the Phoenix Suns or Golden State Warriors in the first round of the playoffs.
This is not how this season was supposed to go. With James, Anthony Davis, and Russell Westbrook forming a new Big Three in LA, the Lakers were supposed to be hanging around the top of the Western Conference standings for most of the season and in contention to win an NBA Championship.
But that's far from where things stand and where they'll likely end up.
With three superstars — including The King — LA hasn't accomplished much of anything. Now, James is supposedly unhappy with the Lakers and the team put around him.
But he has nobody but himself to blame for the Lakers' poor season.
The Los Angeles Lakers are one of the NBA's biggest disappointments
Coming out of the All-Star break, the Lakers are 27-31 and in ninth place in the West. They're 21 games back of the first-place Suns, a giant fall from grace for a franchise with three "superstar" players.
LA is only 2.5 games ahead of the Portland Trail Blazers, who currently hold the conference's final play-in spot and thoroughly dusted the Lakers before the break.
LeBron and Co. are 10th in the league in scoring — which goes to show how poor they've been in other areas. LA is 26th in points allowed, 15th in assists, and 17th in rebounding.
Westbrook is at the beginning of the end of his career. Davis can't stay healthy. Even James is missing games. The Lakers' season is finished.
But Bron (sorry, "his agents") is reportedly upset that general manager Rob Pelinka didn't make any moves to improve the roster at the trade deadline, per SportingNews.
Sure, maybe a move or two on the fringes could have helped, but it wasn't going to magically vault LA to the top of the West.
But it's not Pelinka's fault the Lakers' roster looks the way it does.
LeBron James made the calls to bring AD and Russ to the Lakers and it's become a failure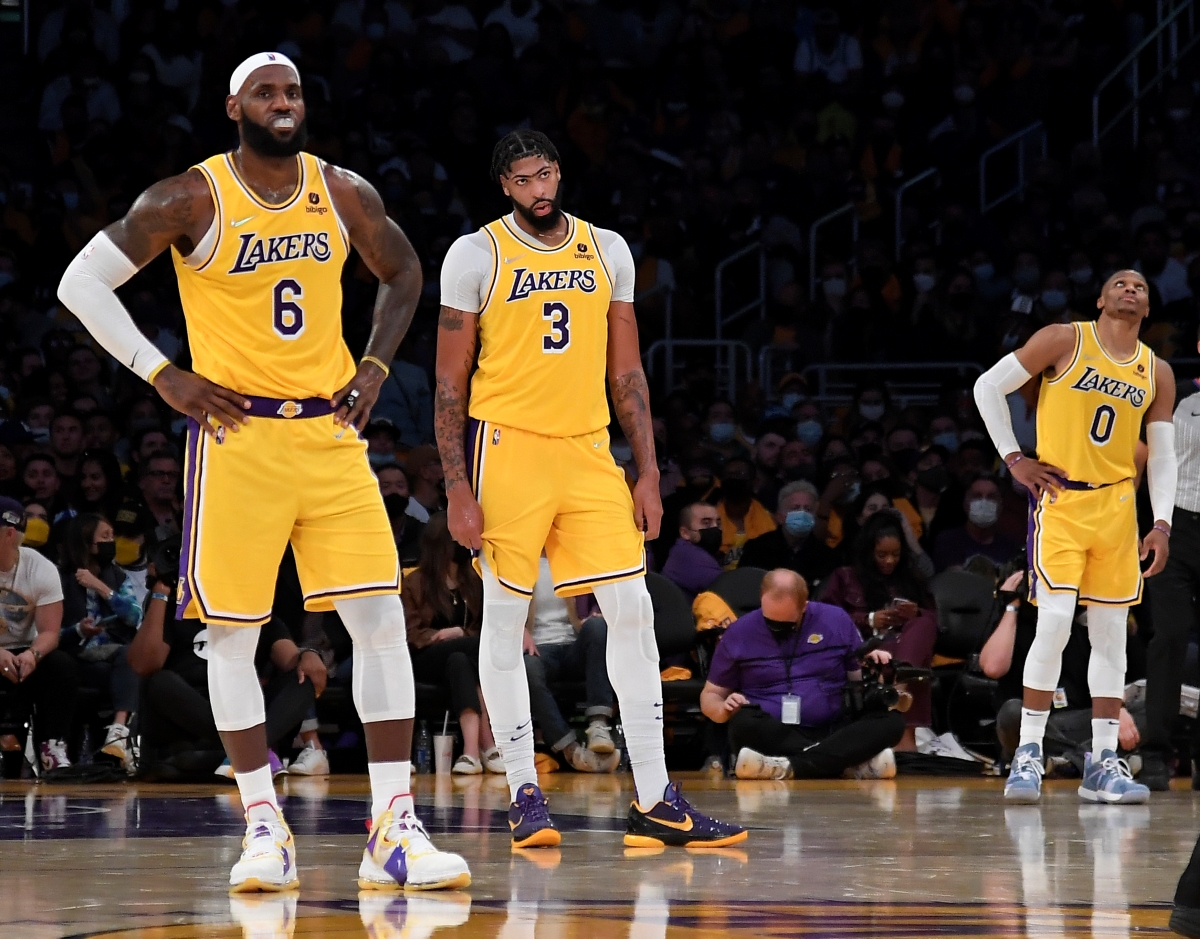 James has put together a heliocentric organization in LA. He's at the center, and everything else revolves around him. It's not the first time he's done this with a franchise, and likely won't be the last.
But he's responsible for putting this team together.
When LeBron landed in Hollywood, he made it known he wanted Davis to join him. So, of course, it happened.
The Lakers traded two No. 2 overall picks in Lonzo Ball and Brandon Ingram, along with Josh Hart and multiple unprotected first-round picks and pick swaps in exchange for AD. The team went on to win the 2020 NBA Championship, so it's hard to consider that move, in a vacuum, to be a failure.
After falling short in 2021, the Lakers made the blockbuster trade of the offseason by acquiring Westbrook. In return, they sent Kyle Kuzma, Kentavious Caldwell-Pope, Montrezl Harrell, and their 2021 first-round pick to the Washington Wizards.
With three max players on the roster, LA was forced to fill out most of the rest of the squad with aging veterans on minimum-salary deals.
Now Russ's play has fallen off a cliff, LeBron has missed 17 games, and Davis has missed 21 and counting as he's expected to be out for another three weeks with a foot sprain. James' latest roster experiment has failed.
But there's no going back for the franchise. Westbrook is only tradeable for another bad max contract, Davis has three more years left on his deal at around $40 million per, and LeBron is a free agent after 2022-23.
To recap, this is the bed LeBron has made for himself with LA:
Incoming: Anthony Davis, Russell Westbrook
Outgoing: Lonzo Ball, Brandon Ingram, Josh Hart, Kyle Kyzma, Kentavious Caldwell-Pope, Montrezl Harrell, and at least four first-round picks
James made that bed, and now he has to lie in it. At least temporarily.
LeBron likely has one foot out the door in LA
James spent a good portion of the All-Star break conversations "not ruling out" a return home to Cleveland or a desire to play with his son Bronny when he reaches the league. He also spent time praising Oklahoma City Thunder GM Sam Presti for his scouting acumen.
Those comments were passive-aggressive, thinly-veiled shots at Pelinka and the Lakers organization for failing to make moves at the trade deadline to improve the roster. Or, to put it more bluntly, for failing to do what he wanted.
James apparently doesn't seem to understand that he played a significant role in putting this roster together in the first place. It's not that Pelinka doesn't bear any blame here, but LeBron wanted Davis and Westbrook, and he got them. But he gave away almost everything in doing so.
Now the Lakers' season is in the tank, Bron is taking shots at other members of the organization, and he isn't being shy about preparing for his exit out of LA. He clearly has one foot out the door already, and the second isn't far behind.
All statistics courtesy of NBA.com.
RELATED: The Los Angeles Lakers Are Finally Doing the Smart Thing by No Longer 'Yielding' All Decisions to LeBron James