LeBron James Once Went and Crashed a Random Wedding After Winning the NBA Finals
It seemed like it was a long road for LeBron James to win his first NBA championship. He played eight seasons before finally winning his first ring with the Miami Heat during his ninth season. It was during the 2011-12 season that he finally won it all as the Heat defeated Kevin Durant, Russell Westbrook, and the Oklahoma City Thunder in the NBA Finals. While James probably celebrated a lot in the weeks after winning that championship, one of the first things he did was crash a wedding.
LeBron James was hungry for a championship
From the 2003-04 season through the 2009-10 season, LeBron James tried to win an NBA championship with the Cleveland Cavaliers. He did take them to the NBA Finals during the 2006-07 season, but the much stronger San Antonio Spurs ultimately swept the Cavaliers. Other than that season, though, the Cavaliers could not get back to the NBA Finals during his first stint in Cleveland.
James then teamed up with Dwyane Wade and Chris Bosh on the Miami Heat during the summer of 2010. He got back to the NBA Finals that next season too in 2010-11 as the Heat took on the Dallas Mavericks.
However, after the Heat won Game 1 of that series, the Mavericks won 95-93 in Game 2. The Heat then won 88-86 in Game 3, but the Mavericks evened things up in Game 4 with an 86-83 win. The Mavericks held James to only eight points in Game 4 too. Dallas then won 112-103 in Game 5 and 105-95 in Game 6, winning the series 4-2. James, again, fell short of winning a championship. 
Finally winning a championship in 2012
During the 2011-12 season, James, Wade, and Bosh got the Heat back to the their second consecutive NBA Finals. This time, they faced the young, but talented, Oklahoma City Thunder. The Thunder had Kevin Durant, Russell Westbrook, and James Harden so defeating them was not going to be easy.
The Thunder actually came out and won 105-94 in Game 1 as Durant scored 36 points. However, inexperience ended up catching up with them. The Heat won the next four games to win LeBron James his first-ever NBA championship. 
James ultimately won Finals MVP in that series too. He averaged 28.6 points per game to go with 10.2 rebounds and 7.4 assists. 
Obviously, when a team wins a championship, there are some big celebrations for the next few weeks, and sometimes even for the next few months. However, LeBron James decided to crash a wedding just a couple of days later. 
James crashed a wedding after winning the NBA Finals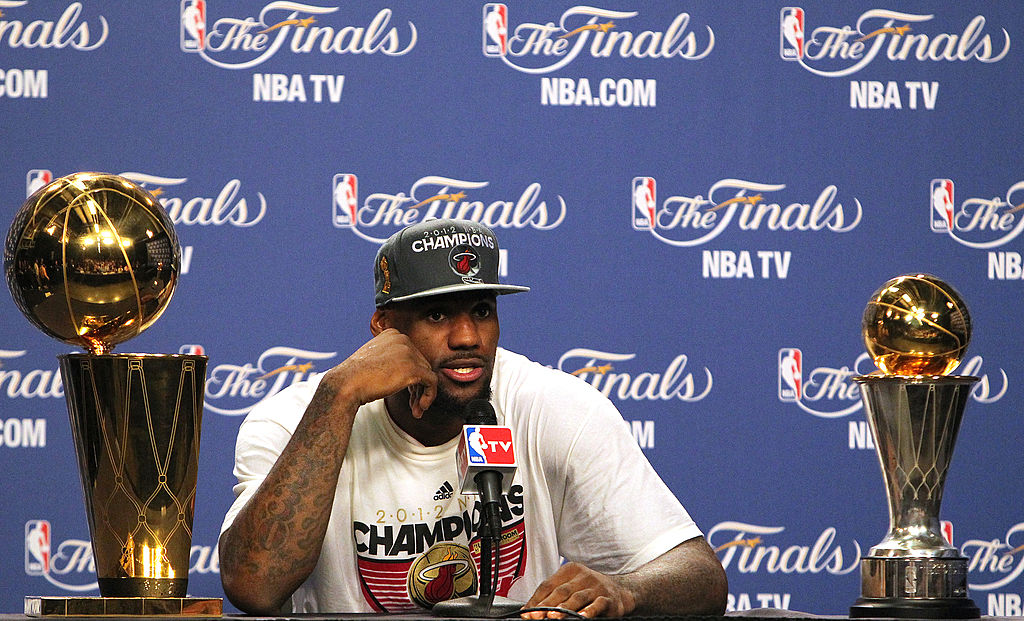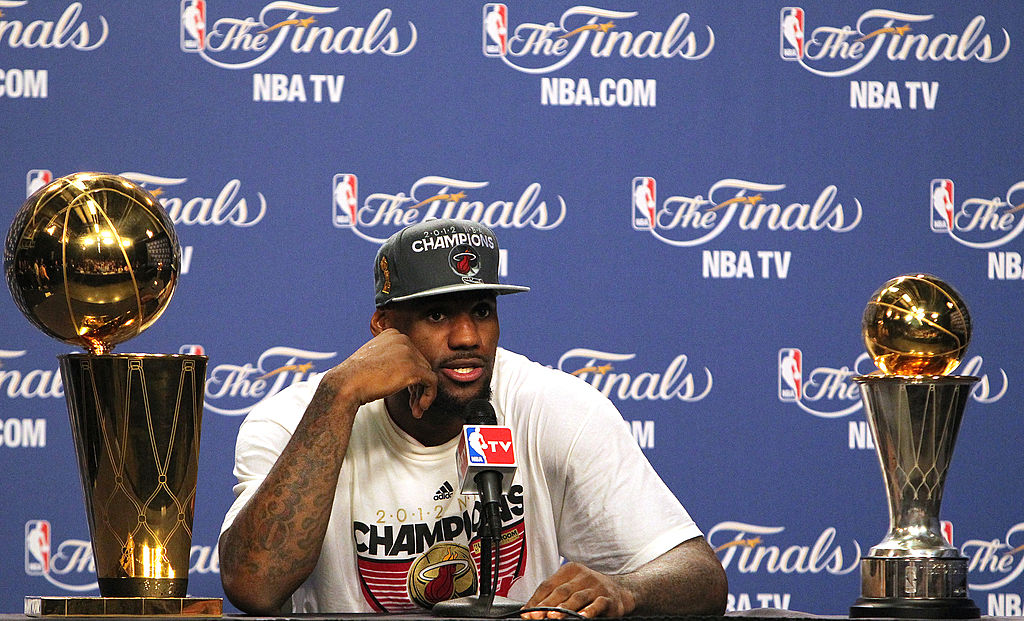 Complex Magazine wrote a piece in 2018 where they had 10 journalists tell their favorite stories about LeBron James. Former Sports Illustrated writer Lee Jenkins told a story in it about how he interviewed James in April 2012. When he interviewed him, Jenkins told James that he wanted to sit down with him right after the NBA Finals later that season, assuming the Heat were going to win. The two then ended up talking at a hotel in Miami about 48 hours after the Heat beat the Thunder in the Finals.
However, it just so happened that a Jewish wedding was taking place at the hotel at the same time their interview was scheduled for.
"All of the sudden people start coming down and seeing him," Jenkins said, according to Complex. "They're pointing at him and the guests are banging on the windows and they're all in their tuxes and everything. And he kind of looks at them and looks at me, and I'm like, 'Hey, I didn't know this was going to happen.' So we walk out and he walks out into the wedding and everybody kind of raises a glass to him and he said 'L'Chaim' to everybody. And he just said, 'You're getting rings, I'm getting a ring.' It was really cool. He went in there and took a picture with the bride and groom."

Lee Jenkins
Can you imagine what it would be like to randomly see LeBron James at your wedding? None of the other wedding gifts would even compare to that one.
LeBron James, most likely, did a lot of celebrating after winning his first NBA championship. However, for a few minutes in the aftermath of winning his first title, LeBron James crashed a wedding and probably gave some people a memory they will never forget.