LeBron James Sincerely Opens up About 1 of the Biggest Challenges of His Career: 'We Was Mad as Heck'
It has been a difficult season so far for LeBron James and the Los Angeles Lakers. They came in with one of the most talented rosters in the NBA but only have an 11-11 record to show for it.
After their recent narrow win over the tough and mighty Detroit Pistons, though, The King opened up about this season and discussed how it has become one of the top challenges of his career.
The Los Angeles Lakers have gotten off to a mediocre 11-11 start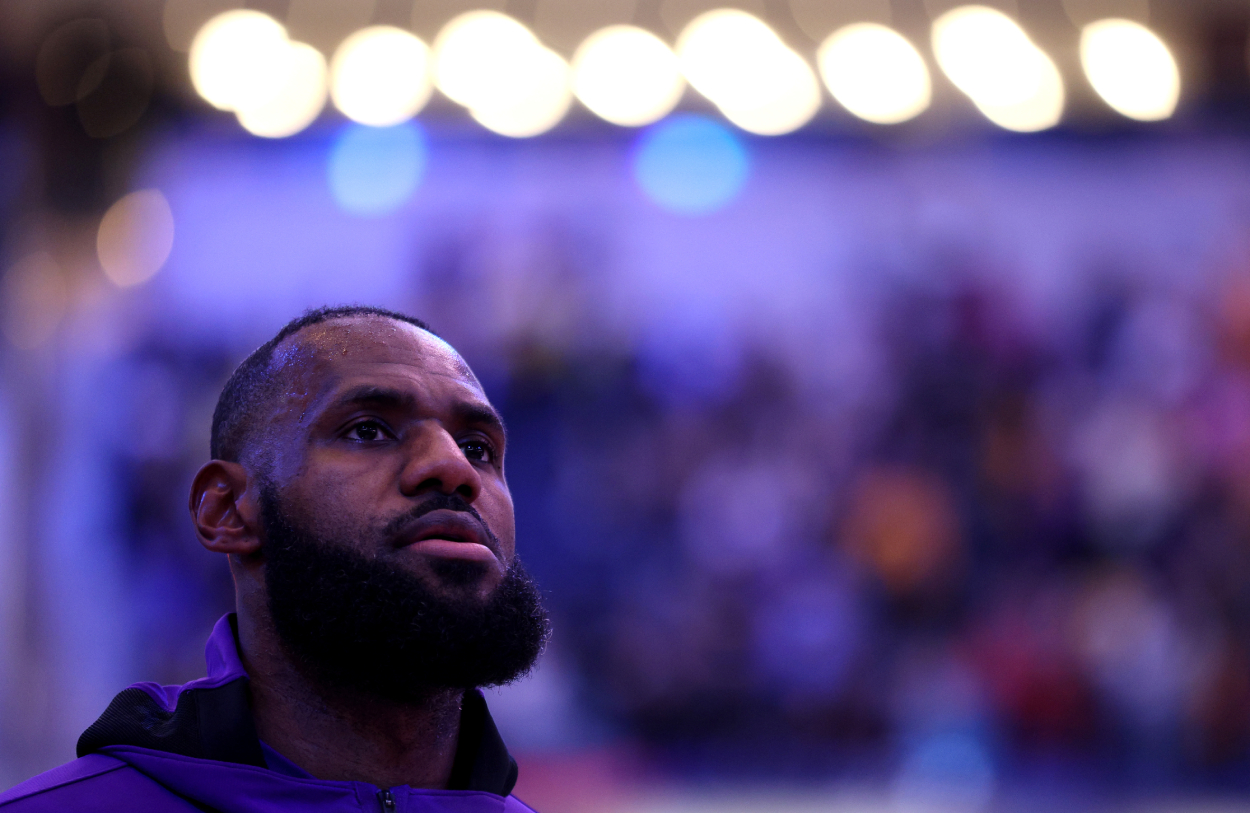 Despite adding guys like Russell Westbrook and Carmelo Anthony to a roster that already had LeBron James and Anthony Davis, the Lakers have struggled tremendously to start this season.
They are 11-11, which puts them in a four-way tie for sixth place in the Western Conference, and they have suffered embarrassing losses to bad teams like the Oklahoma City Thunder and Sacramento Kings.
But all in all, their offense has figured out how to score, ranking fifth in the NBA in points per game at 111.3. James, who has missed 11 games this year, leads the team with 25.8 points per game, while Davis averages 24.2, Westbrook scores 20.6 per game, and Anthony is at 14.4 per game.
However, turnovers and defense have killed LA so far, as there seems to be a negative offensive play for every positive one. The team ranks fourth in the league in turnovers with 16.0 per game. It is also second-to-last in opponent points per game, allowing an average of 114.1.
That's not a recipe for success. And this team has become one of James' biggest challenges.
LeBron James: 'It ranks right at the top of any other challenge I've had in my career'
Despite the Lakers' struggles as a team, LeBron James has been on a tear in the last three games following his one-game suspension for getting into an altercation with Isaiah Stewart. In those contests, the 17-time All-Star is averaging 34.0 points, 5.7 rebounds, and 8.7 assists.
However, after LA beat the 9-13 Indiana Pacers in overtime, it lost to the 8-13 Sacramento Kings in triple-overtime and only beat the 4-16 Detroit Pistons by four.
Nothing has come easy this year.
"It (this season) ranks right at the top of any other challenge I've had in my career, which actually brings out the best in me, and I love that," James said after the win over the Pistons, per the Lakers' YouTube. "I love trying to figure out how we can be better, get through the mud, get through adversity, and just make it sweeter on the backend. I feel like we haven't even scratched the surface on what team we can be, and we're gonna continue to get better and better as we continue to learn each other more and more."
James then stressed the fact that the Lakers essentially have an entirely new roster this year, which can be hard to fit together systematically on offense and defense.
"That takes time, and obviously, you hate losses; we don't want to lose," he added. "We get frustrated. We was mad as heck the other night after that [Sacramento] loss, and we made it a point to come in today very focused on the game plan, learning from our mistakes, and we got better. Right there lets me know that we're a team that cares, and we're a team that wants to continue to get better throughout it all."
They have certainly struggled, but if The King can, in fact, figure out how to get this team clicking, the entire league could be in trouble.
LeBron James has proven he can figure things out throughout his NBA career
The Lakers aren't the only new LeBron James team that has taken time to figure each other out. The 2010-11 Miami Heat started 9-8 and then finished 58-24 before reaching the NBA Finals, and the 2014-15 Cleveland Cavaliers began the season 19-20 before ending the year at 53-29 and also reaching the Finals.
Sure, slow starts are frustrating, but it's all a part of the process with James.
The only thing that's worrisome is how well teams like the Golden State Warriors and Phoenix Suns are playing. Golden State is 18-2 on the year, and Phoenix is 17-3. If LA can't figure things out soon, it will have a difficult time closing in on those teams in the Western Conference standings and may struggle to match the season-long chemistry both those squads may have in any potential playoff series.
All in all, no one should ever count a talented LeBron James team out. But the Lakers need to start clicking soon, or things will just continue to become a steeper uphill battle.
Stats courtesy of Basketball Reference