LeBron James Was Planning His Eventual Return to the Cavaliers Only 5 Days After He Signed With the Heat
LeBron James took the basketball world by storm when he left the Cleveland Cavaliers for the Miami Heat in July 2010. 
The hometown fans in Ohio understandably weren't pleased with James' departure. But as Cavaliers fans burned their jerseys and anxiously prepared for the months-long wait to boo their former star, James may have already been preparing for eventually re-signing with Cleveland down the line.
LeBron James once spoiled his eventual return to the Cavaliers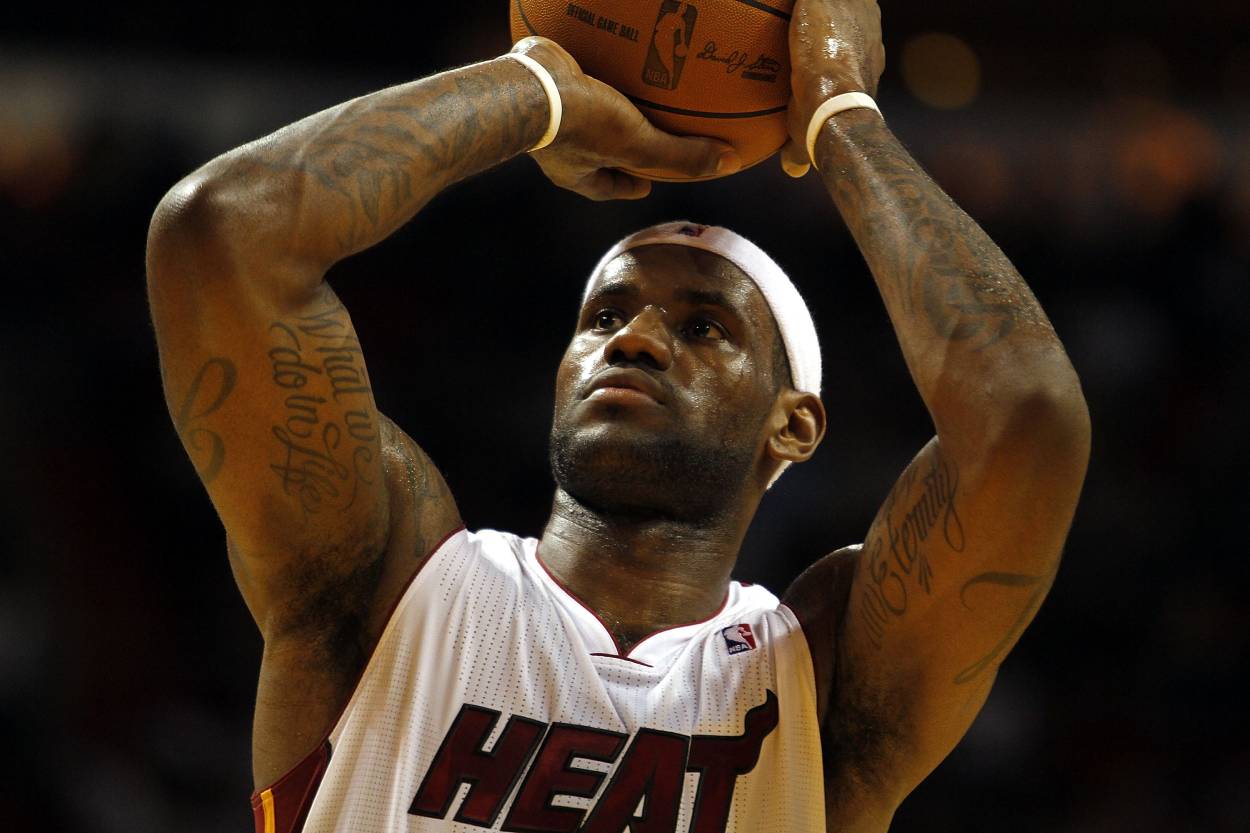 RELATED: LeBron James Does Not Seem Too Happy With a Former Cavaliers Teammate
LeBron James officially signed with the Miami Heat on July 9, 2010. After sevens seasons in Cleveland, he joined Chris Bosh and Dwayne Wade in forming the Big Three.
The rest, including the two championships that Miami won in James' four seasons there, is history. But less than a week after signing with the Heat, James already had the Cavaliers on his mind.
GQ spoke with James on July 14, 2010. James had announced his plans to sign with Miami on an ESPN special, The Decision, six days earlier.
During his conversation with GQ, James admitted that he'd already begun thinking about eventually rejoining the Cavaliers.
"If there was an opportunity for me to return, and those fans welcome me back, that'd be a great story."

LeBron James
Not only does this fall under preparing the cart way before the horse even leaves the stable, but this is also an intriguing look into James' mindset. He already thought about suiting up for the Cavaliers in a time when the city of Cleveland wanted nothing to do with him.
Fans in Cleveland were very upset with James at the time
RELATED: LeBron James Turned 'The Decision' Into Incredible $3 Million Donation
There are understatements, and then there is saying that Cavaliers fans were unhappy when James signed with Miami.
James is from Ohio, and he served as the Cavaliers' hometown hero for seven seasons. The long-suffering Cavaliers became an Eastern Conference powerhouse and must-see TV with James, the top pick in the 2003 NBA draft, at small forward.
All of that changed in July 2010 when James announced he intended to take his talents to Miami. Cavaliers fans quickly took to the streets and set their No. 23 jerseys ablaze.
James returned to Cleveland in December 2010 and received no shortage of boos and profanity. He nonetheless scored 38 points and dished eight assists in a 118-90 rout over his former teammates that night.
James eventually led the Cavaliers to an NBA championship
RELATED: LeBron James' Raw Emotions Made Doris Burke Do Something She Had Never Done on Live TV
After winning two titles in Miami, James returned home to Cleveland in the summer of 2014.
Suddenly, all of those boos and angry fans went away, and James became the beloved hometown hero again. James and the Cavaliers reached the 2015 NBA Finals but lost to Stephen Curry and the Golden State Warriors in six games.
A year later, James accomplished the goal he'd been tasked with when the Cavaliers first drafted him in 2003. Cleveland rallied from a 3-1 deficit in the 2016 NBA Finals and won the next two games to set up a Game 7.
With 1:50 remaining in Game 7, James blocked Warriors star Andre Iguodala's layup attempt. Cleveland took a 92-89 lead with 53 seconds left on Kyrie Irving's 3-pointer and hung on for a 93-89 victory. For the first time since 1964, the city of Cleveland had a professional sports championship to celebrate.
The Cavaliers and Warriors faced off in the next two NBA Finals, but Golden State won each time. James signed with the Lakers in July 2018 and won his fourth NBA championship in October 2020.
Like Sportscasting on Facebook. Follow us on Twitter @sportscasting19.