LeBron James' Praise of Oklahoma City Thunder GM Sam Presti Is Hilariously Ironic
LeBron James didn't get the "LeGM" moniker for no reason. LBJ has had plenty of say in building his teams throughout his 19 years in the NBA, whether it was his first stint with the Cleveland Cavaliers, his second, or his time with the Miami Heat and now Los Angeles Lakers.
He has four NBA Championships on his resume, which is nothing to scoff at. Some of that team-building he's done has brought success. But LeBron has always sacrificed the long-term for the short-term, which leaves a franchise in shambles when he leaves. (The Cavs after he bolted for LA as an example).
On the flip side, there's Oklahoma City Thunder GM Sam Presti, who's currently hoarding a total of 19 first-round picks or pick swaps as he attempts another rebuild in OKC. Nearly two dozen first-rounders and a roster full of young players screams "long-term" rebuild from the highest of mountain tops.
Clearly, James has no interest in such things, yet he had high praise for Presti's scouting and the teams he's put together, including a squad of Kevin Durant, Russell Westbrook, and James Harden that reached the 2021 Finals.
LeBron has traded away draft picks left and right for win-now rosters and then left the cupboards bare. Presti has gone the opposite route and consistently has fully-stocked shelves and potentially promising teams.
Which is why LeBron's praise of Presti is absurdly ironic.
Sam Presti has built the Oklahoma City Thunder with long-term success in mind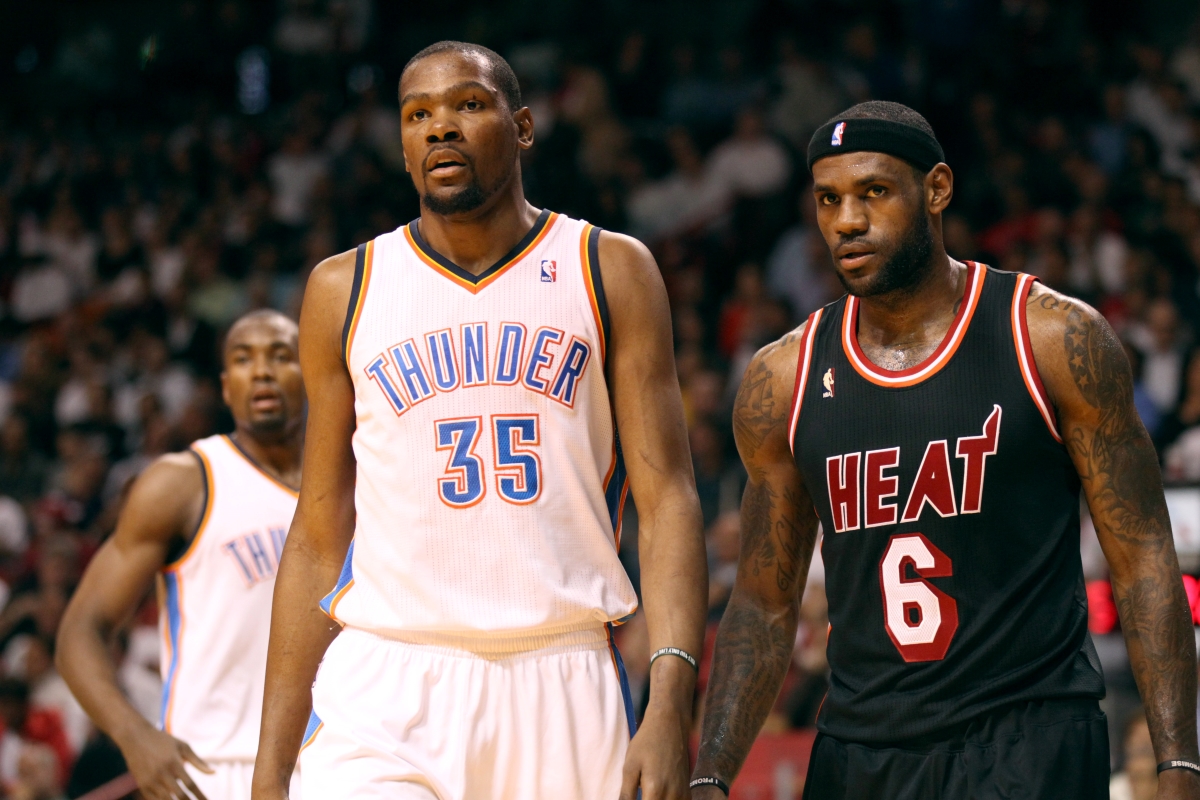 Presti moved from the San Antonio Spurs front office to become the general manager of the then-Seattle Supersonics, who moved to Oklahoma City in 2007. He was 29 years old at his time of hire.
Durant was the No. 2 overall pick in 2007. In 2008, Presti drafted Westbrook fourth overall and grabbed Serge Ibaka at No. 24. In 2009, he took Harden with the third-overall pick.
Eric Bledsoe was the 18th pick in 2010 before being re-routed to the Los Angeles Clippers. In 2011, Presti took Reggie Jackson 24th overall. In 2013, the Thunder's first pick was Steven Adams at No. 12. Two years later, Cameron Payne was the final lottery pick.
In last year's draft, Presti landed Rookie-of-the-Year candidate Josh Giddey at No. 6 overall and Tre Mann at No. 18.
All of those players are still currently in the NBA, and most are still playing key rotation roles at worst.
In 2010-11, the trio of Durant, Westbrook, and Harden (and the often overlooked Ibaka) advanced to the Western Conference Finals. They made it to the NBA Finals the next season before losing to LeBron's Heat team.
Harden and Ibaka were 21, while Durant and Westbrook were 22 when they played together in the Finals.
In one of the league's most incredible what-if moments, Harden was traded to Houston the following offseason as the Thunder approached three max-contracts for each of their young stars.
But Presti had built a championship contender through the draft in just three years.
LeBron James, meanwhile, has sacrificed team-building for titles
To be fair, it's not like this strategy hasn't worked for LeBron.
But in trading away long-term assets for short-term gains, he's hamstrung himself at certain stops. His first stint in Cleveland fizzled out because the Cavs did whatever they could to bring in veterans. The beginning of his second stop in his hometown saw two No. 1 overall picks — Andrew Wiggins and Anthony Bennett — traded for Kevin Love.
LBJ got the best player in the deal, but Wiggins has now developed into an All-Star, while Love's career appeared just about over until this season.
He had Dwyane Wade and Chris Bosh in Miami, but the roster was also filled out with players like Chris "Birdman" Anderson, Joel Anthony, Juwan Howard, and a 33-year-old Mike Miller.
Perhaps there's no better example of this strategy, though, than with this season's Lakers.
The decision to trade Kyle Kuzma, Montrezl Harrell, Kentavious Caldwell-Pope, and a first-round pick to add Westbrook hasn't been just a failure. It was also completely short-sighted.
Kuzma and KCP have played well with the Washington Wizards and would be perfect fits spacing the floor around LeBron and Anthony Davis. Instead, Russ is bricking threes, forcing big shots in crucial moments, and turning the ball over more than four times a game.
Going back even further, Davis forced his way out of New Orleans to play with James in LA. In that deal, LeGM and the Lakers dealt Lonzo Ball (No. 2 overall pick in 2017), Brandon Ingram (No. 2 pick in 2016), Josh Hart, and three first-rounders.
The Pelicans ended up with a core of Ball, Ingram, Hart, Jrue Holiday, and that year's No. 1 overall pick, Zion Williamson. NOLA found a way to botch that entire situation, but the point remains.
Davis was the best player in the deal — but Ball, Ingram, Hart, Kuzma, and KCP could still theoretically be playing with LeBron, and the Lakers would've kept their draft picks.
Does James still win the 2020 NBA Championship? Maybe, maybe not. But The King would surely be in a better position this year, and in future years, surrounded by a core instead of just AD and a washed-up Westbrook.
LeBron is grasping at straws to win a title ASAP while Presti has the Thunder roster in an ideal long-term position
Per Fox Sports' Ric Bucher, an Eastern Conference GM said that James went as far as trying to get Presti to replace current Lakers' GM Rob Pelinka. Whether those rumors are true or not, what LeBron had to say about the OKC GM at the All-Star break paints enough of a picture.
Again — it's not to say that things didn't work out for James. But if he had done things differently, he likely wouldn't be in the position he's now stuck in in LA. He could have found a young roster to grow with that would have set him up to build something lasting.
If he genuinely wants to hook up with someone like Presti to construct a roster, he might finally be coming around, but it may be too little, too late for The King.
All roster information courtesy of Basketball Reference.
RELATED: How Much Did LeBron James' Future in Los Angeles Play a Role In the Lakers' Silent Trade Deadline?