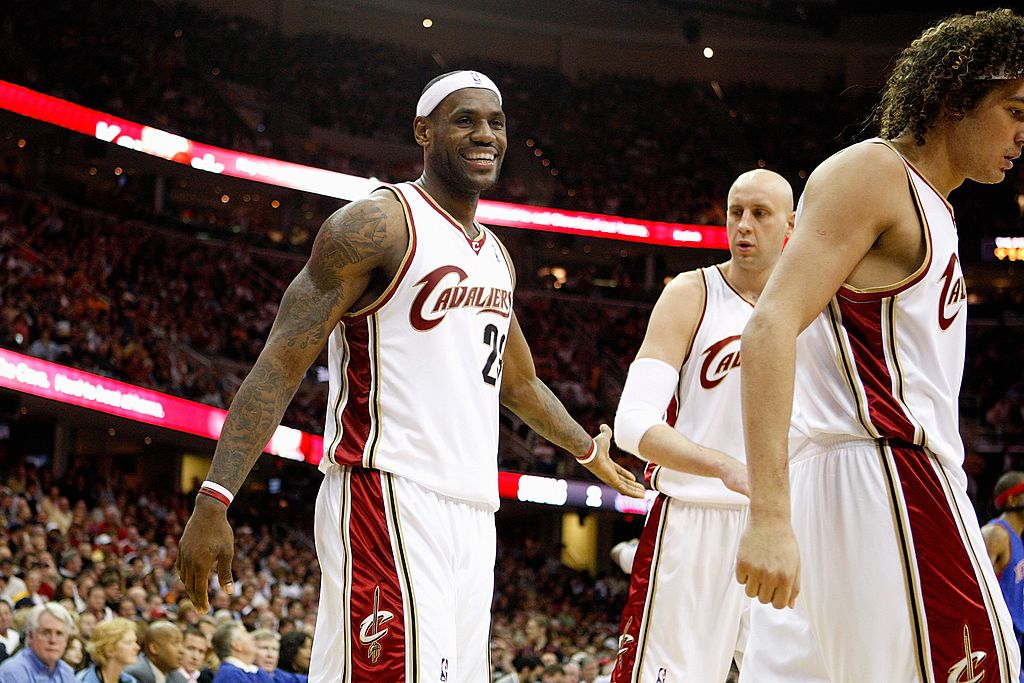 LeBron James Proved He Was the Next Michael Jordan During This Game
LeBron James is always compared to Michael Jordan. However, one game with the Cleveland Cavaliers was when he proved he was the next MJ.
When discussing the best two players to ever play basketball, the two names that always come up are LeBron James and Michael Jordan. The two have been compared to one another ever since James was a young high school hooper. James has certainly lived up to the hype too. However, James ultimately proved to the world that he was, indeed, the next Michael Jordan in one particular game with the Cleveland Cavaliers.
LeBron James came into the league with high expectations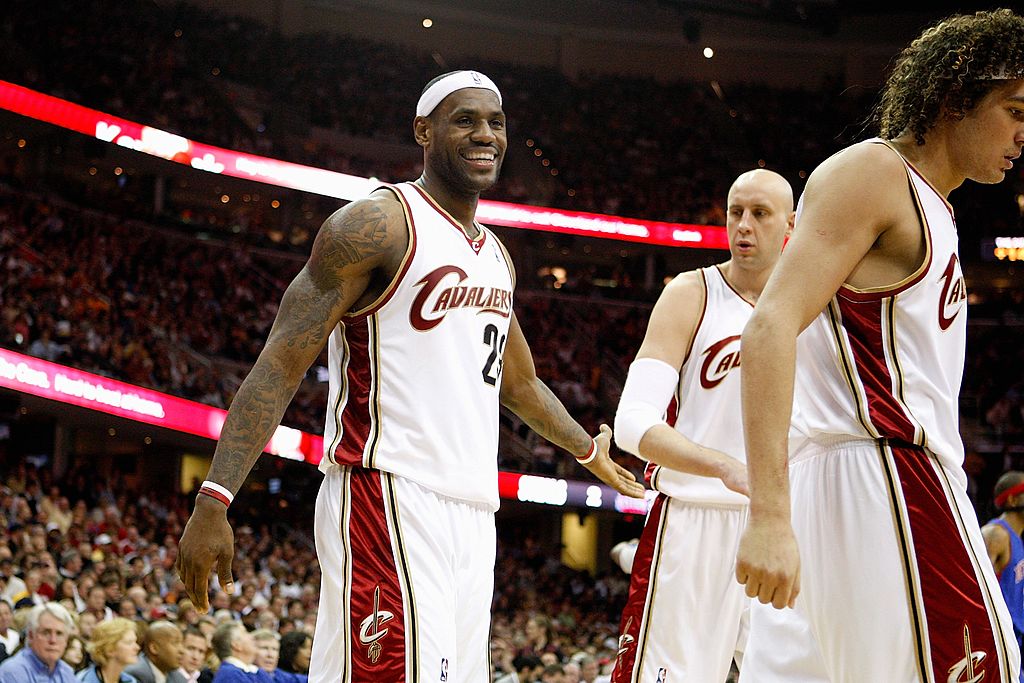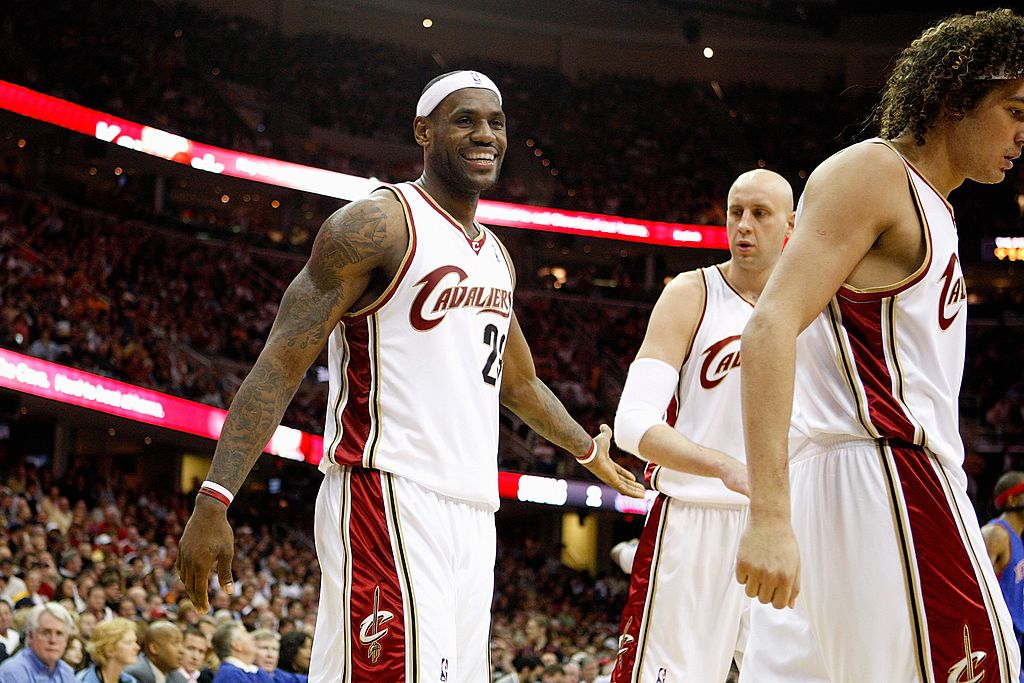 Many people deemed LeBron James as the chosen one when he was just a young high school athlete. He was the real deal at a young age, though. His talent was so good that the Cleveland Cavaliers selected him with the No. 1 overall pick in the 2003 NBA draft. James balled out in his first few seasons too.
James averaged 20.9 points per game as a rookie in 2003-04. Then he averaged 27.2 points, 7.2 assists, and 7.4 rebounds in his second season and 31.4 points, seven rebounds, and 6.6 assists in 2005-06. 
The high expectations everyone put on James' shoulders could have been too much for him. It wasn't, though.
Living up to the Michael Jordan comparison
There have been many players who were compared to Michael Jordan that ultimately fell short. James, on the other hand, has lived up to the hype. 
Here is a look at each superstars' career accomplishments. 
James has been to nine NBA Finals while Jordan went to six. 
Jordan won six championships while James has won three. 
James had 34,087 career points while Jordan scored 32,292 career points.
Jordan was a five-time NBA MVP while James has won four MVPs.
James has averaged 27.1 points, 7.4 rebounds, and 7.4 assists in his career. Jordan averaged 30.1 points, 6.2 rebounds, and 5.3 assists in his career.
Many fans and experts still think that Jordan is the greatest of all-time. However, James is right behind him. While he has proved that he is one of the greatest throughout his entire career, James first showed the world that he was the next Michael Jordan in a game during his fourth NBA season. 
James dominated the Pistons in 2007 
James led the Cleveland Cavaliers to a 50-32 overall record during the 2006-07 season. He then helped them get to the Eastern Conference Finals against the Detroit Pistons. The Pistons at the time were trying to prove they were a dynasty as they were playing in their fifth consecutive conference finals. They used that experience to take a 2-0 lead in the series against the Cavs too.
James got a lot of flak in those games. During a 79-76 loss in Game 1, James only scored 10 points. He also passed on taking the game-tying or game-winning shot with 5.9 seconds left. His teammate Donyell Marshall ultimately took it and missed it. Then during a 79-76 loss in Game 2, James missed the game-winning shot with 7.9 seconds left. 
The Cavaliers then won in Game 3 and Game 4, though, and James played well. He scored 32 in Game 3 and 25 in Game 4. However, he ultimately showed the world that he was the next Michael Jordan in Game 5. 
Game 5 ultimately went into two overtimes and the Cavs won 109-107. James, almost literally, put the Cavaliers on his back in that game. He scored the team's final 25 points on 11-of-13 shooting, according to NBA.com. James also forced overtime on a dunk with only 9.5 seconds left. He then won the game in the second overtime on a layup with 2.2 seconds left. 
James ultimately finished with 48 points, nine rebounds, and seven assists in the game. The Cavs then went on to defeat the Piston in Game 6 to go to the 2007 NBA Finals. 
Detroit Pistons legend Richard Hamilton then said this about James' performance 10 years later. 
"I can remember when we played against LeBron James his rookie year, me and Tayshaun [Prince] said to ourselves, 'When LeBron James figures it out, we're going to be in trouble,'" Hamilton said, according to CBS Sports. "So, when LeBron James scored those 25 straight points, it kind of reminded me of Michael Jordan in 1991, with him going against the Pistons all those years, and the year he got over the hump and beat them was similar to when LeBron scored the 25 straight points and beat us. We felt like we were in trouble — for not just that year, but years to come."

Richard Hamilton
LeBron James has proved throughout his entire career that he was indeed the next Michael Jordan. He first confirmed it during Game 5 of the 2007 Eastern Conference Finals against the Detroit Pistons, though. He will continue to prove it as long as he is playing too.