LeBron James Is Proving Yet Again Why Father Time Hasn't Caught Him
The Los Angeles Lakers are in full desperation mode, which has brought out the best in LeBron James. The future first-ballot Hall of Famer continues to add to his impressive 19th campaign by producing at a historic pace that has him projected to surpass Karl Malone for second on the all-time scoring list this season.
James poured in his second 50-point performance of the campaign in Friday's much-needed win over the Washington Wizards. Beyond that, the stellar outing helped the 18-time All-Star achieve another remarkable feat that showcases that he has plenty left in the tank to play at an elite level.
LeBron James records his second 50-point performance in a week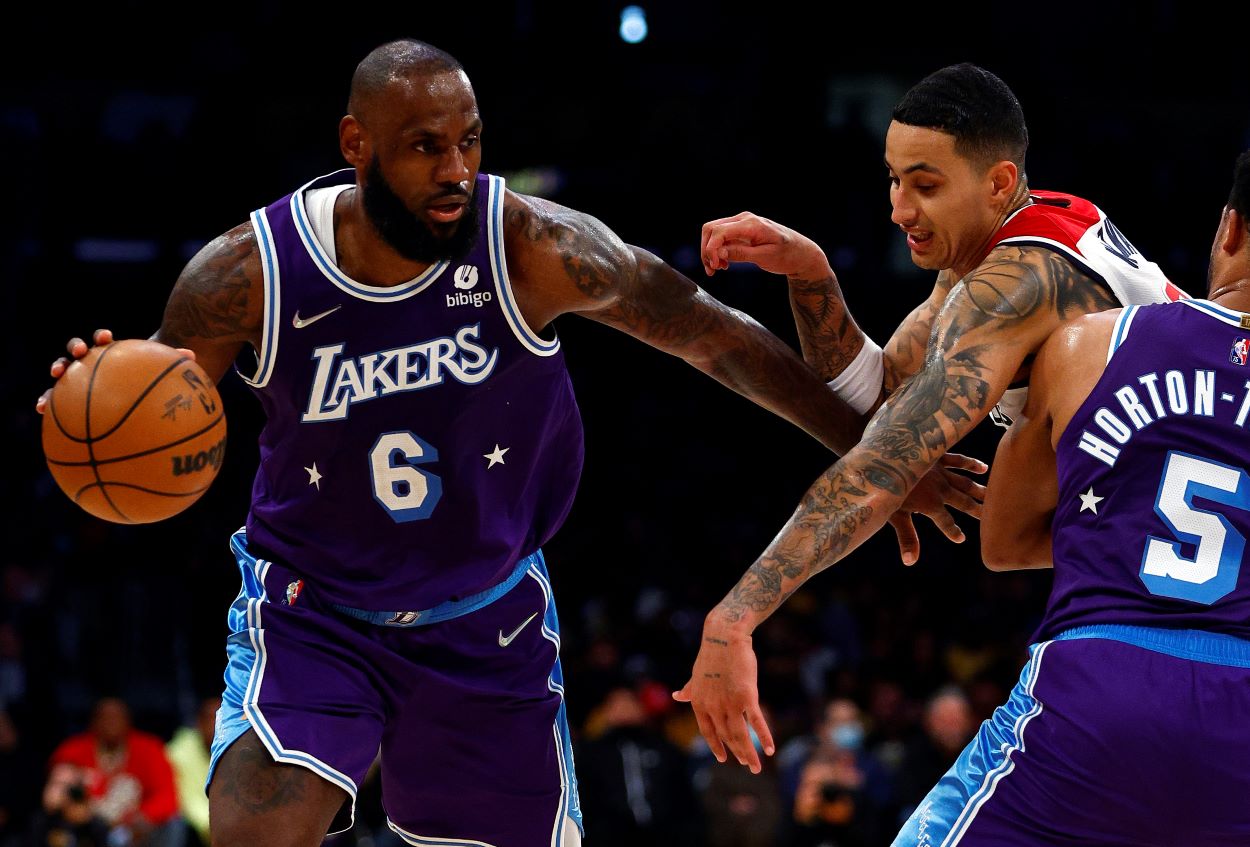 The Lakers are playing far from a legitimate playoff contender, but that hasn't stopped James from showcasing he's an ageless wonder.
Los Angeles needed all of the star forward's 50 points to grab a much-needed win over the Wizards. They went into halftime trailing by seven points, which James answered the bell by pouring 33 points in the final two periods. That included 12 straight points in the third quarter as part of a 22-8 run to give the Lakers the lead.
James dictated the pace behind another highly efficient outing, hitting 18-of-25 shot attempts while making six three-pointers in 36 minutes. The performance marked his 15th career 50-point game, and he became the first Lakers player since Kobe Bryant in April 2007 to record 50 points in back-to-back home games.
The win marked only the Lakers' fifth in the last 18 games, which led James to admit that the fan base holds the right to respond the way they have.
"The Laker faithful know if bad basketball is being played, and they know if good basketball is being played," James said via Harrison Faigen of Silver Screen and Roll. They have a right to respond any way they want."
Nonetheless, the four-time league MVP proved again why he's still evading Father Time.
LeBron James is proving why Father Time hasn't caught him
Not only did LeBron James' impressive performance snap the Lakers' two-game skid, it further underlined his historic campaign.
His 50-point outing against the Wizards occurred less than a week after posting a season-high 56 points against the Golden State Warriors. According to StatMuse, James became the first player age 35 or older to tally multiple 50-point games in a single season.
His recent scoring spree also marked the first time in his career that he notched a pair of 50-point performances in a week. James is playing at an unmatched level in his 19th campaign as he's leading the league with 29.7 points. That alone more than doubles Kareem Abdul-Jabbar's previous NBA-best mark (14.6) for the highest points per game average for a player playing their 19th season.
James may be dealing with nagging knee swelling, but that isn't slowing him down from performing at an unseen pace in NBA history. Injuries have become a more significant factor at this point in his career, but he's powering through to showcase further why he's considered one of the game's greatest players.
Lakers needs much more than LeBron's stellar play
As incredibly productive as LeBron James' 19th campaign has become, the Lakers' success can't solely hinge on his performance.
Los Angeles is short-handed without Anthony Davis for at least the next couple of weeks, pushing a more significant workload onto James' shoulders. The team is leaning far too heavily upon the 37-year-old without any substantial help around him.
Russell Westbrook needs to step firmly into the second scoring role, which he struggles to play with consistency. In eight games since the All-Starr break, he's averaging 16.9 points, 6.0 rebounds, and 4.8 assists on 40.2% shooting and 10.0% from beyond the arc in eight games.
Westbrook has tallied more than 20 points twice over that span while shooting below 40% four times. The nine-time All-Star is coming off a lackluster scoring performance in Friday's win over the Wizards, notching nine assists but had five points on 2-of-11 shooting and wasn't the floor to finish the contest.
If the Lakers hope to have any realistic chance of making it out of the play-in tournament, they need strong and reliable supporting production from Westbrook and the rest of the roster.
Like Sportscasting on Facebook. Follow us on Twitter @sportscasting19.
RELATED: LeBron James' Nagging Knee Issues Present the Lakers With an Alarming Red Flag