LeBron James' Raw Emotions Made Doris Burke Do Something She Had Never Done on Live TV
LeBron James has been a part of some massive moments throughout his NBA career. From winning back-to-back titles with the Miami Heat to leading the LA Lakers to a championship in the same year of Kobe Bryant's death, James has been right in the middle of some of the most significant events in NBA history. However, James' raw emotions during one of the biggest moments of his Cleveland Cavaliers tenure led to ESPN's Doris Burke doing something she had never done on live TV.
ESPN's Doris Burke prides herself on objectivity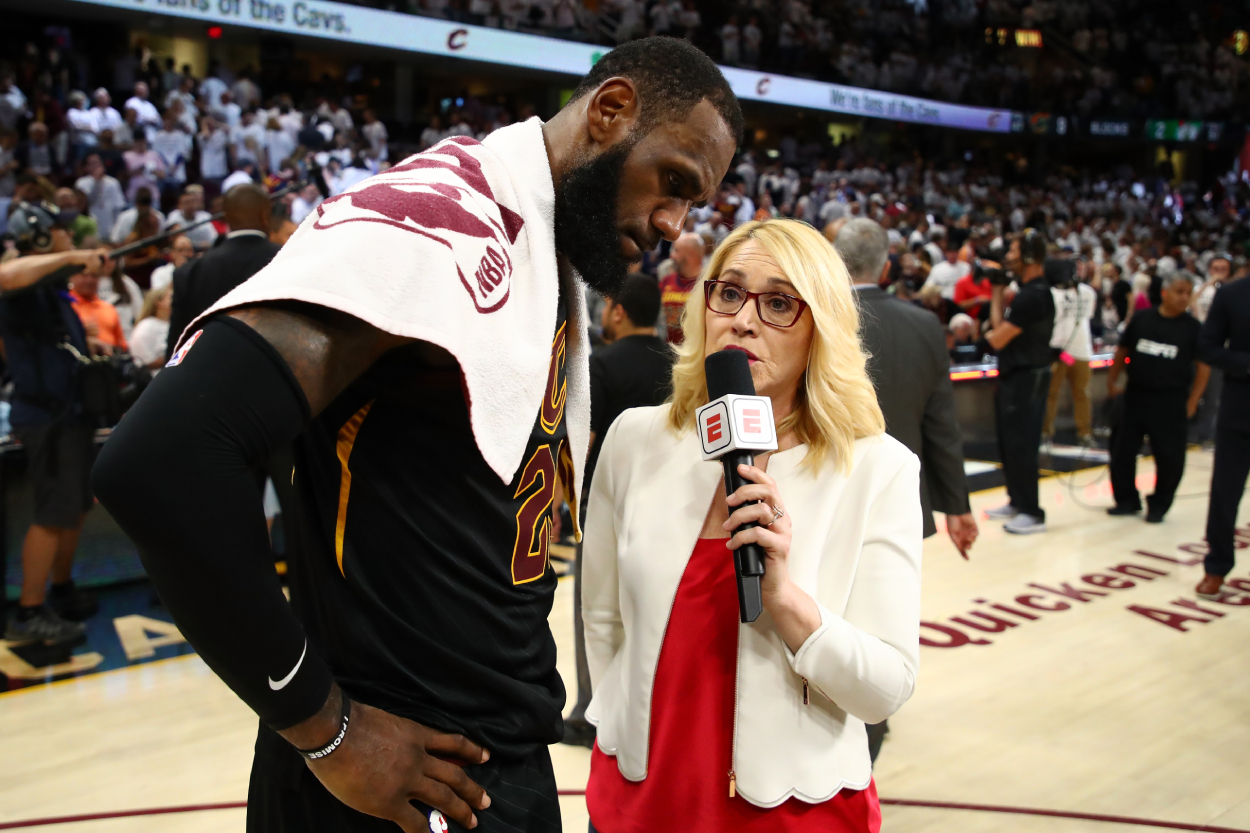 RELATED: LeBron James' Former Cavs Teammate Just Called Cleveland out for Being 'Scared' During LeBron's First Cavs Stint
Doris Burke has covered basketball on ESPN for decades. In addition to working as a WNBA analyst on MSG Network and covering women's college basketball on CBS Sports for a few years, Burke has covered hoops on ESPN since 1991, per her ESPN Press Room bio. She has been a sideline reporter for the NBA Finals at ESPN and has been a commentator for NBA, college basketball, and WNBA games.
All of this has led to her becoming an award-winning broadcaster.
In a recent interview with Miami Heat player Duncan Robinson on his podcast, The Long Shot, Burke discussed how she prides herself on being objective.
"I have to be honest with you; I grew up a Knicks fan, so to watch a little bit of their success after two decades of abject failure is somewhat fun for me," Burke said on the April 22 episode. "But when I sit in the chair to be an analyst, or when I'm a reporter, I'm not a Knicks fan, I'm an NBA broadcaster. I think people can lose sight of the fact that we have objectivity generally speaking. We're not home broadcasters, so we don't get to sort of root [for teams]."
However, during a moment with LeBron James, Burke did something she had never done on live TV.
LeBron James' emotions with the Cavs made Doris Burke choke up
RELATED: LeBron James Initially Declined the Invitation to Star in 'Space Jam 2' but Changed His Mind Thanks to a Famous Actor's Bold Idea
In 2016, LeBron James not only won an NBA title with his hometown team, the Cavs, but they came back from a 3-1 deficit in the NBA Finals and beat the 73-win Golden State Warriors.
Doris Burke covered those Finals as a sideline reporter for ESPN.
"I do remember one moment where I did lose a little bit of balance, or I lost my composure, and only my closest friends picked up on this, and Mike Breen's stat man," Burke said. "… When Cleveland won Game 7, Duncan, and LeBron fell to the floor and is weeping, and his shoulders are going up and down because I think he's crying; he's crying. Literally, I've got to interview him, and I'm getting choked up because of this emotion I'm seeing with this guy, and the first question I asked him, you could actually hear my voice crack."
She continued: "It had nothing to do with I was rooting for them. … In that moment, the human moment of, 'Oh my God, this man is losing his mind because he's won this championship for the place he grew up in,' yeah I remember that. I was like, 'Oh my God, I hope nobody noticed."
Getting emotional while reporting may have been out of character for Burke, but who can blame her? That entire moment was emotional for everyone watching.
LeBron James' title with the Cavs was monumental
RELATED: LeBron James Carried 2 Cavs Teammates to the NBA Finals Before They Both Later Became Reality TV Stars
As mentioned above, LeBron James and the Cavs had the odds stacked against them in the 2016 NBA Finals. The Golden State Warriors were coming off a championship season in which they beat the Cavs for the 2015 championship. They also won an NBA record 73 games that year and took a 3-1 lead in the series, which no team had ever come back from in the NBA Finals.
This was all in addition to the city of Cleveland being in the midst of a 50-plus year championship drought.
The Cavaliers, led by James and Kyrie Irving, ultimately came all the way back and pulled off the impossible. James averaged 29.7 points, 11.3 rebounds, and 8.9 assists in the series, while Irving averaged 27.1 points, and they helped the Cavs win in seven games.
With all that surrounding the series, plus some trash talk from both sides, the win was a storybook ending to a fantastic NBA Finals. It's hard to blame Doris Burke for getting emotional during one of the biggest moments in NBA history.
Stats courtesy of Basketball Reference