LeBron James Receives Stern Criticism From an NBA Big Man Who Takes Issue With His Controversial Comments: 'I Was Very Disappointed, and It's Ridiculous'
While players like Andrew Wiggins, Bradley Beal, and Kyrie Irving have filled headlines for not being vaccinated (Wiggins is vaccinated now), Los Angeles Lakers superstar LeBron James has, in fact, received the vaccine. The King, though, is still getting criticized for his controversial comments on the issue.
During Lakers media day last week, James revealed his vaccination status but would not encourage others in the country to get the shot. He then received significant pushback from various notable celebrities who wanted him to do exactly that.
Now, one of his fellow NBA players has something to say.
Boston Celtics big man Enes Kanter, who has had issues with LeBron in the past, recently had a strong message about James' comments.
LeBron James made controversial vaccine comments at Lakers media day
Throughout the months the COVID-19 vaccine has been available, James had yet to really speak out on the issue. He previously said he would keep his vaccination status private, but that was essentially the most we had heard from him.
At Lakers media day, though, James finally revealed that he had, in fact, received the vaccine.
"I know that I was very [skeptical] about it all, but after doing my research and things of that nature, I felt like it was best suited for not only me but for my family and my friends," he said, per ESPN. "That's why I decided to do it."
When asked if he would encourage others to get the shot, though, James wouldn't go that far.
"Anything that I talk about, I don't talk about other people and what they should do," he said, per ESPN. "I speak for me and for my family, and that's what it's about. … We're talking about individuals' bodies. We're not talking about something that's political or racism or police brutality and things of that nature. We're talking about people's bodies and well beings, so I don't feel like, for me personally, that I should get involved in what other people should do for their bodies and their livelihoods."
He also added: "As far as speaking for everybody and their individualities and things they wanna do — that's not my job."
Enes Kanter took issue with LeBron's statements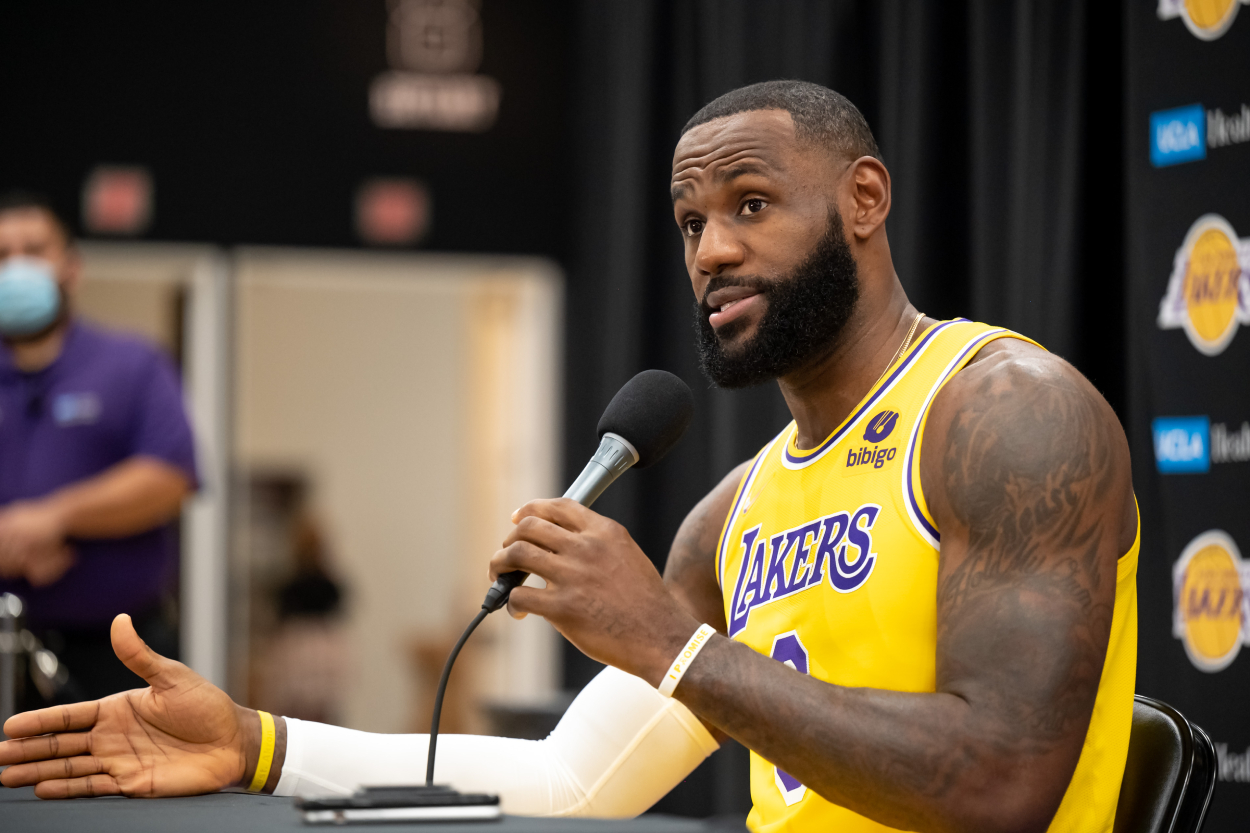 Celtics big man Enes Kanter has trolled James in the past. After the two got into a confrontation back during James' Cleveland Cavaliers days and when Kanter was on the New York Knicks, the center said, "I don't care who you are. What do you call yourself? King, Queen, Princess. Whatever you are. We're going to fight. Nobody out there is going to punk us," per Newsday Sports' Al Iannazzone.
Kanter's past comments have seemed light-hearted at times, but his recent criticism of James took a much more serious tone.
"When I heard it, I was very disappointed, and it's ridiculous," Kanter said in a recent appearance on CNN, per CBS Sports. "Obviously, LeBron James, he's one of the faces of the league, and he should be the first one to go out there and say, 'Listen, everyone, I got the vaccine, and I'm encouraging everyone, my community, everyone, basketball fans, non-basketball fans, and sports fans are just going out there and get this vaccine, so we can save other lives.' So, when I heard that, I just couldn't believe it. But I hope he can educate himself about this vaccination and inspire and encourage other people around him."
Kanter seems hopeful that James changes his message, but it may not happen soon. The Lakers star recently quote-tweeted a video of Golden State Warriors forward Draymond Green, where Green said he's in favor of people having the freedom to take the vaccine or not, and James added: "Couldn't have said it any better."
With the magnitude of this topic, James will likely have to address the vaccine issue again. There's also a good chance Kanter won't be the last notable person to take issue with the future Hall of Famer.
Other stars have criticized LeBron James
Enes Kanter wasn't the first person to criticize LeBron James for his Lakers media day comments.
The View star Whoopi Goldberg said, "It's not your job to tell people what to do, but you can suggest that you figured out that nobody grew a second head or a tail when they got the shot." Her co-star Sunny Hostin added that she was "deeply disappointed" in James' comments due to his "large platform."
ESPN's Stephen A. Smith, on the other hand, said on First Take that he didn't take issue with James' message but that he didn't like how long it took him to say something. U.S. Senator Ted Cruz, though, went as far as to tweet that he agreed with James.
All in all, the vaccine debate is one of the most heated in the country right now, and James has somehow found himself in the middle of it.
RELATED: LeBron James' Emotional Offseason Tweets May Have Actually Stemmed From 'Pressure' Lakers Owner Jeanie Buss Reportedly Put on the Team's Front Office