LeBron James Reignites His Rivalry With Draymond Green, Savagely Trolls Him on Twitter: 'Haven't Heard From Him'
Article highlights:
Draymond Green's run-in with LeBron James during the 2016 NBA Finals led to his suspension
James talked trash to Green on Twitter about Ohio State's recent win over Michigan State
The Lakers' talent and the Warriors' early-season success could lead to a reignited rivalry
LeBron James' immense success has led to him having various rivalries with several NBA teams and players over the years. One of his most heated, though, was with the Golden State Warriors.
Of course, Draymond Green was one of the top players on those Warriors teams, so he and James naturally had a couple of run-ins during the years Golden State and the Cleveland Cavaliers played against each other in four consecutive NBA Finals.
However, while James and Green seem cool off the court now, The King somewhat reignited his rivalry with Draymond by (jokingly) trolling him on Twitter.
LeBron James and Draymond Green were a part of some epic NBA Finals matchups
LeBron James' Cavs teams faced off against Draymond Green and his Warriors squads in the NBA Finals for four consecutive seasons.
The Warriors won the first matchup against a short-handed Cavaliers squad in six games before Cleveland won the 2016 Finals 4-3. However, after Kevin Durant joined Green, Stephen Curry, and company in Golden State in 2016-17, the Warriors won the next two meetings with ease.
The most intense series between the teams came in that 2016 matchup. The Warriors won a record 73 games during the regular season, and the Cavs were trying to get revenge for losing in the Finals the year before.
In Game 4 that year, the Warriors won to go up 3-1, but Green and James got into an altercation in the fourth quarter, which led to the Golden State star receiving his fourth flagrant foul point of that year's playoffs and an automatic suspension for Game 5.
His absence in Game 5 led to the Cavs winning 112-97, and, as mentioned earlier, they then rallied all the way back and won the series in seven games. Had Green not gotten into an altercation with James, though, who knows what would have happened.
Since then, Draymond and LeBron have seemingly been cool off the court, and Green has even appeared on James' HBO series, The Shop.
But on Nov. 20, the current Los Angeles Lakers star jokingly reignited their rivalry.
LeBron trolled Draymond on Twitter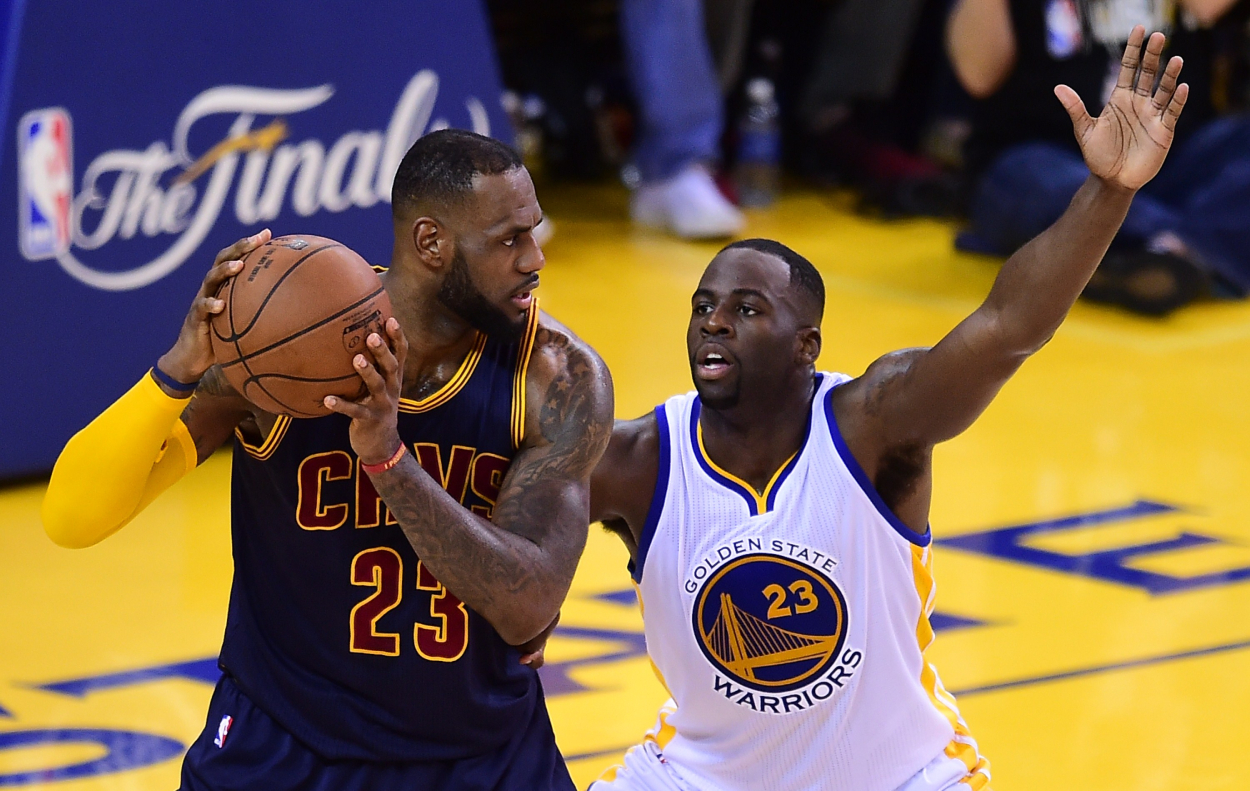 Most people know that LeBron James went straight from high school to the NBA; he skipped college. But with his roots being in Ohio, James is a big Ohio State football fan. Draymond Green, on the other hand, played college basketball at Michigan State for four seasons.
The two have made their fandoms for the schools known in past years, even placing a friendly wager on the 2015 matchup between OSU and MSU, with Green coming out on top and getting two cases of wine out of it, per CBS Sports. And on Nov. 20, James decided to reignite his rivalry with Green by talking some smack about this year's game.
During a 56-7 blowout win for James' No. 4 Ohio State Buckeyes over Green's No. 7 Michigan State Spartans, LeBron tweeted: "Can somebody check in on my brother [Draymond Green] please! Haven't heard from him today. (laughing emojis) #GoBuckeyes (nut emoji) [O-H]."
Green didn't seem too happy about the loss, either.
"(Laughing emojis) Go F***ING GREEN baby! Damn this s*** hurt hahaha," he tweeted.
All in all, it seemed to be in good fun, as James was just giving Green a hard time. But the LeBron-Warriors rivalry could actually come back for real later this season.
LeBron James' rivalry with the Warriors could reignite this season
It has been an up-and-down NBA season for LeBron James and the Lakers so far this year, as he has dealt with injuries, and his team hasn't quite started clicking yet.
But everyone knows LA is as talented as anyone with the likes of James, Anthony Davis, Russell Westbrook, Carmelo Anthony, and others on its roster. Because of that, by the end of the season, the team should have its chemistry down, and it should be ready to beat any opponent it faces in the playoffs.
The Warriors, on the other hand, have been one of the hottest teams in basketball at the start of this season. They are an NBA-best 14-2, and they don't even have Klay Thompson or James Wiseman back on the court yet.
So, because of both LA's and Golden State's potential, James' rivalry with the Warriors could reignite in the playoffs this year. It maybe won't be as dramatic as those past matchups, given that it can't be in the NBA Finals, but The King versus the Warriors is always box office and could be a fun series to watch if we're fortunate enough to get it.
Stats courtesy of Basketball Reference