LeBron James Returns to Cleveland: Better Get the Skylar Grey Ready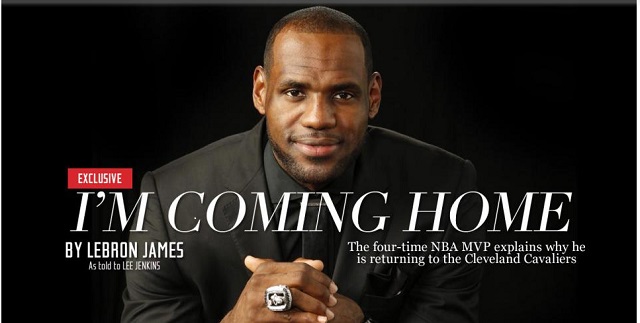 After a couple of days of radio silence, LeBron James, the gem of the 2014 free agency class, broke the news to Sports Illustrated just after noon on Friday: He's going back to Cleveland.
In a collaborative essay with Lee Jenkins, James starts out by saying, "Before anyone ever cared where I would play basketball, I was a kid from Northeast Ohio," and admits that he didn't realize how important his home was until he left. He also downplays any bad blood between him and anyone on the Miami Heat team, players or management. The final Cavaliers roster, and whether it still contains Andrew Wiggins, is unknown.
And we already know what the soundtrack to each and every one of the 64 kajillion "Return" themed commercials is going to be. You probably do, too. Yup, it's the intro to that Diddy (who is now Puffy, again, we think) song. The intro is 30 seconds long for a reason, after all. Seriously, push play on the video below and you can almost see the Nike ad in your mind's eye.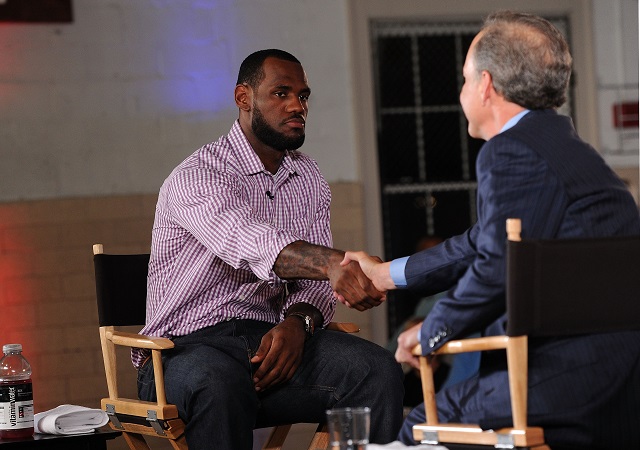 Anyone who was seriously following the NBA in 2010 knew that James was seeking greener pastures and probably wasn't going back to Cleveland, even if the Cavs front office had kept their fingers in their ears and refused to believe it. At that point in his career, James was after the championship(s) that would secure his legacy — something he wasn't going to find in Ohio. Not with the warmed-over corpse of Shaquille O'Neal and Larry Hughes as his best teammates.
And then, The Decision and "not five, not six, not seven" happened, and everyone was mad at James for roughly a season. Jerseys were burned. Angry letters were posted in Comic Sans. Cleveland went back to being terrible, and Miami went to four straight Finals, breaking even in rings against Oklahoma and San Antonio and Dallas. While James may have honestly looked at returning to Cleveland at some point in his career, the degradation of Dwyane Wade and Miami's inability to keep the gang together surely weighed in on his new choice.
To hear it from him, though, it was for the kids. After acknowledging that it was easy to condemn the whole region for its harsh response to his move to South Beach, James said that, eventually, "you think about the other side. What if I were a kid who looked up to an athlete, and that athlete made me want to do better in my own life, and then he left? How would I react?"
As far as James is concerned, his return to Cleveland is more about hometown pride than winning a championship right away — he's upfront about his assessment that this Cavs team is "not ready right now" — and that's very civic of him. Also, Cleveland has Miami's first-round pick this year from the first LeBron trade, which is pretty fantastic.