LeBron James Is Reviving a Tradition That Helped Lead His Lakers to a Championship
LeBron James took his talents to Cali in 2018. He arrived in Los Angeles with three titles to his name, and then along with the help of Anthony Davis, made it four after winning the 2020 NBA Championship. Before leading that team to its title, though, James held a team-bonding minicamp prior to the start of the season. He's now reviving that tradition as LA tries to win its second championship in three seasons.
While a bonding session might seem insignificant, the Lakers have an almost entirely new roster heading into the 2021-22 campaign. A little get-to-know-each-other session couldn't hurt as they try to make up for a disappointing postseason and mount a title charge.
LeBron James and the Lakers experienced massive roster turnover after last season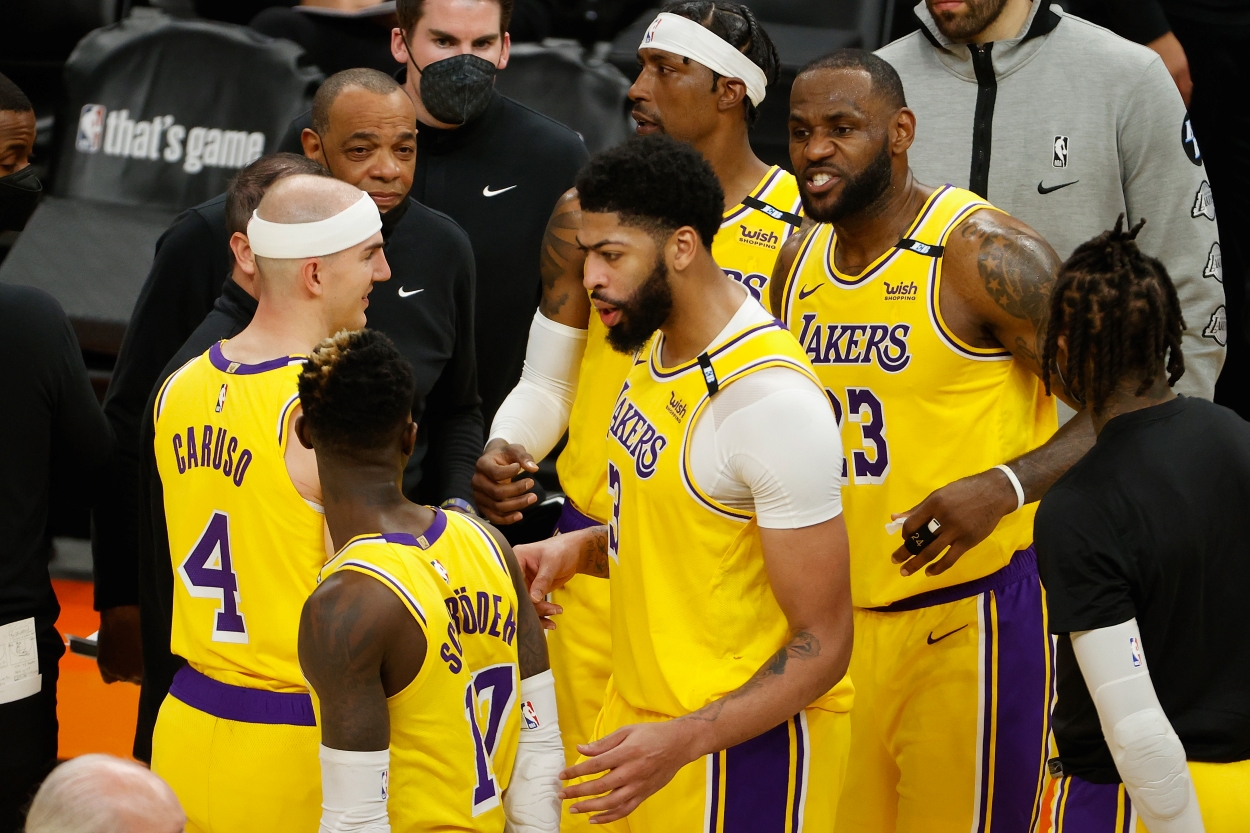 LA finished seventh in the Western Conference a year ago, a far cry from where LeBron's teams usually land in the standings. In the first round, the defending champions lost to the Phoenix Suns, who then made the NBA finals.
Injuries certainly played a part in a down season for the Lakers. Davis only played in 36 regular-season games and was hobbled during the Phoenix series. James himself only played 51 total games, regular season and playoffs.
LA's top three players in games played in 2020-21 were Montrezl Harrell, Kyle Kuzma, and Kentavious Caldwell-Pope. All three now play for the Washington Wizards.
The organization made a blockbuster trade for Russell Westbrook (in which the Lakers sent away Harrell, Kuzma, and Caldwell-Pope). LA then added a slew of old dues — Carmelo Anthony, Wayne Ellington, Trevor Ariza, Dwight Howard, and Rajon Rondo. The final two were members of the 2020 title team.
Only James, Davis, and Talen Horton-Tucker remain from last year's roster.
James is reviving his team-bonding minicamp to integrate his new teammates into the mix
According to Shams Charania, James is bringing back his team-bonding camp for this season to help assimilate all the new faces to the Lakers' culture. And also to LeBron Culture. The team will hold its get-together in Las Vegas for three days prior to the start of training camp.
James is a notorious team chemistry guy, especially on the court. He's also beginning his 19th season in the league at age 37 and is already sixth all-time in minutes played. It's certainly not lost on him that he needs all the help he can get if he's going to continue to win rings. That was likely the catalyst for the offseason makeover and now the team kumbaya session.
The organization also went with a prominent theme for its rebuild — age and experience. LA now has 10 players on its roster age 32 or older. At 28 years old, Davis will be the youngest Laker to see significant minutes barring some catastrophe.
James is hoping team chemistry will lead to wins and another ring
Maybe King James has fond memories of his first three-day office retreat. And with such a dramatic roster modification, aligning the rotation's chi could be beneficial long term.
LeBron is getting older and likely increasingly desperate to win more championships. He The organization remade the roster in his image. LBJ clearly believes he needs postseason and championship experience, more than anything, to get where he wants to go.
Usually, it's the veterans who join title contenders. But it seems to be James who's ring-hunting more than anyone else. He's helped put together the roster he wants. Now it's time to get that roster to gel for a championship run.
If it worked before, why not try it again?
All statistics courtesy of Basketball-Reference.
RELATED: Allen Iverson and Vince Carter Cemented Their Statuses as NBA Superstars by Taking Part in an All-Time Great Playoff Duel: 'It Was One After Another. It Was Like They Were Taking Turns'