LeBron James Once 'Saw' a Teammate's Big Playoff Performance 'Before It Happened': 'He Told Me to Be Ready'
LeBron James is one of the most decorated players in NBA history. He is a four-time NBA champion and four-time league MVP. However, his trip to the 2007 NBA finals with the Cleveland Cavaliers is one of his more overlooked accomplishments. The Cavs were void of any other superstars on that team, and James had to lead that squad on his own. 
He did have help on occasions, though. In fact, James even saw his teammate's big playoff performance before it actually happened: Daniel "Booby" Gibson's Game 6 in the 2007 Eastern Conference finals.
LeBron James led the Cavs to a 3-2 lead in the Eastern Conference finals
James and the Cavs were a young team in 2007, and they had to face a veteran team in the Eastern Conference finals: the Detroit Pistons.
Detroit had made it to five straight conference finals and won the whole thing in 2003-04. Their experience helped them claim a 2-0 lead in the series.
However, James went off in the next three games.
After recording 32 points, nine assists, and nine rebounds in Game 3, and then 25 points, 11 assists, and seven rebounds in Game 4, James had one of the best playoff games of his career in Game 5. He dropped 48 in a double-overtime win, and scored the Cavs' final 25 points to help Cleveland go up 3-2 in the series.
The game was remarkable for many different reasons, and it helped prove that James was, in fact, living up to all the hype that surrounded him before he even entered the NBA.
In Game 6, though, he made sure he finally got some help.
LeBron James made sure Daniel Gibson was ready for the Cavs in Game 6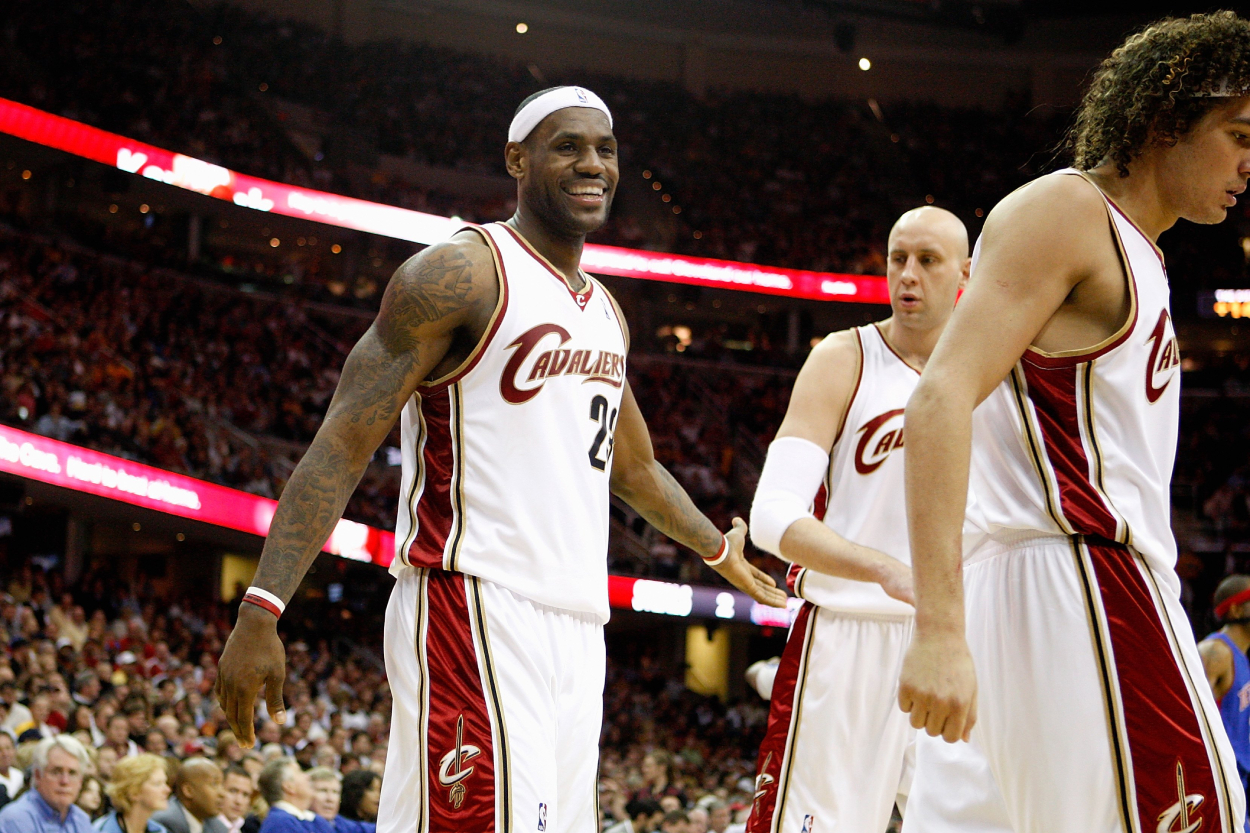 Gibson was just a role player on the Cavs in 2006-07. It was his rookie season, and he averaged just 4.6 points in 16.5 minutes. He then only played in 11.4 minutes per game through the first two rounds of the playoffs, and in 5 minutes, 13 seconds in Game 1 of the conference finals.
But after making some shots in Games 2 and 3, Gibson dropped 21 points in Game 4. He then scored 11 in the double-overtime Game 5 win.
However, before Game 6, James had a message for him.
"He must have saw me shooting," Gibson said to The Athletic in 2020. "He was like, 'I need you to be ready tonight. Be ready to shoot.' I personally feel like he saw something that was going to happen that night before it happened. He made sure that I was prepared for that moment in Game 6."
Gibson was prepared, indeed.
Daniel Gibson went off for the Cavs in Game 6
Gibson ended up having the biggest performance of his career in Game 6. He led the Cavs in scoring with 31 points on 7-of-9 shooting. He also made all five of his 3-point attempts and 12-of-his-15 free throws, which helped the Cavaliers win 98-82, and they clinched a spot in the NBA finals.
So, did James see Gibson's big performance before it even happened?
"If you go back to the footage, when he was (pumping his arms and yelling), [he said] 'I told you! I told you!'" Gibson added to The Athletic. "The night before he had 45,000 points, or like 29 straight. So I think he was kind of like looking to see who could possibly help him. He knew they were going to come out and double him and be all over him. So he told me to be ready. The rest is history."
James and the Cavs ultimately lost to the San Antonio Spurs in the finals, but the fact they even made it that far was incredible. James, obviously, had a lot to do with it, but so did his former Cavaliers teammate, Daniel Gibson.
Stats courtesy of Basketball Reference
RELATED: LeBron James' Former Cavs Teammate Just Called Cleveland out for Being 'Scared' During LeBron's First Cavs Stint