LeBron James' 18-Game Scoring Streak Might Have Come at a Steep Price for the Los Angeles Lakers
Forced to do much of the heavy lifting while oft-injured big man Anthony Davis was out for an extended stretch, Los Angeles Lakers superstar forward LeBron James put together an 18-game stretch where he scored at least 25 points.
With James out three games with "general swelling" in his left knee, the Lakers and their fans have to be wondering at what cost did the scoring streak come?
James not only missed the final three games of the Lakers' 2-4 road trip and yet another struggling stretch, but he left early to head back to LA to get more treatment on his ailing knee. The knee seems to be structurally sound following an MRI. However, the swelling is undoubtedly still a significant concern considering James' immense worth to the Lakers' hopes for this season.
A serious injury to LeBron James would almost certainly end all title hopes for the Lakers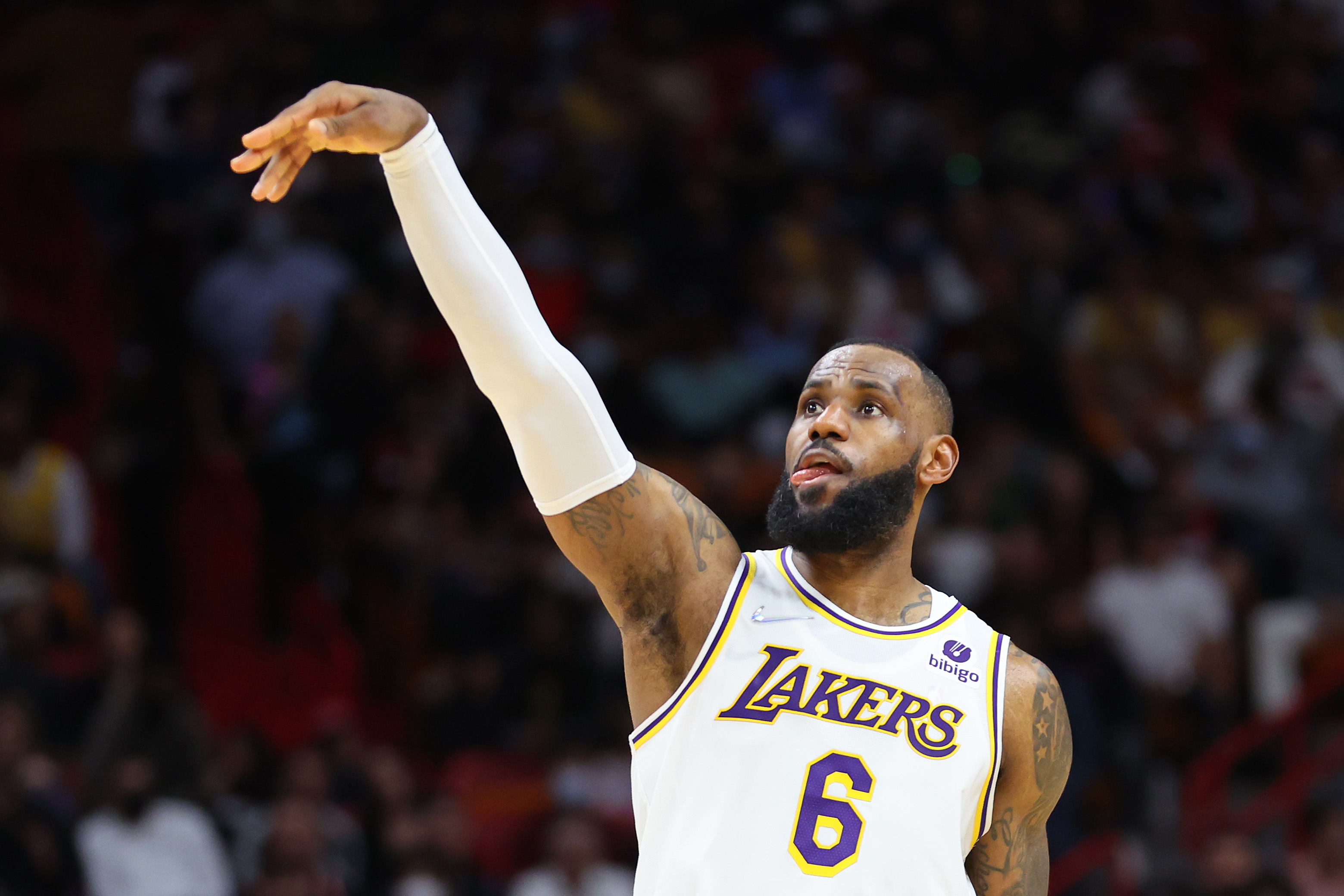 This sort of thing was always the fear of the Lakers — that the 37-year-old James would have to do too much this season, and the result would be an injury that knocked him out for a significant period.
James did everything in his power to keep the Lakers afloat while Davis was out of action for 17 games. During the 18-game streak of scoring at least 25 points — the second-longest run of his illustrious career — James averaged an eye-popping 32.5 points per game. He had at least 30 points in 14 of the 18 games, including a 43-point masterpiece in just 29 minutes in Portland on the final night of 2021.
The problem, however, was the amount of energy that James had to exert during those games to carry the wheezing and whining Lakers. At times, every game felt like a game-and-a-half on James' body because of all he had to do to keep the team competitive. James had to play center, point guard, and wing at times, with Russell Westbrook struggling, getting benched for a game, and struggling some more.
James' outstanding effort led Lakers coach Frank Vogel to say this about the four-time champion following a recent win over the Magic: "He's the most unique player in the history of the game. We won a championship with him playing point guard two years ago, he's been a ball-handling wing throughout his career, and he's been playing center for us. It's pretty remarkable, and for him to be doing it at this stage of his career, it's even more remarkable."
If James is out for an extended period, the pressure ramps up on Davis and Westbrook 
LA Lakers GM Rob Pelinka has justifiably taken lots of heat over his construction of this team's roster. The most obvious blunder was trading for Russell Westbrook when the team needed shooters and players who could thrive without the ball in their hands. Neither of those descriptions would ever fit Westbrook's personality, and the results have been predictably horrible this season.
The blaming of head coach Frank Vogel and even Westbrook — instead of Pelinka — recently brought out an epic rant from TNT's Charles Barkley. If, as Barkley pointed out, Stanley Johnson is your second-best player for an extended stretch of games, the roster is badly flawed.
There was one logical justification for signing Westbrook, a move that James and Davis pushed hard for. Theoretically, he could give the Lakers a scoring threat when James was either resting or out injured. Westbrook did have a 35-point night in Charlotte when James was out, but the Lakers lost that game when the mercurial point guard took an ill-advised 3-pointer when a two-point shot would have sufficed. 
Of course, Anthony Davis was supposed to be a significant part of that equation. However, the Lakers have been unable to count on much from Davis because of his tendency to get hurt. 
Davis aroused hopes last week when he had a successful first game back, and the Lakers throttled the injury-ravaged Brooklyn Nets. However, two games later, Davis was missing again after banging his wrist on the rim on a dunk attempt.
The Lakers must manage their star's minutes, put together a run, and somehow get healthy
Remember: Father Time is undefeated and untied — even though all-time greats like Tom Brady and LeBron James have tried to ward off the effects of aging in recent years.
What James has done this season at 37 years old — he ranks third in scoring (29.1 PPG) and fourth in ESPN's Player Efficiency Ratings (27.60) — is downright amazing.
However, this is the statistic that James, Lakers brass, and the coaching staff have to be worried about: His 36.6 minutes a night rank fourth in the NBA. James is playing close to a minute more a night than Toronto rookie Scottie Barnes, who is 16-plus years younger than the Lakers legend.
If and when James returns, the Lakers must do all they can to lower James' exposure on the court. Also, they must get more from Davis, Westbrook, and their aging, supporting cast.
It's very debatable if the Lakers are even a championship contender given their horrid defense and their woefully inconsistent play all season. But this much is for sure: They're not even a playoff team if they can't keep James healthy and happy the rest of the way.
Sportscasting.com Senior NBA Writer John Denton obtained quotes firsthand in the story.
Statistics are courtesy of ESPN.com.
RELATED: Anthony Davis' Return Shows What the Los Angeles Lakers Can Become, but the Superstar Must Stay Healthy