LeBron James Sent a Powerful Message to Colin Kaepernick From the NBA Bubble
LeBron James is not just a legendary basketball player, but he has become a very important leader in America. He has done this by being a vocal athlete that speaks out against social injustices and racism in the country. Another athlete who has been very vocal about these same issues is former San Francisco 49ers quarterback Colin Kaepernick. Kaepernick began a movement when he took a knee during the national anthem while on the 49ers back in 2016. Now, James and other athletes have continued to carry the torch. In fact, James just sent Kaepernick a powerful message from the NBA bubble.
Colin Kaepernick began a movement in 2016 by kneeling during the anthem
RELATED: Colin Kaepernick's Girlfriend Nessa Reminds People on Social Media Why He Took a Knee in 2016
Kaepernick was having an excellent career with the 49ers. He took them to the Super Bowl during the 2012 season, and back to the NFC Championship Game the next season. He then started a powerful movement during the 2016 season by taking a knee during the national anthem.
The protest sparked a national debate as many opponents think the move is disrespectful to those who fight for America. However, Kaepernick explained his decision in 2016.
"I am not going to stand up to show pride in a flag for a country that oppresses Black people and people of color," Kaepernick said, according to NFL.com. "To me, this is bigger than football and it would be selfish on my part to look the other way. There are bodies in the street and people getting paid leave and getting away with murder."
Despite having a lot of success in the NFL — he threw for 2,241 yards, 16 touchdowns, and four interceptions in 11 starts and 12 total games in 2016 — Kaepernick has not played in the league since the 2016 season. Many people believe that it is because of his protests during the anthem.
NBA players knelt during the anthem prior to the first games in the bubble
RELATED: LeBron James Has Sadly Had to Mourn Two Deaths During the 2019-20 Season
The 2019-20 NBA season resumed with two games on July 30. In the aftermath of George Floyd's killing, players and coaches from all four teams (the Utah Jazz, New Orleans Pelicans, Los Angeles Lakers, and Los Angeles Clippers) in both opening games took a knee during the anthem. Players also wore shirts that said Black Lives Matter.
"The New Orleans Pelicans stand by the ideals of freedom of speech and the right to peacefully protest," the Pelicans said in a statement, according to CBS Sports. "Collectively with the Utah Jazz, our organization joins the NBA in supporting our players and coaches. To promote meaningful change relative to social justice and racial equality, the New Orleans Pelicans have partnered with our players, staff and coaches to create a Social Justice Leadership Alliance committed to furthering the discussion, listening and learning and taking action to make positive change in our community and our country."
According to CBS Sports, the NBA has a rule prohibiting players from kneeling during the anthem. However, NBA commissioner Adam Silver confirmed that he will not enforce it.
"I respect our teams' unified act of peaceful protest for social justice and under these unique circumstances will not enforce our long-standing rule requiring standing during the playing of our national anthem," Silver said, according to Yahoo Sports' Chris Haynes.
LeBron James sent a powerful message to Colin Kaepernick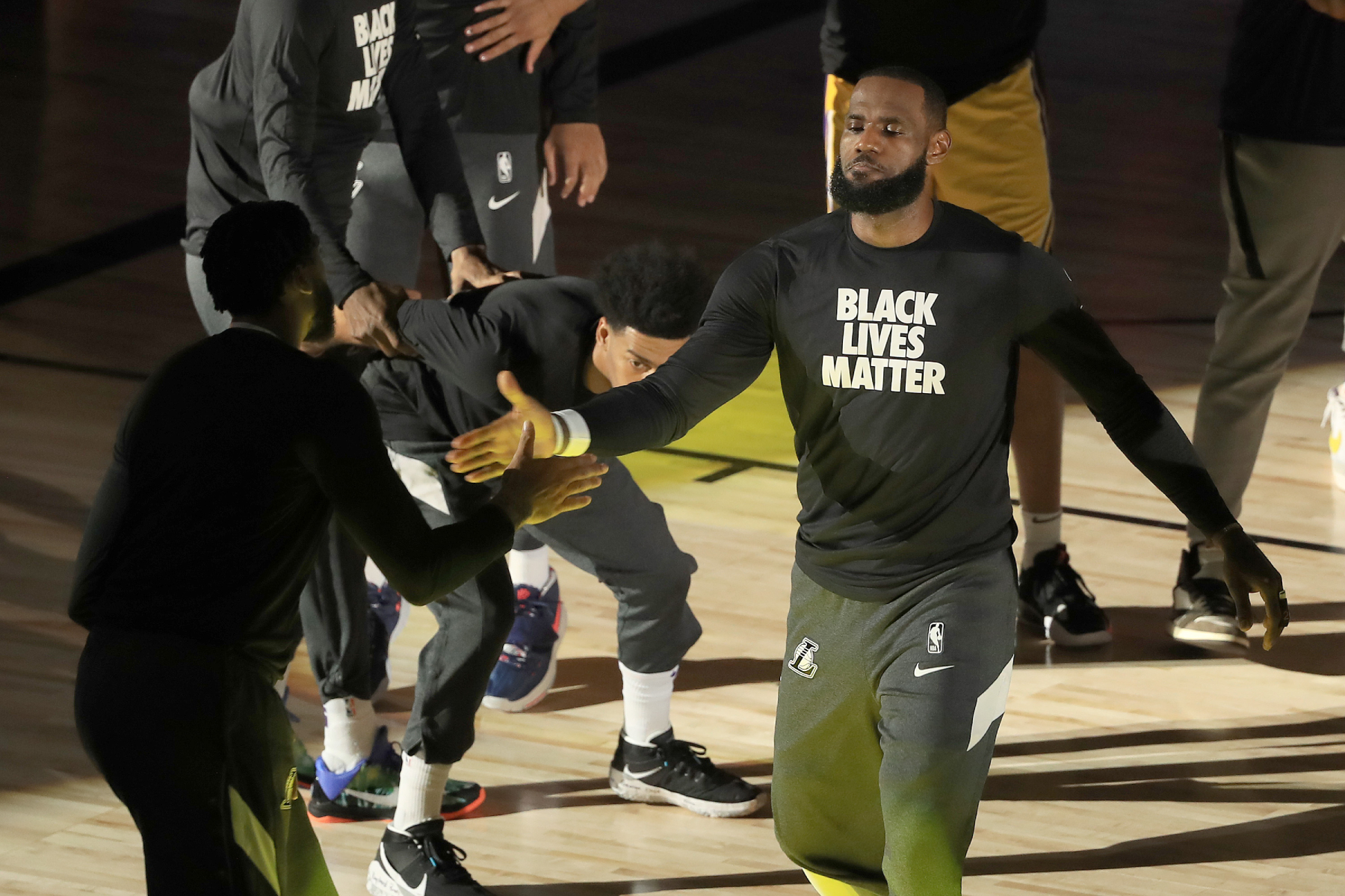 RELATED: Chauncey Billups Could Be a Reason LeBron James Left Cleveland
James was one of the players to kneel prior to the NBA's opening bubble games. 
He discussed it after the game.
"I hope we made [Kaepernick] proud," James said, according to a video from The Washington Post's Ben Golliver. "I hope we continue to make Kaep proud every single day. I hope I make him proud on how I live my life, not only out on the basketball floor but off the floor. I've been one to always speak out about things that I feel like are unjust. If I'm educated on things, I always go about it that way."
James continued to praise Kaepernick.
"Kaep was someone who stood up when times wasn't comfortable where people didn't understand, people refused to listen to what he was saying. If you go back and look at any of his postgame interviews when he was talking about why he was kneeling — it had absolutely nothing to do about the flag, it had absolutely nothing to do about the soldiers, the men and women that keep our land free. He explained that and the ears were closed. People never listened, they refused to listen — and I did. … We just thank him for sacrificing everything that he did to put us in a position today, even years later, to be able to have that moment like we had tonight."
Some people might tell James to just shut up and dribble. However, he and Kaepernick have both proved that they are more than just athletes.
Stats courtesy of Pro Football Reference