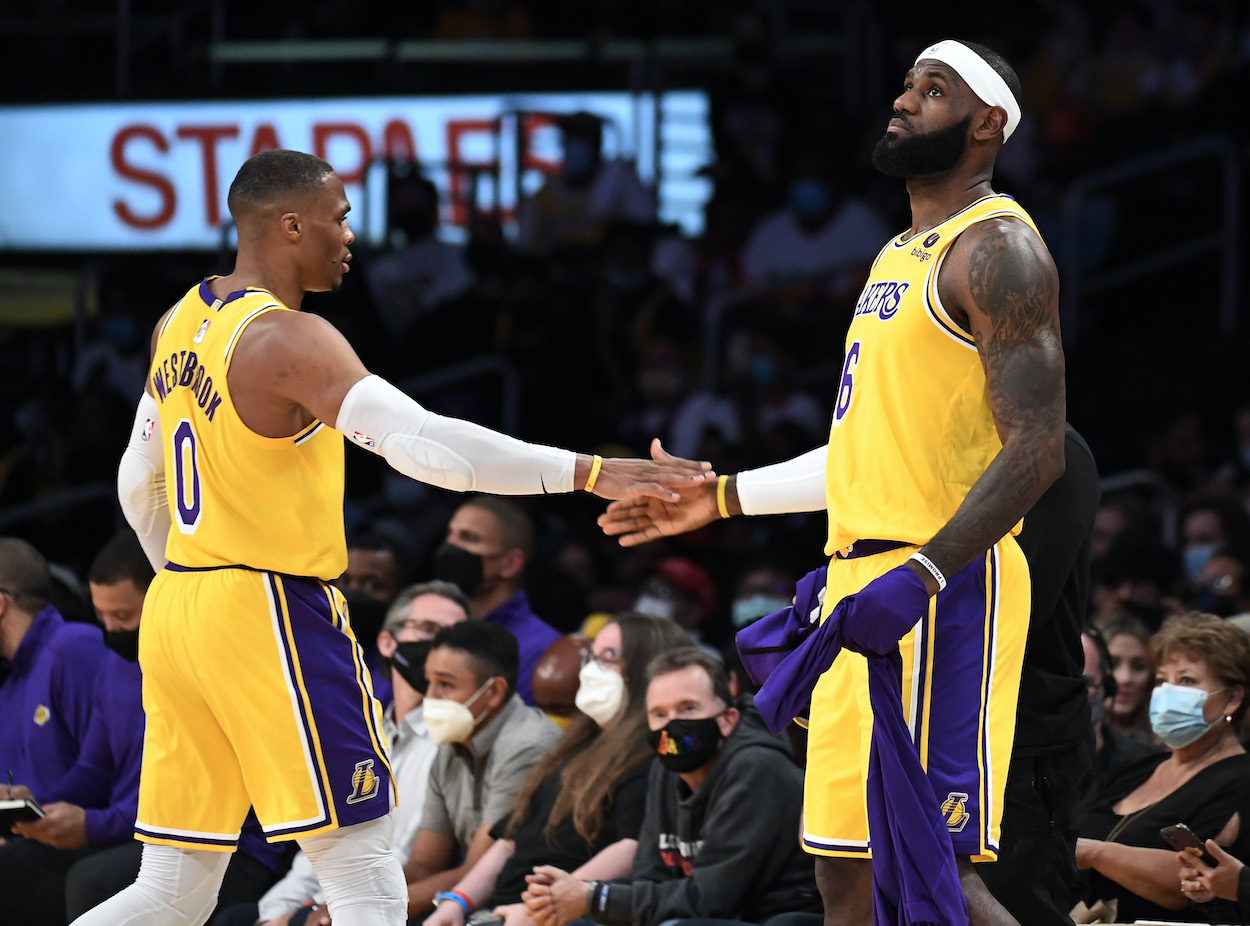 LeBron James Serves Up a Scorching Hot Take About New Lakers Teammate Russell Westbrook: 'Most Explosive Point Guard in NBA History'
LeBron James is still learning how to play alongside Russell Westbrook, but he just gave his new Lakers teammate the ultimate compliment.
LeBron James has only been teammates with Russell Westbrook for three months. The duo has played just six games together and hasn't exactly found an offensive rhythm quite yet, but LeBron is already prepared to name his new Los Angeles Lakers teammate the "most explosive point guard" to ever play in the NBA.
LeBron James and Russell Westbrook are still trying to find a groove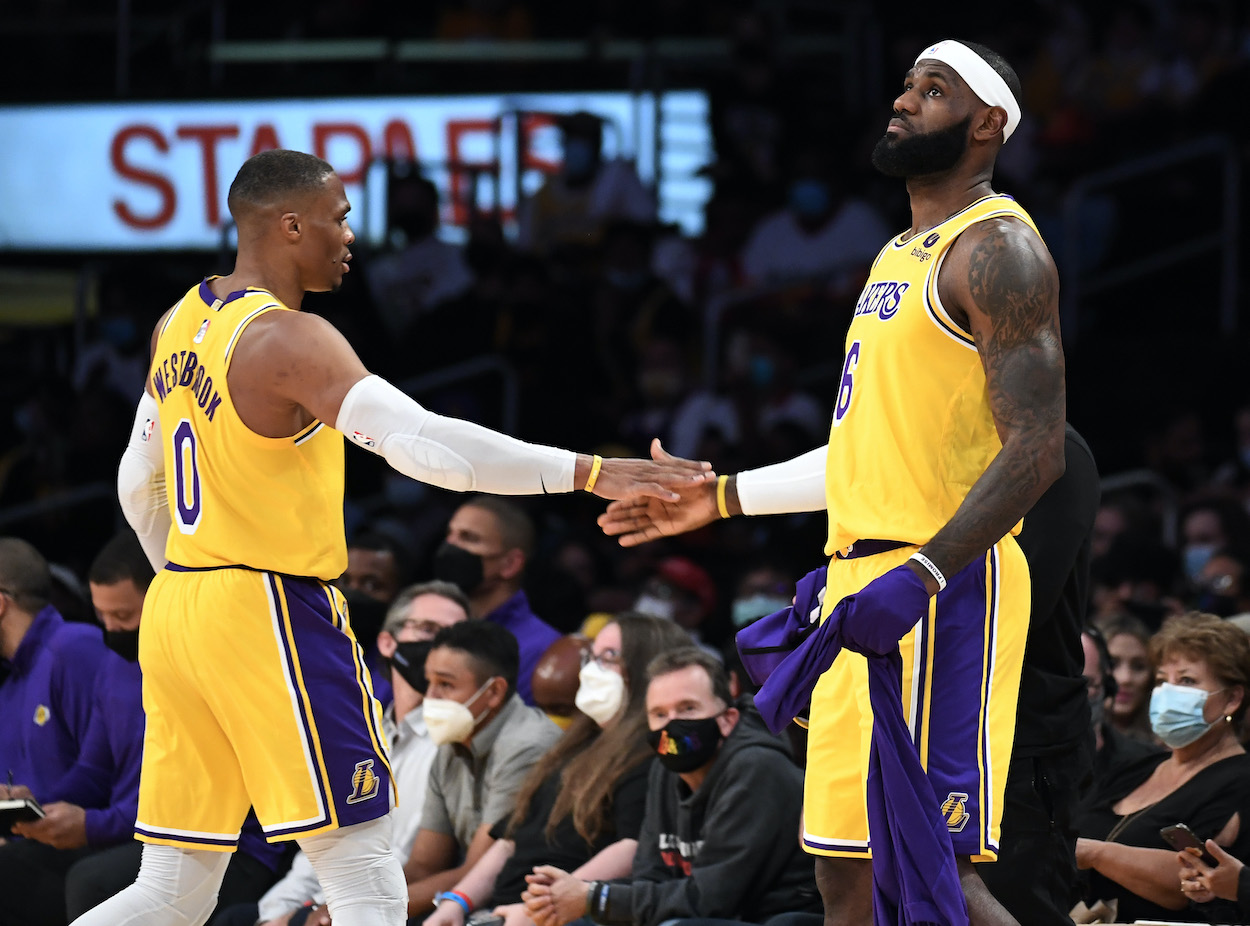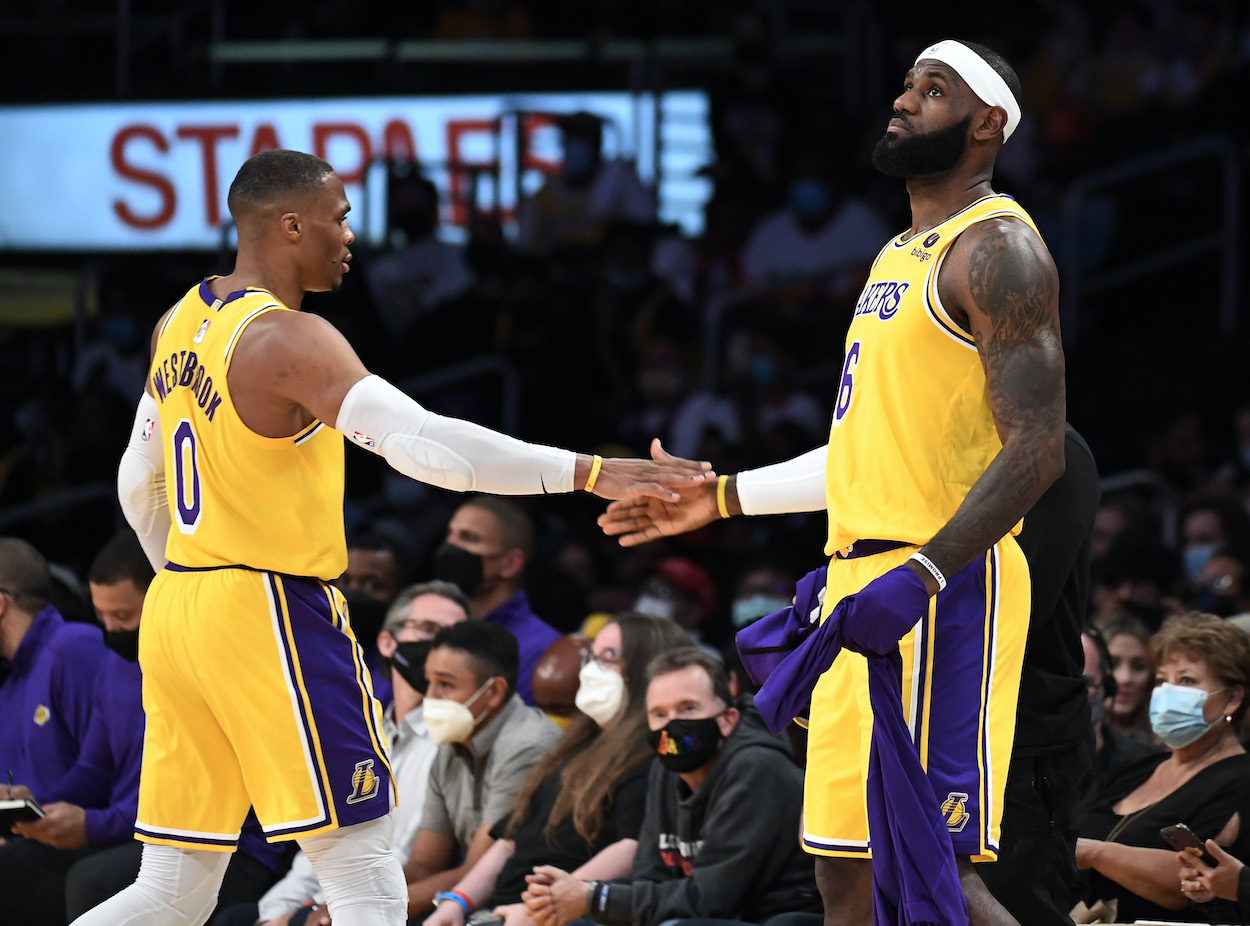 When the Lakers traded for Westbrook just over three months ago, they knew integrating him into a starting lineup alongside James would take some time. Both players thrive as the primary ball-handler on the court, and they've rarely had to run through an offense from an off-ball position throughout their careers.
The risky experiment started off slow, as the Lakers lost their first two games of the season and Westbrook looked lost out of the gate. Westbrook averaged just 12 points on 34.9% shooting over the first three games of the season, and his rebound and assist numbers weren't even close to where they've been in previous years.
The ball-dominant point guard went from having one of the highest usage rates in the NBA to becoming a sidekick in the span of a few months. A sloppy start from Westbrook was expected, but James still sees greatness in his new teammate.
LeBron serves up a scorching hot take about Westbrook
The Lakers have been steadily improving as a team ever since their slow start. They've won five of their last six games to improve to 5-3, and their Big 3 just turned in their best performance of the season.
In a 119-117 victory over the Houston Rockets on Tuesday, James, Westbrook, and Anthony Davis combined for 84 points on 56.7% shooting. Westbrook put up one of his best games as a Laker with 27 points, nine rebounds, and seven assists in the contest, and he received an unexpected compliment from LeBron afterward.
"[Westbrook is] getting more and more comfortable," James told Spectrum SportsNet after the game. "It's always challenging going to a new system, to a new team, to a new group of guys. You always try to see yourself fitting in."
Russ is a special player, and he's being himself over the last few weeks, and we need that. We need the attacking downhill, most explosive point guard in NBA history, with him and D-Rose. We need that. So he's been bringing that, and we love to see it.

LeBron James
Quite the compliment from arguably the greatest player of all time.
Just starting to heat up
Westbrook was completely out of his comfort zone in his first three games with the Lakers, but he's starting to look like his old self again. Over the last five games, the point guard is averaging 23.8 points, 9.4 rebounds, and 8.4 assists per game for LA.
Now that's the Westbrook the Lakers thought they traded for.
"We've had some adversity to start this season already, and I feel like we've matched it," James said Tuesday night. "We wanna continue to build off what we've done over the last week or so, two weeks. And if we do that we give ourselves a good chance to be better and better each month."
The Lakers have already shown massive improvement over the first few weeks of the season, so just imagine where they'll be six months from now when the playoffs get underway.
Like Sportscasting on Facebook. Follow us on Twitter @sportscasting19.