LeBron James Should Use NBA All-Star Game to Prepare for Lakers Exit
LeBron James is playing at an unreal level right now, but he may never win a championship again if he stays with the Los Angeles Lakers.
Sure, James and the Lakers just won a title in 2020, but LA's current roster is a mess, and he clearly can't rely on his fellow Big Three stars, Russell Westbrook and Anthony Davis. So, if James wants to win that fifth ring, he may have to leave Hollywood and find a new team that can help him win a title before he gets too old to contribute at a high level.
What team is his best option? James should consider going back home to the Cleveland Cavaliers for a third time, and 2022 NBA All-Star Weekend could be an excellent opportunity to prepare for that move.
The Lakers and Cavaliers are heading in opposite directions
Before this season began, it appeared the Lakers would contend for a championship, and the Cavaliers would be one of the league's worst teams again.
However, the exact opposite has happened.
Heading into NBA All-Star Weekend, the Lakers are the ninth seed in the Western Conference. They are 21 games out of first place and sit at just 27-31.
LA has one of the oldest rosters in NBA history, and none of its pieces seem to be clicking. Russell Westbrook looks like a shell of himself, and Anthony Davis can't stay healthy for more than two minutes.
LeBron James is having a great season (29.1 points, 7.9 rebounds, and 6.5 assists per game), but the Lakers are wasting his efforts.
The Cavaliers, on the other hand, have one of the hottest young cores in the league. Led by Darius Garland, Jarrett Allen, and Evan Mobley, who are all younger than 24 years old, Cleveland is 35-23 and just 2.5 games back of first place in the Eastern Conference.
The Cavs have a fresher and more talented roster than the Lakers. They have also already become a contender without James; they would easily be the favorites to win it all with him.
And LeBron should use this weekend to lay the groundwork for his return to The Land.
LeBron James should use NBA All-Star Weekend to prepare for his Lakers exit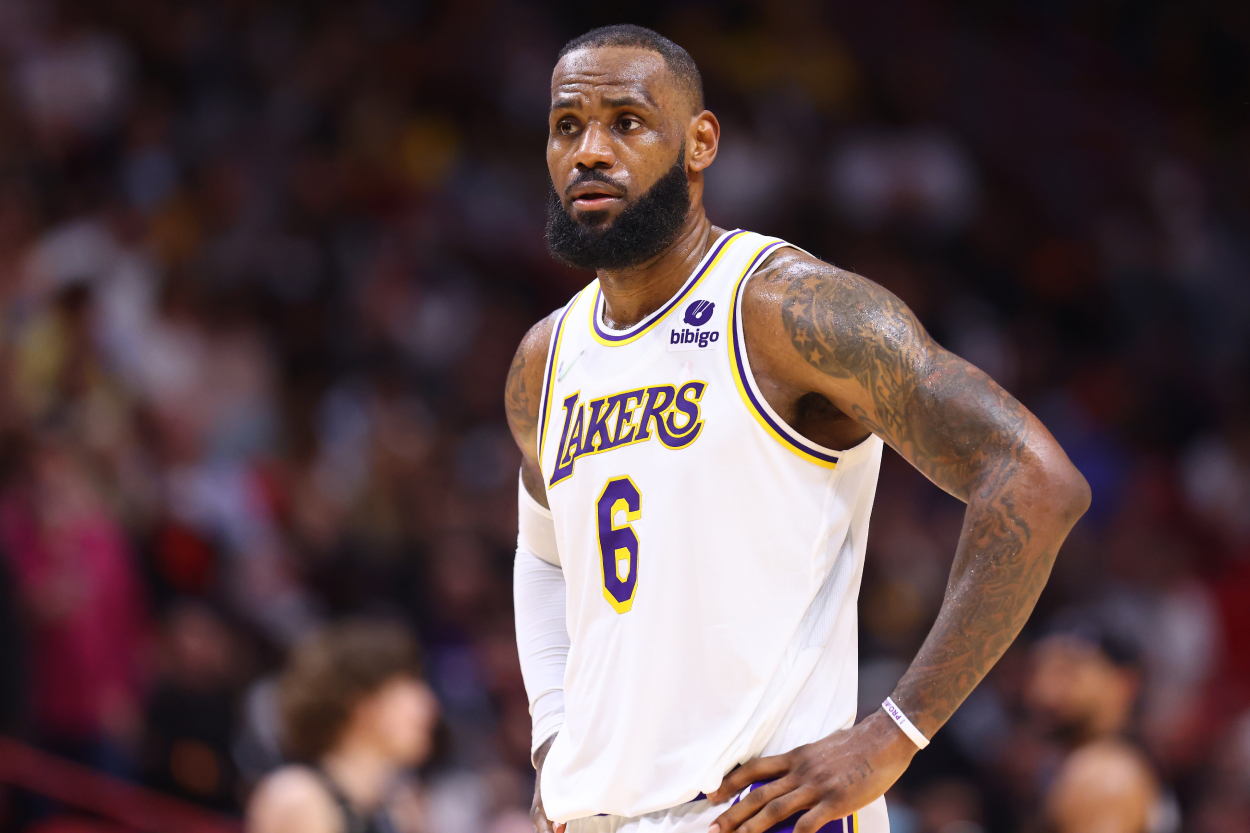 When LeBron James was still with the Miami Heat, he got a glimpse of how dangerous he and Kyrie Irving would be during the 2014 NBA All-Star Game. Irving won All-Star MVP with 31 points and 14 assists, while James added 22 points, seven rebounds, and seven assists.
A few months later, James was with Irving in Cleveland.
During this year's All-Star Game, James will have two Cavaliers players on his team in Garland and Allen. He will be able to see what it's like to play alongside a point guard like Garland, and he can figure out how to throw the best lobs to Allen.
Ironically enough, he will also do all this in Cleveland, as All-Star Weekend is in Ohio this year.
But is it possible? Can James actually sign with the Cavaliers when he becomes a free agent in 2023?
There are a few factors to consider, but yes, he absolutely can.
LeBron James has an easy road back to the Cavaliers if he wants to return
Financially, the Cavs should certainly be able to afford James. Caris LeVert and Kevin Love will be free agents in 2023, so Cleveland will likely have something close to a max contract spot open.
But three factors could keep LeBron from returning.
There's, of course, the chance that the Lakers figure things out and build a contender again. However, with Russell Westbrook's contract and Anthony Davis' injury history, that seems unlikely.
James could also go to an entirely different team if his son, Bronny, enters the league when he becomes eligible in 2024.
The biggest question, though, is whether the Cavaliers would want him back. That may sound odd, but both times James left, Cleveland spent the next few years rebuilding. The Cavs have more stability now with young guys like Garland, Allen, and Mobley, but who knows what could happen if James returns. Would they really want to go through another period of losing once he retires or leaves again?
All in all, James' chances (or lack thereof) of winning another title in LA are becoming clearer by the day. If he wants to win that fifth ring, he should probably start planting seeds with Garland and Allen during the NBA's All-Star Game festivities this weekend.
Stats courtesy of Basketball Reference
RELATED: James Harden's Failed Nets Stint Hurt Multiple Teams, but It Turned the Cleveland Cavaliers Into Eastern Conference Contenders