LeBron James Singlehandedly Boosts Cavs to Billion-Dollar Value
One of the more popular subjects this NBA season has been to debate the merit of the max contract, and by extension to try and suss out exactly how much LeBron James would be paid if there was no salary cap. His impact on the value of an NBA team, on the other hand, has received considerably less coverage. With the news that he's heading back to Cleveland, James may have singlehandedly pushed the Cavaliers into the rarified air of a billion-dollar NBA team — along with the Clippers, the Lakers, the Knicks, and the Dallas Mavericks (at least, Mark Cuban has gone on the record saying that he would be crazy to sell his team for less than that).
The new value for the Cavs, reported by Bloomberg, is significantly larger than it was when James last played for Cleveland, in 2010, when the team was reportedly worth $447 million, a figure that fell all the way down to $355 million after The Decision, per Forbes. Earlier this year, the magazine estimated that the Cleveland team's worth was $515 million. That was before the return of the king (or The Silmarillion), though.
"For a mid-size market, the revenues were outperforming the market," Chad Estis told Bloomberg, reflecting on LeBron's initial run with the Cavaliers. "You get to a point where everything will be sold out, then you increase prices, certainly local sponsors, suite renewal is better if you win and the potential long-term effect for the brand if you win a championship."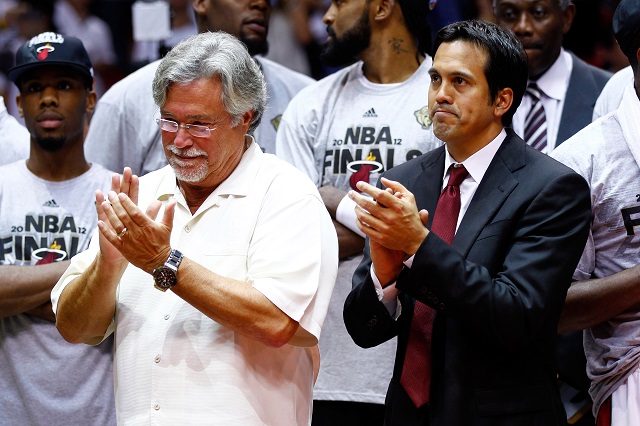 How James's departure affects how much the Heat are worth is uncertain. We know that when he joined the team, it gained a 17 percent boost to its overall value, landing at $425 million for 2011. We know that the Heat were pegged at $770 million in January, and if the 26 percent theory holds true, they should come in at about $569 million next year. The waters are muddied, though, by the fact that Chris Bosh is reportedly staying in Miami, and it's hard to imagine Wade playing anywhere else.
Why is that significant? Because Cleveland's roster was completely barren of bonafide superstars once LeBron left, apologies to Kyrie Irving. Miami's not in that position, and they've still got a pair of marketable All Stars to work with, even if one is breaking down and the other is Chris Bosh. Exactly what happens to the Heat, both on the court and in the value standings, remains to be seen.
One thing's for sure, though: Owner Mickey Arison is decidedly not excited about today's announcement. No word on whether he burned his LeBron jersey.