LeBron James' 'Space Jam 2' Trailer Just Got Him Brutally Roasted by a Former Teammate in a Savage Online Comment
Basketball and entertainment fans finally got their first sneak peek of LeBron James' Space Jam 2 trailer. It certainly didn't disappoint, either. We all got an idea of the movie's plot while also seeing characters we love like Bugs Bunny mixed with some of James' fellow NBA stars like Damian Lillard. However, while many people were pumped to see the trailer, and were also excited to see what some of the Space Jam 2 cast members will look like, James' former teammate absolutely roasted him with a savage Instagram comment after the trailer's release.
LeBron James will star in 'Space Jam 2' with an all-star cast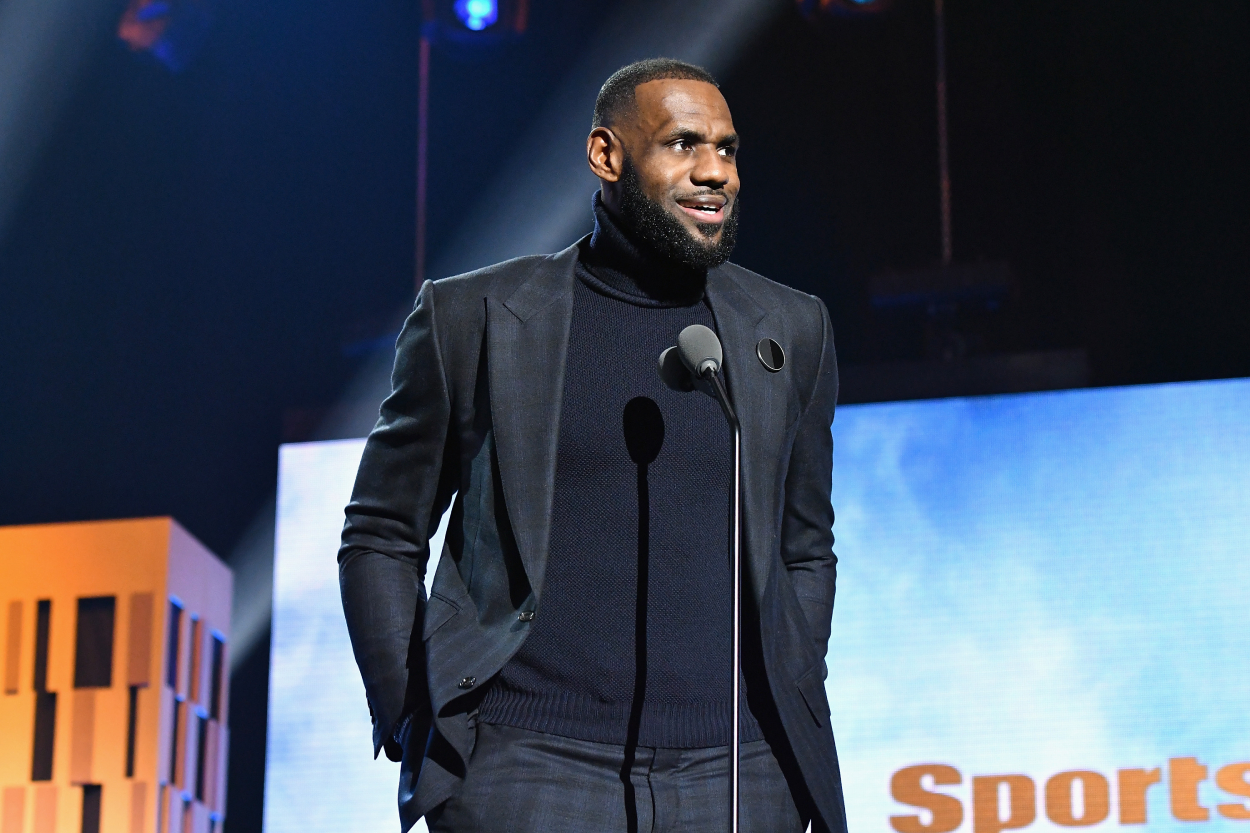 RELATED: LeBron James Carried 2 Cavs Teammates to the NBA Finals Before They Both Later Became Reality TV Stars
Michael Jordan's original Space Jam was a massive hit. However, there hasn't really been a perfect athlete to fill his shoes in that starring role until LeBron James. Now, 25 years later, James is coming out with a Space Jam 2.
In the recently released trailer, we learned that the movie is about James losing his son to an AI-generated world. He then has to team up with the Looney Tunes to get him back.
In addition to LeBron James, the Space Jam 2 cast is filled with several other all-stars — on and off the court. According to Newsweek, the other NBA stars in the film include Damian Lillard, Anthony Davis, Chris Paul, Klay Thompson, Draymond Green, and Kyle Kuzma. There are also some WNBA players in the movie, including Diana Taurasi, Nneka Ogwumike, and Chiney Ogwumike.
That's not all, though. Don Cheadle is the villain in the film, and Sonequa Martin-Green is starring as James' wife. This is all in addition to Zendaya starring in the film as the voice of Lola Bunny.
With this many celebrities, LeBron James' version of Space Jam could certainly be a big hit. However, the recent trailer also got him brutally roasted.
Richard Jefferson roasted The King on Instagram
RELATED: LeBron James Won 2 Championships With Dwyane Wade but Potentially Discussed Teaming up With Another Friend Instead
LeBron James and Richard Jefferson were teammates on the Cleveland Cavaliers for two seasons from 2015-16 through 2016-17. They ultimately won a championship together during that 2015-16 season after coming back from a 3-1 deficit in the NBA Finals to the Golden State Warriors.
Jefferson has since become a star in the sports media world, and he gives some pretty funny commentary. His sense of humor was also featured in a comment he left on LeBron James' Space Jam 2 Instagram post.
James posted the trailer on his Instagram with the caption: "Welcome to the Space Jam!! What in the matrix hell did I get myself into?!?! LET'S GO!!!!"
The Lakers' star ultimately received a plethora of comments from people like Halle Berry, Jamie Foxx, and many others. However, Richard Jefferson may have left the funniest one.
"That CGI got the hairline looking [fire]," Jefferson commented.
That's hilarious. For years, basketball fans have made jokes about James' hairline. Jefferson just took it a step further by saying computerized technology gave him a better one in the movie.
It may have been a joke, but Jefferson has a point. James' hairline does look nice in the trailer.
When is the 'Space Jam 2' release date?
RELATED: LeBron James Made $169 Million With the Cavs, but Once Cost Them $150,000 While Still in High School
Fans have been waiting for Space Jam 2 for nearly 25 years. According to Entertainment Weekly, LeBron James initially declined to star in a new Space Jam 15 years ago because he didn't think he "was ready to do anything of that magnitude."
However, after starring in Trainwreck with Amy Schumer and Bill Hader in 2015, James decided that he was ready to take on the role.
"In my younger days, part of my thinking was Space Jam was so good, how can I top this?'" James said, according to Entertainment Weekly. "There's always going to be conversations about LeBron trying to do everything Michael [did]. But I've gotten older, and you know who you are. You know what you stand for."
So, after the long wait, when is the Space Jam 2 release date? According to CBS Sports, Space Jam: A New Legacy will be in the theaters and on HBO Max on July 16, 2021.
It sounds like it could be the movie of the summer.