LeBron James Didn't Team Up With DeMar DeRozan This Offseason But Just Showed Him the Ultimate Sign of Respect
LeBron James and DeMar DeRozan might otherwise have donned the Purple and Gold together as teammates on the Los Angeles Lakers. That won't be happening, at least not this year. Still, James paid DeRozan the highest of compliments in heralding the Compton native's status as a Toronto Raptors legend.
LeBron James prevented DeMar DeRozan from making deeper playoff runs, but he still has a glowing Raptors resume
DeMar DeRozan has a legitimate case as one of the three greatest players (if not higher) in Raptors history.
DeRozan ranks third in franchise history in win shares behind only Kyle Lowry and Chris Bosh. He ranks first in all of the following categories: games played, minutes played, points, free throws, and a host of others.
The former USC standout made four All-Star teams with the Raptors and made two All-League teams, including All-NBA Second Team during the 2017-18 campaign. Just about the only thing missing from DeRozan's resume is a championship ring. He can thank LeBron James for that omission from his Raptors legacy.
James and the Cleveland Cavaliers routinely dashed Toronto's hopes of reaching the NBA Finals. The Cavs beat the Raptors in six games in the 2016 Eastern Conference Finals. That was ultimately DeRozan's best chance of beating LeBron, as the Cavs swept past Toronto in each of the next two seasons, resulting in "LeBronto" becoming part of the NBA lexicon.
For his part, DeRozan experienced his share of criticisms for lackluster play and individual failures against LeBron and the Cavs. The fact that Toronto won the championship just one season after trading DeRozan to the San Antonio Spurs for Kawhi Leonard made things even worse.
But while the former Raptors star was not the one to bring a banner to Scotiabank Arena, he more than did enough for the franchise to retire his No. 10 jersey. At least, according to his old playoff foe.
James said the Raptors should "absolutely" retire DeRozan's number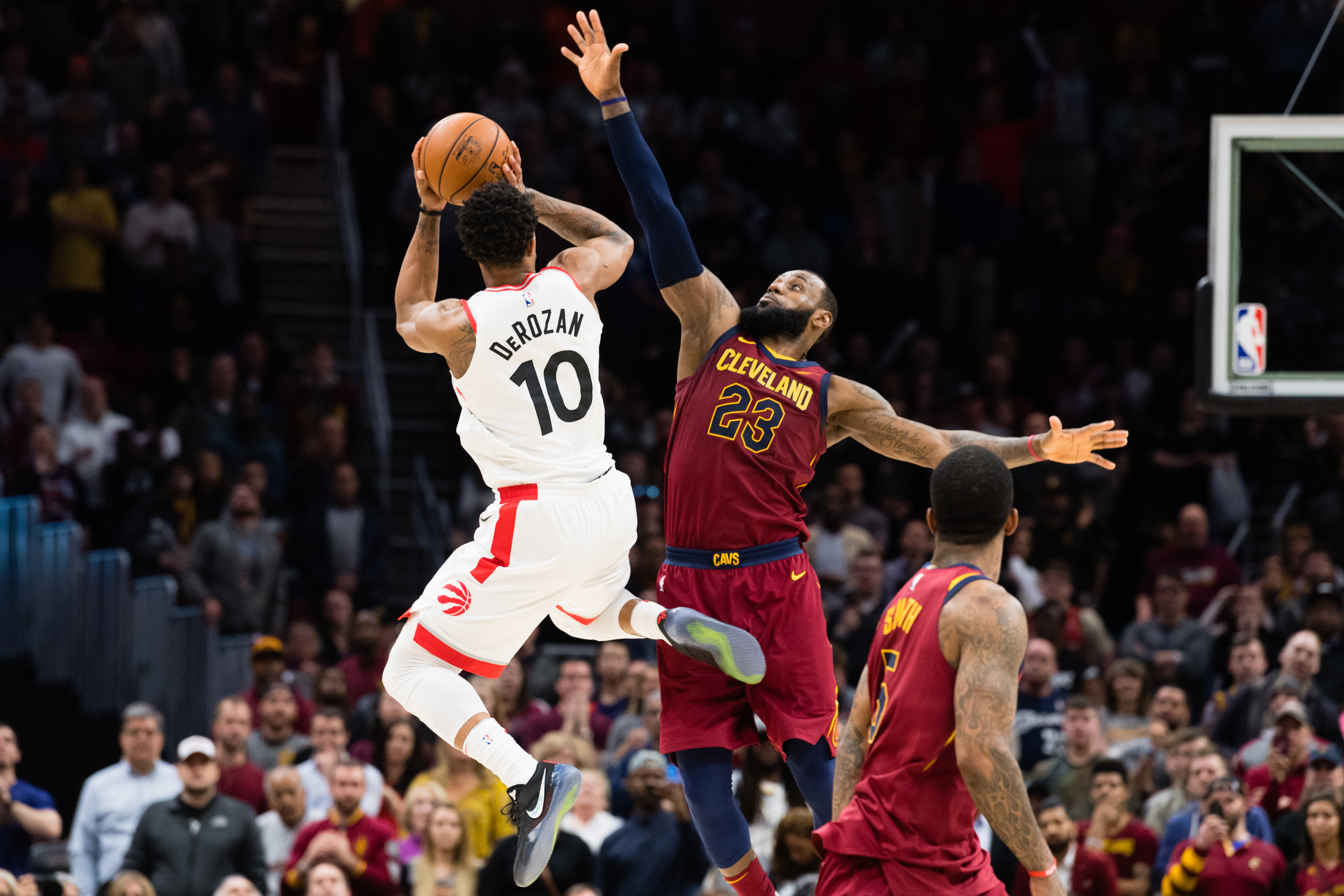 DeMar DeRozan's career is far from over. Jersey retirement is a long way in the future. Still, LeBron James is adamant that the Raptors eventually recognize DeRozan as one of the very best players in franchise history.
James commented on an Instagram post by HoopFilms asking whether the Raptors should immortalize the No. 10 jersey for all eternity. The Lakers star doesn't even think it's a question.
That's a pretty ringing endorsement from one of the greatest players in NBA history. Will the Raptors eventually oblige? It would make for a historic occasion.
Toronto is one of just three organizations without a single retired number. That list will dwindle to two after the Memphis Grizzlies honor Zach Randolph and Tony Allen next season. Despite the prominence and relevance he brought to the franchise, not even Vince Carter has his number retired.
Will DeRozan become the first Raptor to have his jersey retired? LeBron James feels he's more than worthy of that distinction. James might also be wishing he and DeRozan were wearing the same jersey this upcoming season.
LBJ and Deebo could have been Lakers teammates
DeMar DeRozan said multiple throughout the offseason he had an interest in heading home to play with LeBron James and the Lakers. But LA simply didn't have the flexibility to make the money work barring a sign-and-trade and really didn't have flexibility after acquiring Russell Westbrook from the Washington Wizards.
Money likely was a sticking point for DeRozan, though he also made it clear he chose to sign with the Chicago Bulls because he wanted more of a "challenge." The 32-year-old signed a three-year deal worth close to $82 million. The Lakers never had the capacity to make such a deal, even via sign-and-trade.
The Lakers signed a host of veteran players rather than jump through numerous hoops to orchestrate an iffy and complicated deal for DeRozan. James is likely excited to lace up with Carmelo Anthony and old teammates such as Dwight Howard and Rajon Rondo, but a piece of him might wish LA found a way to bring DeRozan home.
Stats courtesy of Basketball Reference. Contract information courtesy of Spotrac.