LeBron James: The Best Young NBA Player Ever?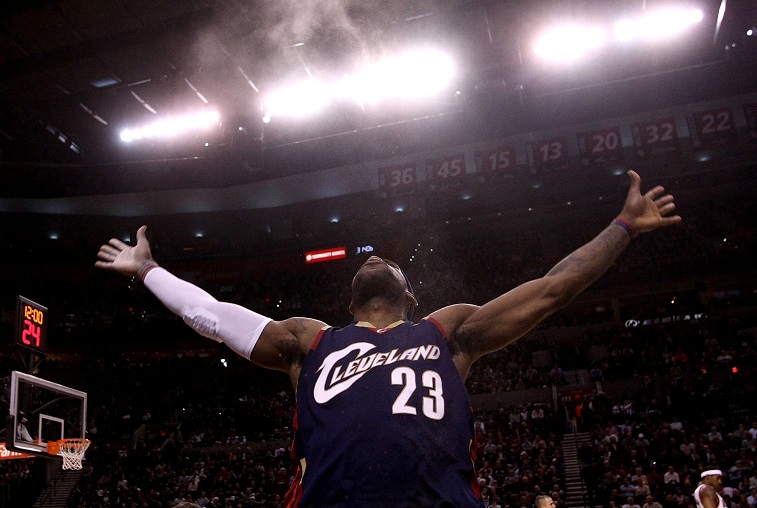 To steal an annoying bit of Internet verbiage, we've now officially seen how LeBron 3.0 has performed in the playoffs. Well, technically, we saw it in Game 1 of the Cleveland Cavaliers' series against the Boston Celtics, when James dropped the quietest 20-point, 6-rebound, 7-assist game of his career. James's game was hardly worth mentioning among the vying storylines of the scrappy, overachieving *insert polite adjective for "overmatched" here* Celtics and the twin playoff debuts of Kyrie Irving (who killed it) and Kevin Love (who also killed it).
Irving and Love both fell apart, and we're back to square one (LeBron against the World), but back in that first round series, you could be forgiven for temporarily ignoring the presence of the best player in the NBA during that game. Read that sentence again.
It's so easy to overlook where LeBron James is right now — at least, when other stories temporarily shift the focus away from him — that it's even easier to forget the kid who was King James on the cover of Sports Illustrated at 16, the one who was having the table set to break every single age-related record out there before he'd even played a game. The Hummer-driving, Nike-signed, straight outta high school LeBron who carried the weight of an entire franchise on his back from June 26, 2003, to July 8, 2010.
NBA players are singular even when they're playing to established archetypes: We'll never see another Jordan even though we saw Kobe, we'll never see another Bird even though we saw LeBron, and so on. When the dust has settled on James's career, the one thing we can say for certain is that there was no one better at a younger age.
Some of that has to do with changes to the league's age rules, but it also has to do with just how good James has been. Most recently he became the youngest player to score 24,000 points in the NBA, but that belies just how many "youngest player"-type records No. 23 holds.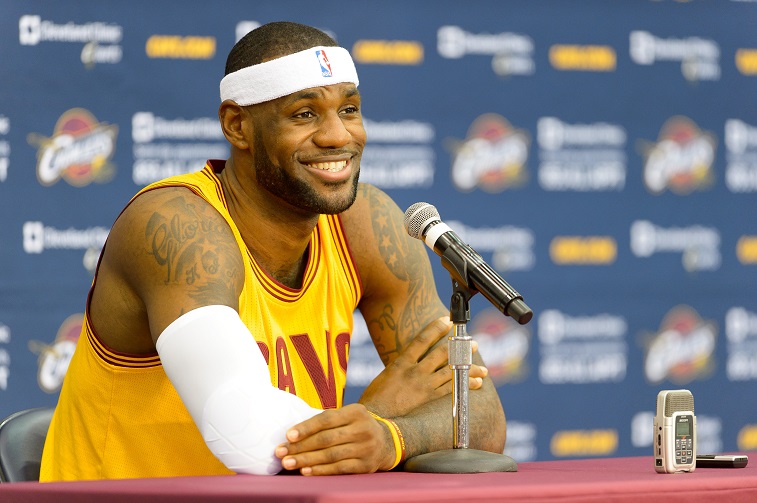 There are roughly 6,000 words dedicated to LeBron's career achievements on the relevant Wikipedia page, which is one way of saying that over his 10-season tenure in the NBA, James has done a lot. That's something you might expect from a four-time MVP, but nestled in the tome is an entire subsection dedicated to things James did when he was younger than every other player who had previously done those things. This includes, hilariously, "Every point milestone from 1,000 up to 24,000."
While James wasn't the youngest player to be drafted by an NBA team — that honor goes to Andrew Bynum — he remains the youngest player to be drafted first overall in the prep-to-pro era of the NBA, narrowly beating out Dwight Howard, who was about three weeks older than James when they were both selected in their respective draft classes.
The prep-to-pro window for NBA players lasted for a decade, starting when Kevin Garnett entered the 1995 draft straight out of Farragut Academy and ending after a 2005 draft that saw Bynum, Gerald Green, and Monta Ellis wind up playing professional ball. It's unlikely to return anytime soon, as Commissioner Adam Silver has gone on the record saying that he'd prefer the age limit be raised to 20, rather than decreased from its current limit of 19.
Not only would someone have a 1.5-year disadvantage to James, but that person would have to be better than him that much faster in his NBA career. We're excited to see the players of the future try, but for now, let's take a moment and recognize James's extraordinary career as it stands. He is only just 30, after all.