LeBron James vs. Top NBA Players Ever: Where Does LeBron Rank?
After avoiding the disgrace of a 2-5 record in the 2016 NBA Finals, LeBron James finally delivered on his longstanding promise to his hometown franchise; he brought a championship back to Cleveland.
It was, unreservedly, a great sports moment. Even if you spent most of the playoffs rooting against the Cavaliers for whatever reason (maybe you don't like James, maybe you think Dan Gilbert is a sleazeball, maybe you didn't like Matthew Dellavedova's fashion decisions), you had to tip your hat to James and company for doing what no other sports team based out of the Cleve had done for over half a century.
For a little while, Cleveland savored a reprieve from their status as the sporting world's punching bag, and they owe it to one of the greatest basketball players of all time. But how great is James, exactly? You could fill a library with takes on the topic, particularly since he's been the NBA's biggest superstar in the internet age.
Everyone has an opinion on LeBron, for better or worse. But it's safe to say that he has secured his spot as one of the 10 greatest players of all time. Of course, there's something to be said for celebrating the best players in league history on their own merits; Dr. J was Capital-G Great, Oscar Robertson was Capital-G Great, as were Elgin Baylor, and Bob Cousey, and Charles Barkley, and Hakeem Olajuwon, and so on).
While you can't fault any fan for placing those guys in their personal pantheon, not making the cut here doesn't diminish their careers in the slightest. That's not this kind of list. (For the record Sir Charles, Dr. J, and the Big O are all somewhere in my personal top 10 of favorite NBA players.)
This list will try to be as empirical as possible — at least as much as you can be when ranking across eras — by comparing accolades, dominance, rings, and, yes, stats. You can't hold the rules of the game in today's day and age against LeBron any more than you can hold the fact that there was no salary cap before the 1984–85 season against the guys who played then. Here are the top 10 NBA players of all time.
10. Shaquille O'Neal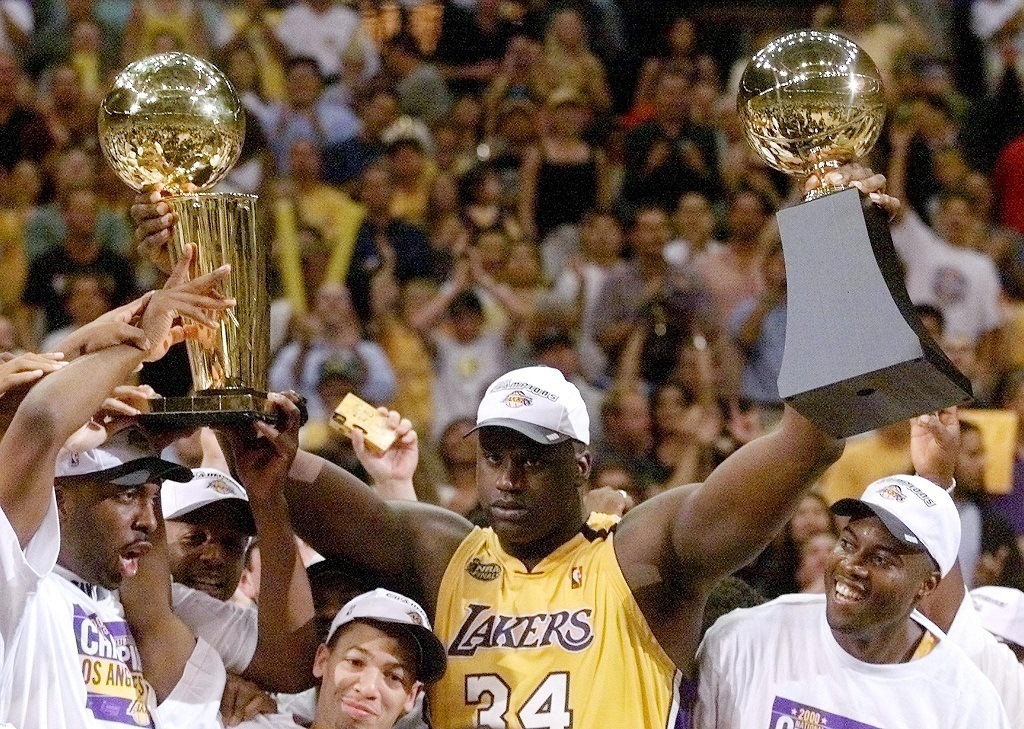 Four-time NBA Champion, three-time Finals MVP, more All-Star and All-NBA accolades than you can easily list on your fingers and toes, Shaq may be best known among the current generation of young basketball fans as one of the analysts on Inside the NBA, but anyone who watched him in his prime will forever link him to one word: dominant.
The NBA is not a league for small people, generally speaking. But O'Neal dwarfed everyone on the court. With a personality to match, we can make the argument that Shaq became one of the greatest celebrities to come out of the hardwood, as his critically questionable but highly visible forays into film and music can attest.
This list isn't about that, though. This is about his place as one of the all-time greats, and as the primary force behind the Lakers' three-peat to kick off the 2000s, his singlehanded ability to shape the game on both ends of the floor was nearly unparalleled. Why so low, then? The second half of his career couldn't measure up to the first (save for a 2006 championship in Miami).
O'Neal often struggled to stay on the floor (he only cracked 70 games once after 2005, despite not retiring until 2012) as he wandered around the league from team to team to close out his time in the NBA. It's not uncontroversial to say that if anyone on this list should have won more rings, it's Shaq.
9. Larry Bird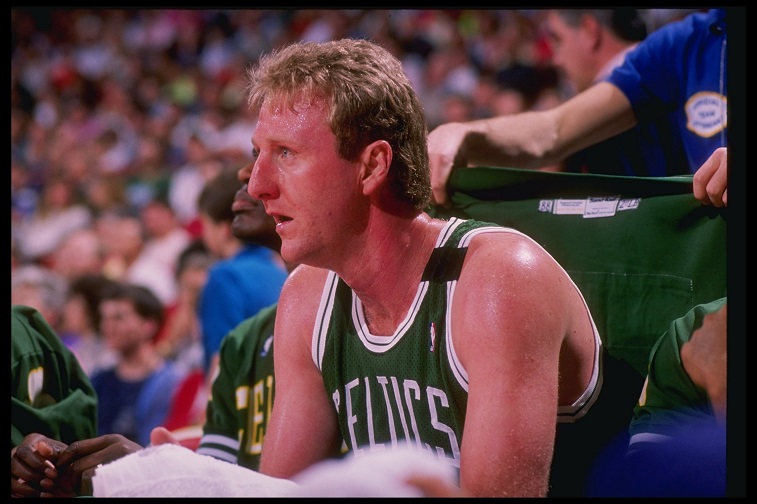 Full disclosure: Putting Larry Legend at No. 9 on this list is rough, not only because it slots him between a pair of Lakers but because it forces us to consider just how much of Bird's mystique is intangible.
Arguably the most accomplished passing forward of all time, definitely one of the best rebounding small forwards of all time, potentially the greatest shooter of all time by some reckoning, and definitely one of the game's greatest trash talkers, any argument for Bird's merit as a player inevitably transcends stats because, well, it's hard to make a case for him otherwise.
The idea that he played in a league that hadn't embraced the three-point shot is true, of course. However, there's something to be said for the legions of fans who would still take him over anyone else (in the history of the game) to make a shot with everything on the line. And that's before you get to the fact that he was the best player on one of the NBA's best teams ever, the 1985-86 Boston Celtics.
But with only three championships and a career riddled with injuries, time hasn't been kind to the Hick from French Lick. We'd still take him ahead of the No. 8 player on this list in an all-time redraft, though. Consider our cards shown and our biases laid bare.
8. Kobe Bryant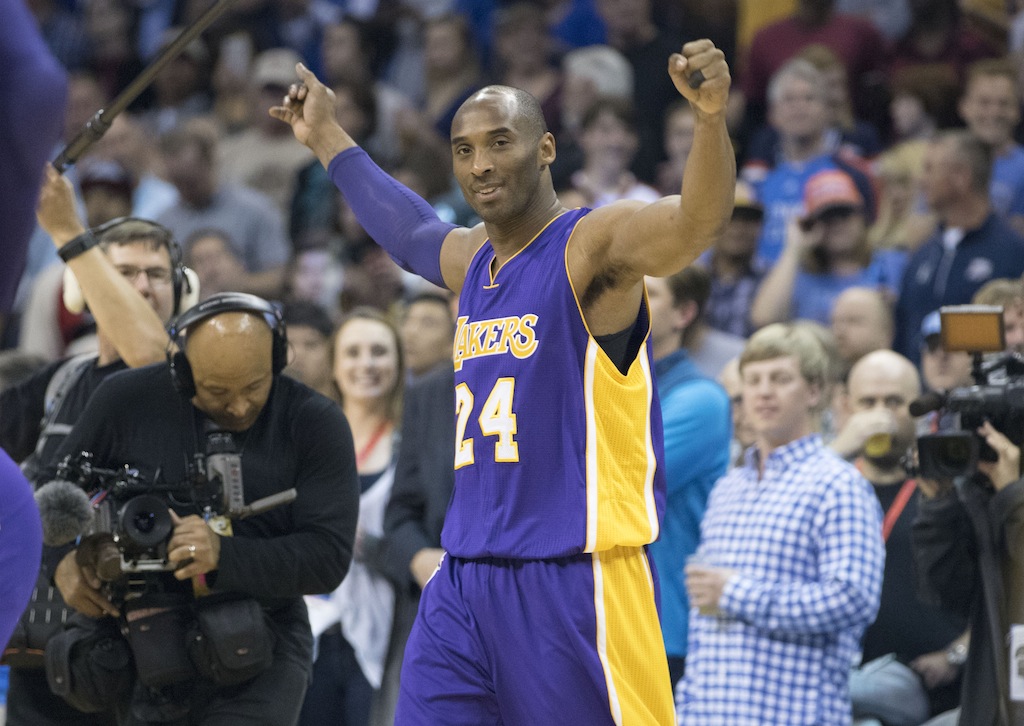 It'll still be strange to see the 2016-17 NBA season kick off without Kobe on the bench for the Los Angeles Lakers, even though an Achilles' tendon rupture effectively ended his career back in 2013. At the end of the day, Bryant's career is nothing short of a master class in persistence.
From his 81-point game on a forgettable mid-2000s squad and his five rings to his top-three position on the all-time scoring list and the fact that he took the most missed shots in league history, Kobe kept going at 110% as long as he could, which was just shy of two decades.
You can use the description as derisively or as appraisingly as you want, but out of all the players who tried to be the second Michael Jordan in the modern-day NBA, Kobe was the only one to even come close.
7. LeBron James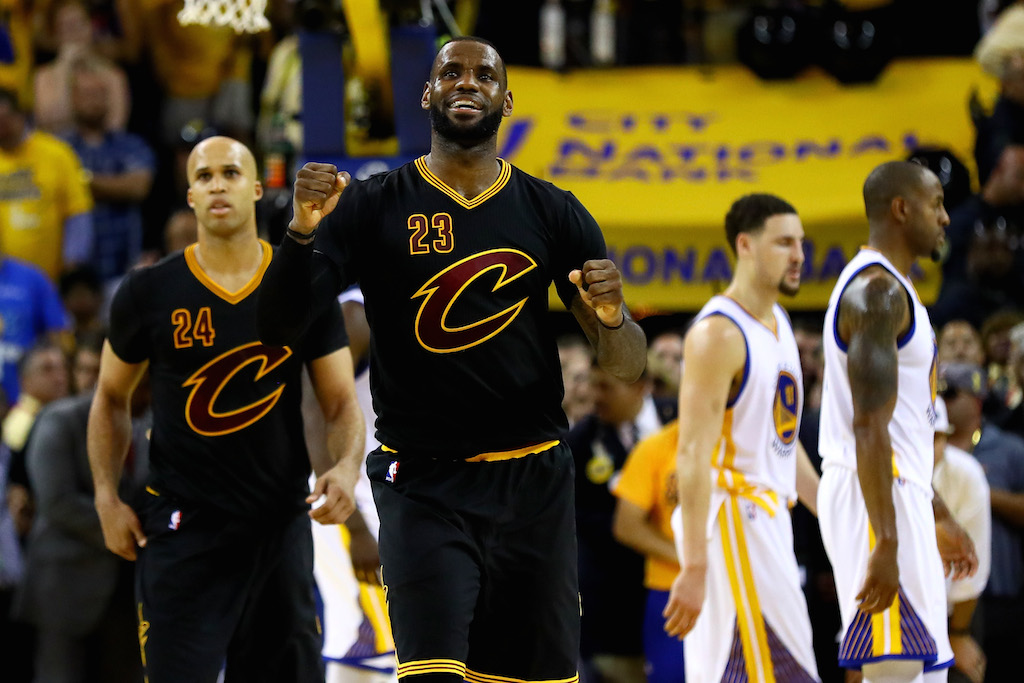 LeBron over Kobe? Yes, you're reading correctly. You can make an argument for Bryant, but we believe that James swings the balance of a team in ways that Kobe never did.
If in-his-prime Kobe is the best player on your team and you don't have a Hall of Fame coach (or, if you don't want to be charitable to Pau Gasol, not paired with an elite big man), you're winning 34 games and missing the playoffs. If it's LeBron? Yeah, you going to the postseason.
While James still trails Bryant in the rings department, he's managed to bring his teams to seven straight NBA Finals, and took the Cleveland Cavaliers from a lottery team to the upper echelon of the league overnight. That counts for something — to say nothing of his prodigious on-court talent and astonishing numbers, as well as his health, which has to be counted as an asset.
6. Tim Duncan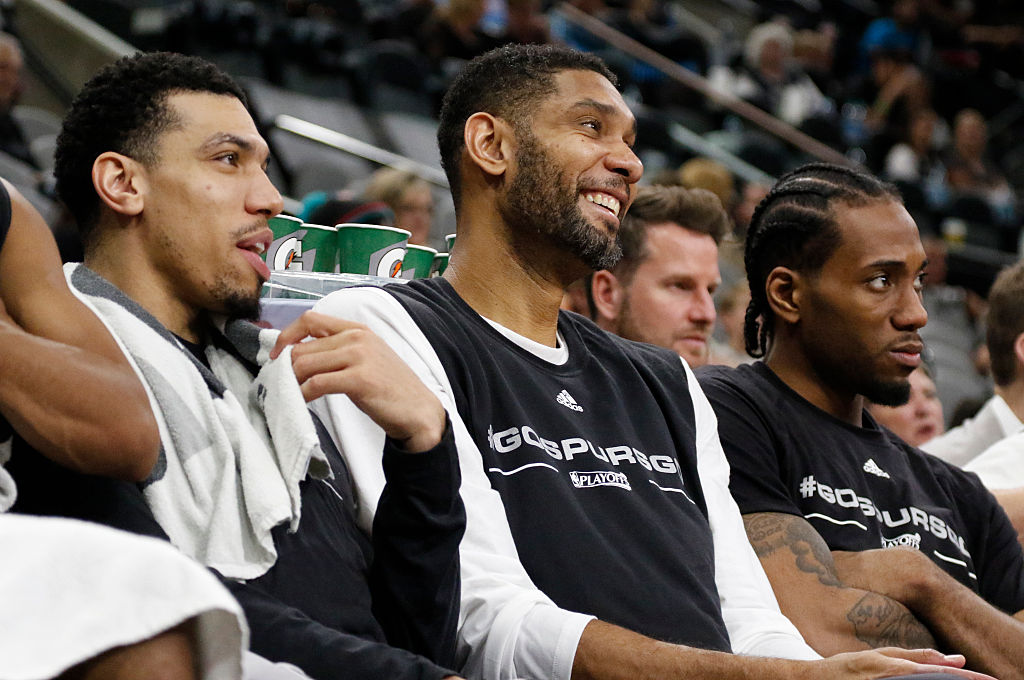 If you want to get all Vince Lombardi about this, though, Tim Duncan should (and would) be rated much higher on this list. The San Antonio Spurs have been the best franchise in basketball ever since drafting the Wake Forest forward first overall in the 1997 NBA Draft.
The Spurs famously put together more 50-win seasons with The Big Fundamental than some teams have accumulated in their entire history. At this point it's clearly Duncan, not Kobe, who is the best player of his generation.
The fact that Duncan continued to be effective well after hitting 30, or 35, for that matter, speaks to his quiet, understated greatness. There's a high likelihood here that Duncan will be leapfrogged by James by the time the King hangs it up, but as it stands now, we give the edge to Old Man Riverwalk.
5. Magic Johnson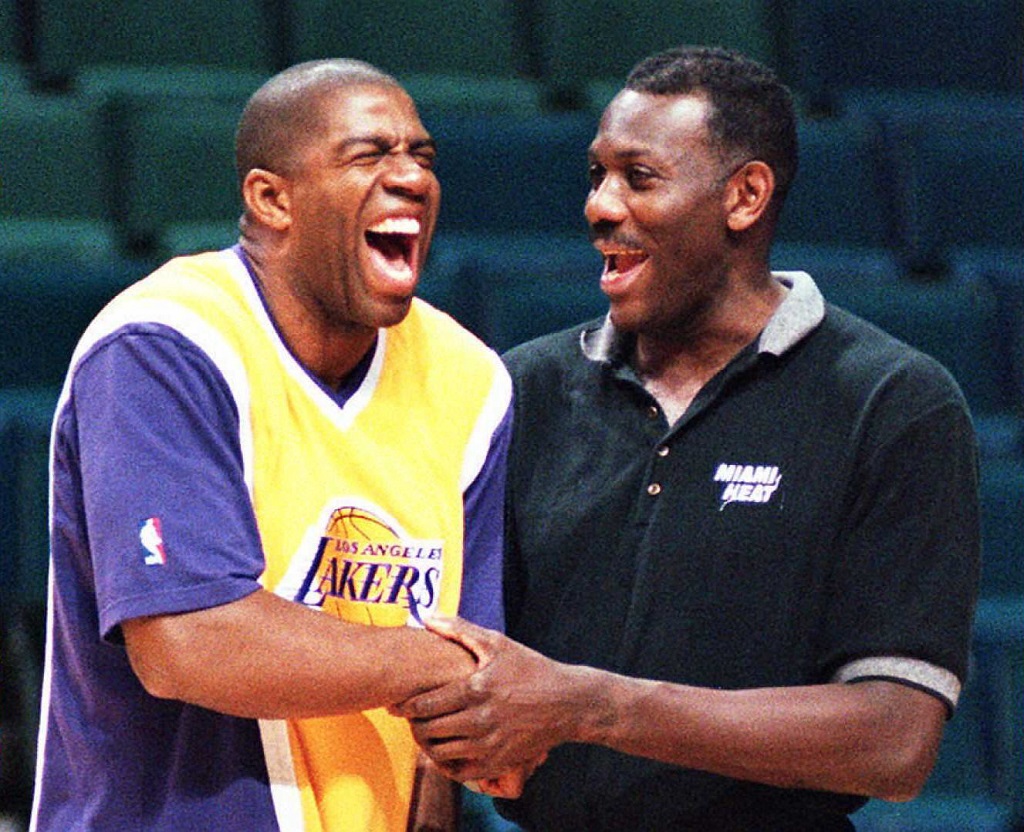 Similar to his eternal counterpart, Larry Bird, Magic Johnson saw his promising career imperiled by health problems — although instead of a bad back, Johnson contracted HIV prior to the 1991-92 season, and spent the next four years in retirement, which leaves something to the imagination when considering how his career "could have gone".
Unlike Bird, though, the numbers have been kinder to Magic over the years, and his three MVP awards, three Finals MVP awards, five rings, single-season steals, and assist leadership (to say nothing of the fact that he leads the NBA in career assists-per-game numbers with an eye-popping 11.2) help keep the legacy of the key member of the Showtime Lakers alive.
4. Kareem Abdul-Jabbar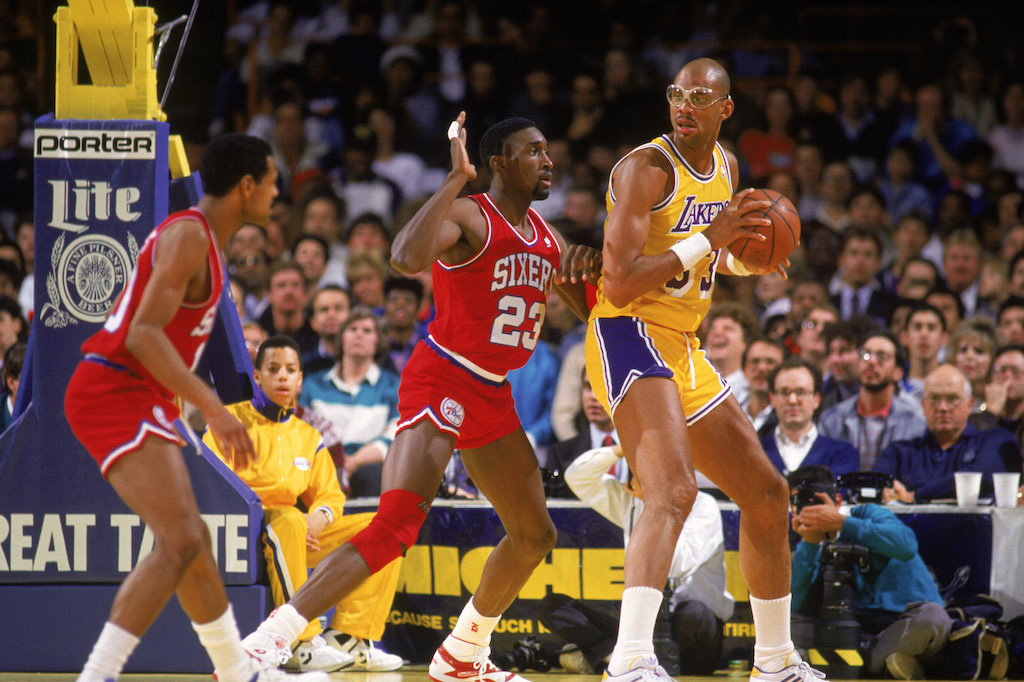 Not only the NBA's all-time leading scorer, this guy was able to win a Finals MVP award in 1970 and then win another one 15 years later. Add six rings, six MVP awards, nearly 20 years of All-Star appearances, and legendary durability…
Kareem never missed more than 20 games in a single season throughout his career — this was well before the advent of modern sports medicine — and you're just starting to scratch the surface of the former-Lew Alcindor's resume (which includes a storied NCAA career as well; even if we're not commenting on that directly we've got to give the guy who got the dunk banned some props).
3. Wilt Chamberlain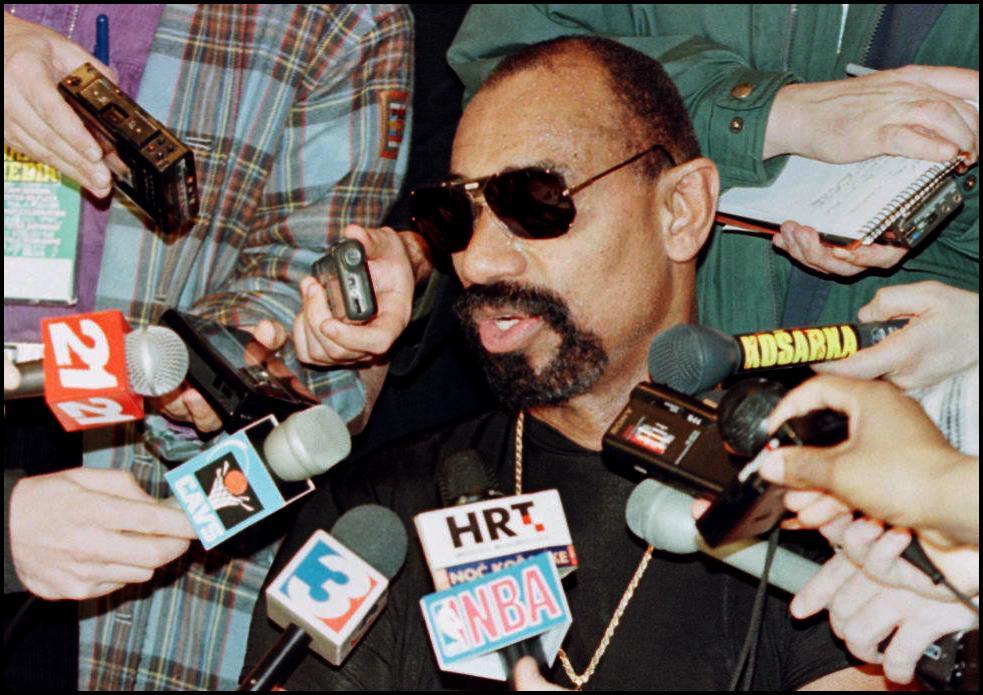 There is a position held among some NBA fans that Wilt Chamberlain does not deserve to be lauded among the best of the very best because he "wasn't a winner." This is a bad take for many reasons, but mostly because it completely undersells just how dominant Chamberlain was.
Just like we can't hold Bird's shooting (the same goes for guys like Pete Maravich) to the standard of today with any facsimile of honesty, we have to hold Wilt against the standard of his day — and The Stilt completely dominated everyone and everything on the floor. In his first six seasons with the Warriors (both in Philadelphia and San Francisco) Chamberlain averaged over 41 points and 25 rebounds per game. That's insane.
For his career — one that was turned back again and again by one of the greatest defenders the game has ever seen — Chamberlain averaged "just" 30 points and 22 boards; something that has been done exactly never since. Given that this was over a 13-year career, it's not as if he came in for a season or two and blew the doors off of everyone before vanishing into the night. We all just watched LeBron put up 41-11-8 and were awestruck, right?
Now imagine someone putting up 56-35 and 12 blocks. A four time NBA MVP, a two-time NBA Champion, and second all time in Win Shares (to Kareem, who spent the second half of his career playing with Magic and Showtime), the only guy to ever score 100 points in a single game is, weirdly, the single most underrated player in the league's history, and easily one of the three best players the sport has ever seen.
2. Michael Jordan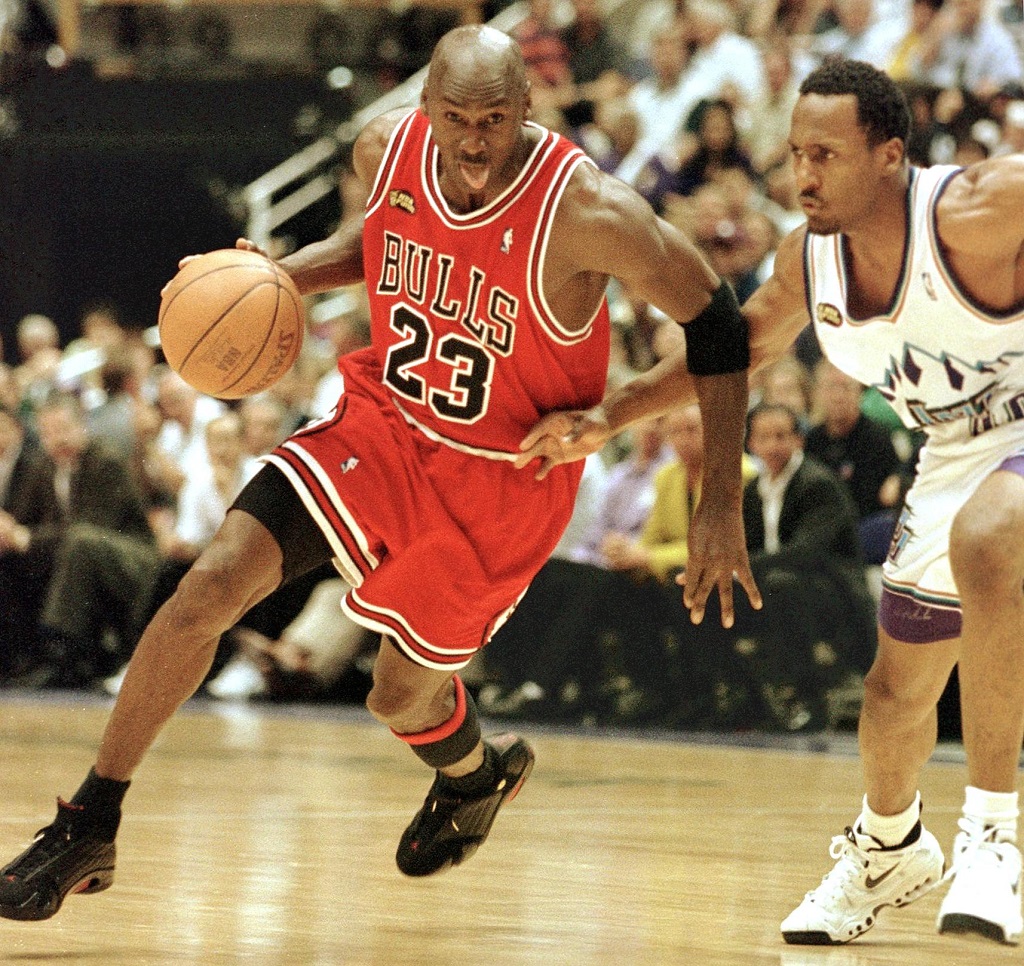 Out of all the weird factoids that came out of the Cavaliers' victory over the Warriors, perhaps none was more curious than the following. At age 31, Michael Jordan had been to three NBA Finals, while LeBron James, at the same age, had been to seven.
On one hand, this is true. On the other hand, it's virtually meaningless. Not only does age not particularly matter, since Jordan was an NCAA player and LeBron came from high school, but because you could easily reframe the facts to make all kinds of bumper-sticker-ready statements with a similar amount of depth to them; kind of like a very small lake after a very long drought.
Here's one for size: At age 31, LeBron James had lost four NBA Finals. Michael Jordan had lost none. And so on. The fact is that on the grand scale of basketball hoops, there are really only two tiers of players at the absolute summit of the game: the guys who are the best to have ever played it, and the guys at the very top of the very top of the pyramid.
James is in the first group, without a doubt, but Jordan, even with his midlife crisis-style (and Kareem, and Wilt, and Bill Russell) are in the second — the most unimpeachable of the greats.
1. Bill Russell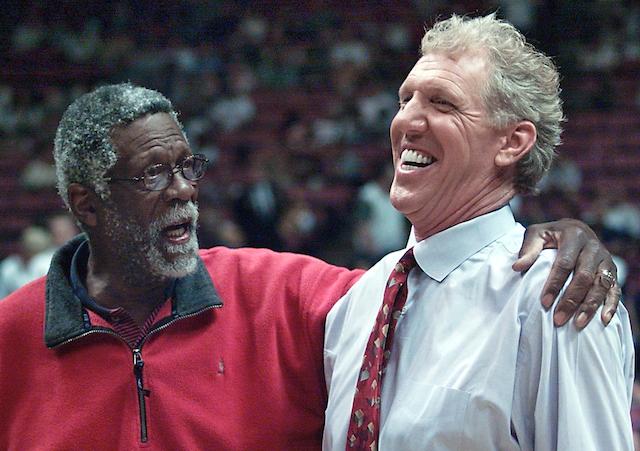 Exactly 11 rings in 13 years. The foundation of the greatest dynasty in NBA history. The dude who bested Wilt Chamberlain over and over and over again.
The advent of statistical analysis has been a blessing in some ways (to be resolutely reductive: "volume shooting is bad" is a good thing to be able to prove quantitatively) but a curse in other ways, particularly in the case of the two original great centers of the league — simply because no one was keeping track of the data at the time.
The most famous example in Russ's case are blocks, which weren't recorded until 1973, four years after he retired. However, that's hardly the only defensive measurement that matters (although if you're interested, there is at least one person attempting to quantify blocks for Bill Russell and Wilt on Reddit using old newspaper box scores; he's also the person behind the truly astonishing Wilt Chamberlain Archive); just the easiest to use an illustration that quantification has its limits, particularly when you talk about the original greats of the game.
Statistics courtesy of ESPN and Basketball Reference.