LeBron James' Biggest Troll Isn't Impressed With the Lakers' Next Expected Signing: 'DeAndre Jordan Is Not Related to Michael Jordan'
LeBron James has an entirely different group of friends on the Los Angeles Lakers than he did last season, and they will still likely welcome one more person to the cool table: DeAndre Jordan.
LA is expected to sign Jordan once the Detroit Pistons officially buy out his contract, and the anticipated move has Lakers fans pretty excited.
Not everyone, though, is impressed by the potential signing. In fact, James' biggest troll, Skip Bayless, made sure to send everyone a strong reminder about the former All-Star big man.
DeAndre Jordan is expected to join LeBron James and the Lakers
The Lakers already have an entirely different team than they did in 2020-21. So far during this offseason, they have added guys like Russell Westbrook, Carmelo Anthony, Trevor Ariza, and several other big-name stars who will join roster headlined by LeBron James and Anthony Davis.
However, they are now also expected to sign three-time All-NBA center DeAndre Jordan.
Jordan, a 9.4 career-points-per-game scorer who has also averaged 10.6 rebounds per contest, played for the Brooklyn Nets the last two seasons. He averaged 7.5 points and 7.5 rebounds in 57 games and 43 starts for Brooklyn last year.
The Nets, though, recently traded Jordan to the Detroit Pistons, and he's expected to agree to a buyout with the team before signing with the Lakers, ESPN's Adrian Wojnarowski reported on Sept. 3.
So, if all goes as planned, the Texas A&M product will join a group of big men that includes Davis and Dwight Howard. The Lakers also have Marc Gasol, but, according to NBA reporter Marc Stein, Gasol isn't a lock to be on the team this upcoming season, per CBS Sports, which means Jordan may just end up being an upgrade over him.
But despite LA essentially just improving its bench, not everyone is impressed with the potential Jordan addition.
LeBron James' biggest troll isn't impressed by the Lakers' expected signing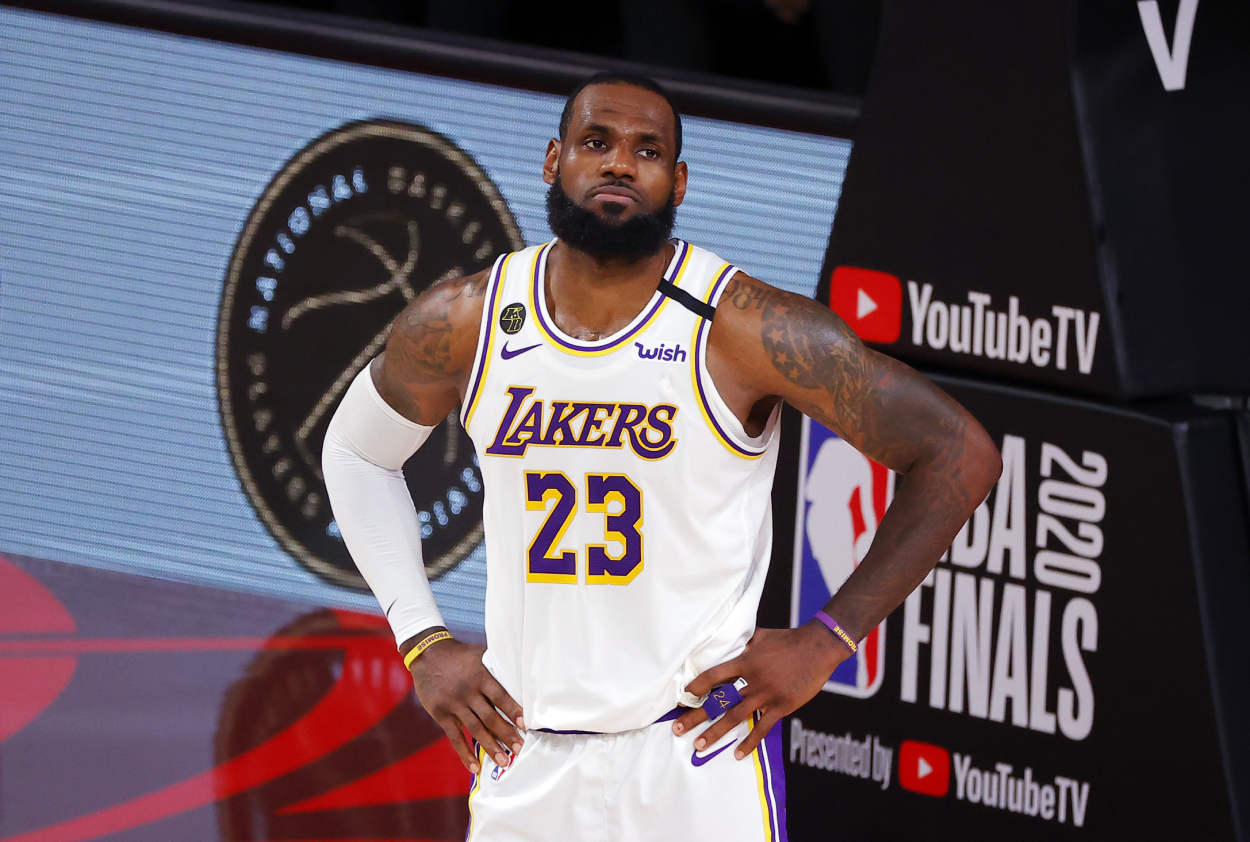 Throughout the past 15-plus years, sports fans have known Skip Bayless for being James' biggest hater. He has already not been high on the Lakers' addition of Russell Westbrook this offseason, calling him "Westbrick." And now, he has a strong opinion about the potential Jordan signing.
"I would like to remind you (Shannon Sharpe) and many in Lakers nation right now that you realize DeAndre Jordan is not related to Michael Jordan; you realize that, right?" Bayless said on the Sept. 6 episode of Skip and Shannon: Undisputed. "So, there's no real connection, Jordan to Jordan. You're not going to get something special out of him. I was astounded over the weekend as I watched the internet reaction to the, what we think is about to be, the DeAndre Jordan signing. I was amazed because Laker nation is rejoicing over a Nets reject."
Bayless eventually pointed out how Jordan didn't play for the Nets in the final four games of the regular season. He also didn't appear in any of the team's postseason contests.
"He is very close with (Nets star) Kevin Durant, so if he had anything left, Durant would've fought for him to be in the rotation or probably in the starting lineup, but he did not fight; Kyrie (Irving) did not fight," he added. "They love him. They think he's the wise old owl in the locker room. He's the one with the experience; he's the one they listen to. But the one they listen to wound up at the end of the bench."
So, Bayless essentially thinks the anticipated Jordan signing is overrated, but is he right?
Skip Bayless is right and wrong about the potential DeAndre Jordan signing
When looking at Bayless' take, he's right in the sense that the internet overreacted to the news of the potential Jordan signing. Some fans acted like he's still the same big man from a few years ago when he played at an All-Star level for the Los Angeles Clippers, but he's not that player anymore.
He's still a serviceable backup center, though. Jordan has never been a big-time scorer but rather a strong rebounder and an imposing presence in the post. He averaged 7.5 rebounds last year, and he made a career-high 76.3% of his shots, which is saying something given that he has led the NBA in field goal percentage five times in his career.
But how does that compare to the player he is likely replacing in Gasol, who averaged 5.0 points and 4.1 rebounds for the Lakers last season? Gasol only shot 45.4% from the field.
Jordan's efficiency in that department is quite the upgrade.
The most significant point to note, however, is that Jordan likely won't come in and be a starter. He's just expected to back up guys like Davis and Howard and bring some energy down low when the team needs it.
So, all in all, Bayless was right about there being an overreaction to the potential Lakers-Jordan signing. The two-time rebound champ, though, is still an upgrade over Gasol and will just give LeBron James' team depth as it fights for a second title in three years.
Stats courtesy of Basketball Reference