LeBron James Uses 6 Words to Leave Door for Cavs Return Open
LeBron James gives every team he's on a chance to win a championship – except for this year's Los Angeles Lakers.
James has played some stellar basketball this season, but the players around him aren't matching his success. He's averaging 29.1 points, the most since he was 25, but the Lakers are just 27-31 and No. 9 in the Western Conference.
So, will James stay in LA, with an organization that hasn't successfully built around him since winning its 2020 championship, when his contract ends in 2023, or will he look for an opportunity to win a title elsewhere?
His latest comment left him some room to eventually return home and play for the Cleveland Cavaliers, who are 35-23 and 2.5 games out of first place in the Eastern Conference. But the biggest question is whether the Cavs should want him.
LeBron is one of the greatest players to ever play in the NBA and easily the best in Cavs history. But would adding him even be worth it for Cleveland?
LeBron James used six words to leave door for Cavs return open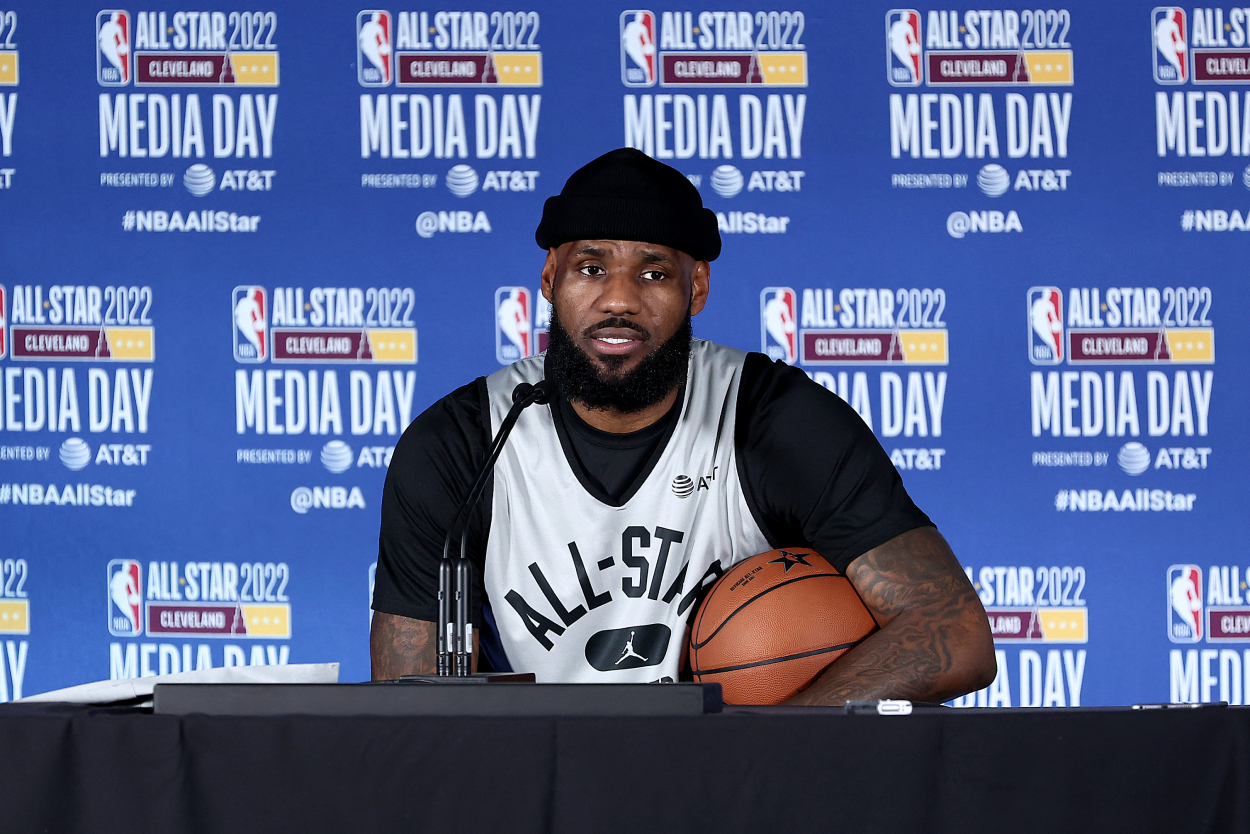 LeBron James is back in Cleveland, Ohio, the state and region he grew up in and the city where he spent 11 of his NBA seasons, for All-Star Weekend. And while his return home shouldn't be that big of a deal, the Cavs are good without James for the first time in 24 years, and the Lakers stink this season. So, there has been a ton of speculation about whether James and the Cavaliers could reunite when he becomes a free agent in 2023.
In fact, when asked about it, James used six words to leave room for a third stint in The Land open: "The door's not closed on that." 
"I'm not saying I'm coming back and playing, I don't know," James said, per The Athletic's Jason Lloyd. "I don't know what my future holds. I don't even know when I'm free."
James also praised general manager Koby Altman and the Cavs organization for its construction of its stellar roster.
"I think Koby and those guys have done an unbelievable job drafting and making trades," he said before also speaking highly of Jarrett Allen, Darius Garland, and Kevin Love, per The Athletic.
So, no, James didn't say he's 100% leaving LA and going back to Cleveland. But he left room for it to happen open.
However, is it a good idea for the Cavs?
Why the Cavs should think twice before bringing LeBron back
The Cavs have an incredible team right now. They have two All-Stars in point guard Darius Garland and center Jarrett Allen. Evan Mobley is also the favorite to win the Rookie of the Year Award, and they recently added Caris LeVert, who can score 40 points on any given night, via trade.
That's not to mention their collection of role players in Kevin Love, Cedi Osman, Isaac Okoro, Rajon Rondo, and others.
This talent has catapulted them from the bottom of the Eastern Conference to a top-four seed. They are already contenders to reach the NBA Finals out of the East without James, and adding him would easily make them the favorites to win the whole thing.
But despite LeBron being one of the top two players to ever play the game, the thought of signing him in free agency should give the Cavs hesitation.
They have had all their success this year because of their team chemistry. Love called them the "biggest 'share the wealth' team in the NBA," and it seems that all their stars genuinely want each other succeed. They don't care about stats; they just want to win.
James would throw a wrench in that. He's a ball-dominant player, and offenses typically run through him. The Cavs' free-flowing style would become stagnant.
Cleveland is also excellent defensively, leading the league in points allowed per game. James, though, is declining on defense and could even become a liability on that end of the court.
The other issue is what the team would look like once he inevitably leaves again. He has left bare cupboards in Cleveland twice, and the Cavs had to spend the following years rebuilding. The franchise is set up for future success right now, but what if a young star grows tired of LeBron like Kyrie did and demands a trade? Do the Cavaliers want to risk their future for a few years with what will be a 38-year-old James?
That's the major question they must consider before even thinking about signing their hometown kid again.
Can LeBron James realistically return to the Cavs?
Whether you think the Cavs should sign LeBron James again or not, we first must consider whether it's even possible.
And it absolutely is.
Caris LeVert and Kevin Love become free agents in 2023, so Cleveland will have a max contract spot (or something close to that) available that summer.
But will the organization want to part ways with LeVert if he plays a crucial role in its success the next two years? It could be hard to say goodbye to someone who is not only 10 years younger than LeBron but who has also built chemistry with the team's current roster.
There's also the fact that James said he is playing his last NBA season with his son, Bronny. That means that if the Cavs don't draft Bronny, they could only have the elder James for a year before his son potentially enters the league in 2024.
All in all, there are numerous factors the Cavs and LeBron must consider before even thinking about reuniting. But his six-word message has set up an entertaining ride until his free agency in 2023.
Stats courtesy of Basketball Reference
RELATED: LeBron James Should Use NBA All-Star Game to Prepare for Lakers Exit