LeBron James Wanted to Play With Chris Paul Prior to the Lakers Trading for Russell Westbrook
LeBron James and the Los Angeles Lakers have had a busy offseason. Many NBA fans and analysts alike have gone out of their way to deem the new-look Lakers the league's top "super-team."
It's hard to argue with such logic between Russell Westbrook, Trevor Ariza, Malik Monk, Dwight Howard, Wayne Ellington, Carmelo Anthony, and Kendrick Nunn. The Lakers are stacking the deck in their favor, looking to capitalize on the final few years of James' basketball playing prime.
While the addition of Westbrook is by far the biggest the Lakers pulled off this summer, it wasn't all that long ago that James had his eyes set on a different All-Star caliber point guard.
Before the Lakers traded for Russell Westbrook, LeBron James had expressed interest in playing alongside good friend Chris Paul
Appearing as a guest on "Jimmy Kimmel Live!" in July, James was questioned about the possibility of playing alongside current Suns point guard Chris Paul. James and Paul have been close friends off the court for a long time and have frequently teased the idea of teaming up.
After James laughed off the initial question about Paul, host Arsenio Hall (who was filling in for Jimmy Kimmel) pushed it a little bit further.
"Of course you'd love to play with your friend (Paul)," said Hall. "We'd love it."
"Absolutely. Absolutely. Absolutely," responded James.
Chris Paul is the godfather to one of LeBron James' sons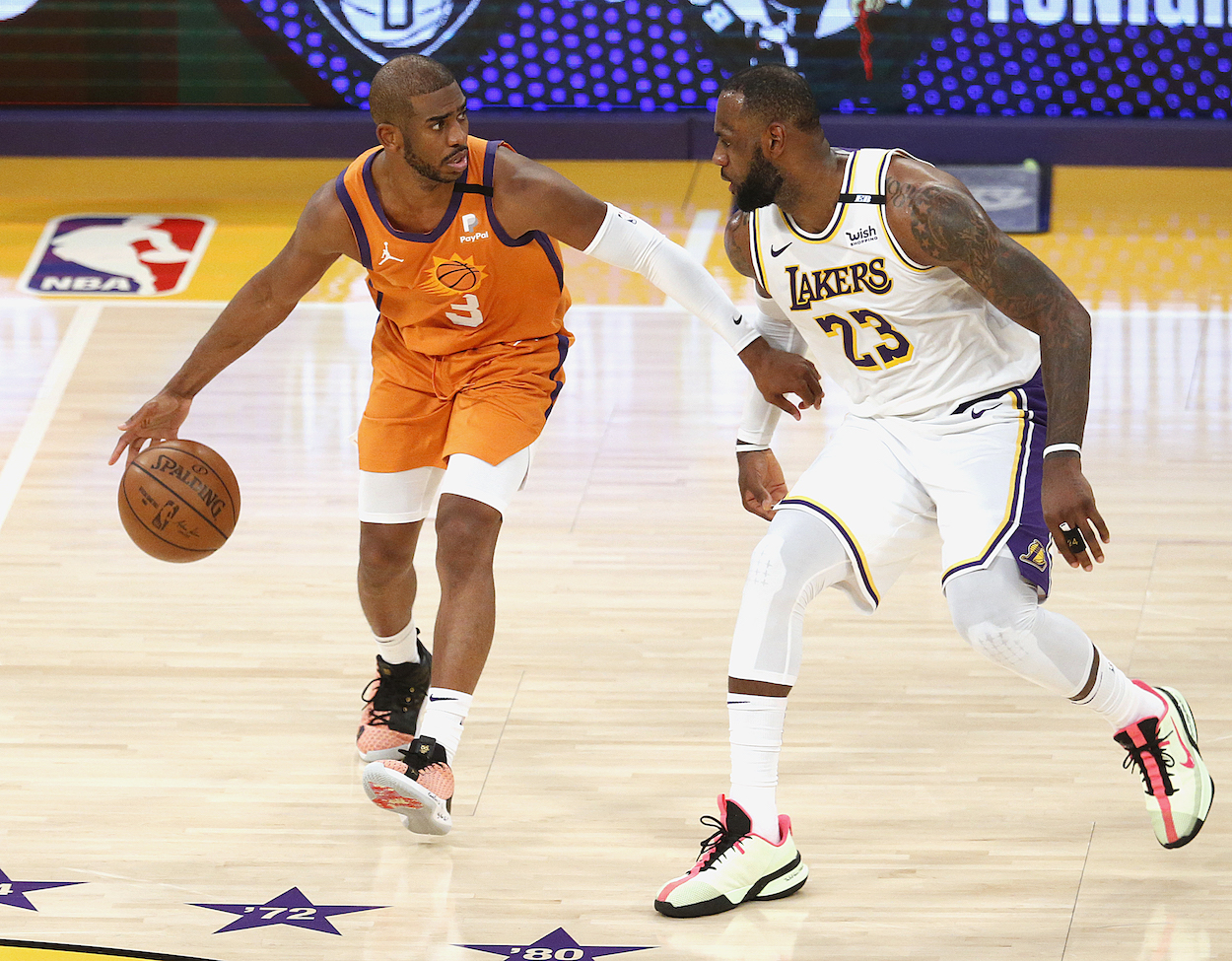 While an on-court pairing of Paul and James would instantly be one of the best in basketball, it's the off-the-court connections that have seen the two players so heavily linked over the years. 
Not only are they close friends who vacation together on occasion, but Paul is actually the godfather to one of James' sons, Bryce. Paul was physically present for Bryce's birth, which took place during the 2007 NBA Finals — James' first Finals appearance.
It's also worth noting that Paul had approved a trade to the Lakers back in 2011 before former NBA commissioner David Stern vetoed it. Paul eventually ended up on the cross-town rival LA Clippers, but he was definitely open to dawning the purple and gold at one point during his career.
The idea was flirted with, but Paul ultimately re-signed with the Phoenix Suns, opening the door for Westbrook to be traded to the Lakers
The possibility of Paul teaming up with James may have been an idea that the two parties flirted with at one point in time. However, Paul ultimately decided to re-sign with the Suns, likely planning on finishing his career in Phoenix.
Paul averaged 16.4 points and 8.9 assists per game during his debut year with Phoenix and was a crucial part of the team's Finals appearance. Paul formed a strong connection with teammates Devin Booker and DeAndre Ayton — re-signing makes sense.
James and the Lakers switched gears away from Paul upon seeing him return to Phoenix, promptly turning their attention to Westbrook. The former league MVP isn't as good of an offense orchestrator as Paul, but he plays with a type of passion and fire that should translate over to LA appropriately. The Lakers desperately need a third star alongside James and Anthony Davis.
Westbrook averaged 22.2 points and a league-leading 11.7 assists per game last season, helping guide the Washington Wizards to the postseason.
All stats courtesy of Basketball Reference.
RELATED: Why LeBron James and the Los Angeles Lakers Are Not to Blame for Their Latest Super-team Creation