LeBron James Was Wrong, so Why Is Isaiah Stewart the Bad Guy in Lakers-Pistons Clash?
LeBron James of the Los Angeles Lakers drew just the second ejection of his 19-year NBA career on Nov. 21. James received a Flagrant 2 penalty for punching Detroit Pistons center Isaiah Stewart in the face. Stewart was also ejected after shaking loose from teammates and other personnel while pursuing James and other Lakers players.
There's been no ruling from the NBA regarding discipline for James or Stewart. While history suggested a two- or three-game suspension for James, some media have escalated Stewart's behavior to Malice at the Palace 2.0.
Did Stewart lose control? Absolutely. Should he face the same punishment as James for the incident? You're kidding. But the NBA wasn't, announcing a one-game ban for James while issuing a two-game suspension to Stewart.
LeBron James instigated the incident, and Isaiah Stewart was enraged
Lakers coach Frank Vogel didn't think LeBron James's ejection was out of line, even as he blamed Isaiah Stewart for starting the altercation, according to Dave McMenamin of ESPN.
"[James] had an elbow [from Stewart] to the rib cage, which was a foul, and he was trying to shed the contact," Vogel said. "And had incidental contact that was obviously enough for a Flagrant 2."
If by "incidental," Vogel means James intentionally throwing a closed fist at Stewart, then sure. We'll go with incidental.
Stewart is under considerable criticism for repeatedly wanting to engage James and other members of the Lakers, even breaking away from teammates and coaches attempting to restrain him.
But let's have some perspective here. It's easy to look at Stewart's reaction from the calm confines of the living room and think he should do a better job of controlling his emotions.
Let's inject some reality, though. Stewart is a 20-year-old playing a competitive sport who just got the side of his face broken open. Adrenaline is flowing. He's ticked off with good reason. Kudos to anyone in those circumstances who can let bygones be bygones. But Stewart's reaction is perfectly understandable. Pesky human emotions, anyway.
Some in the media have painted Isaiah Stewart as the bad guy
While McMenamin's report for ESPN was relatively even-handed, a tweet he wrote in the immediate aftermath of the incident read differently:
"Wild scene here in Detroit where Isaiah Stewart, bleeding from his face from contact from LeBron James, repeatedly had to be separated from James and other Lakers players."

ESPN's Dave McMenamin via Twitter
But he wasn't alone in defending James. ESPN colleague Stephen A. Smith went with the brand name on First Take:
"I don't know much about Isaiah Stewart; respect his talent … he's built like a middle linebacker. When he initially went up to LeBron James, he didn't go up like that. But how he acted thereafter. I think he deserves to be suspended for multiple games. You cannot; you cannot act like that."
Why not just come right out and say how wrong Stewart was for inconsiderately putting his face where James was innocently placing his fist?
Lakers teammate Anthony Davis came to James' defense.
"Everyone in the league knows LeBron's not a dirty guy," Davis said. "In fact, when he knew he hit him, as soon as he did it, he looked back at him like, 'Oh, my bad. I didn't try to do it.'"
There's no argument with that point. James has a nearly two-decade career that speaks to few incidents of cheap shots or egregiously dirty plays.
But you also can't indiscriminately throw fists around on the basketball court, either. That's an action that comes with consequences — or should in any case.
James is a big draw for the NBA. But he will be out for their nationally televised game on Nov. 23 against the New York Knicks, which will disappoint the league's television partner, TNT, and advertisers.
Should Stewart be suspended? Yes, but not for as long as LeBron James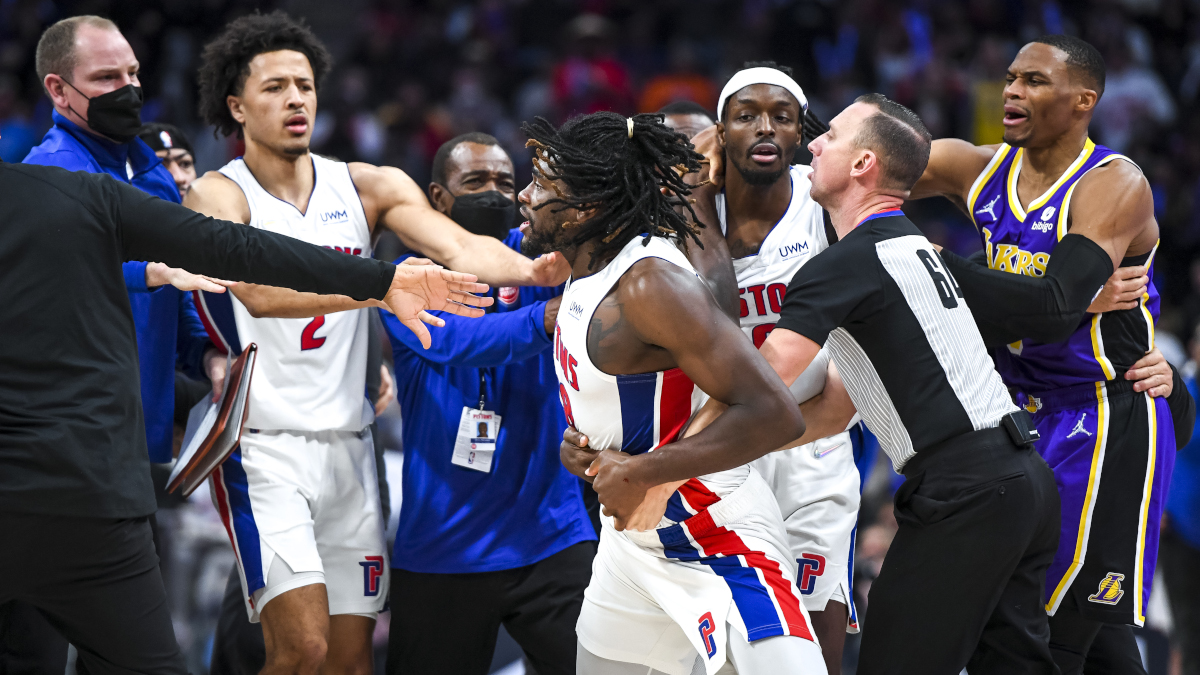 By repeatedly breaking away from peacemakers, Isaiah Stewart earned some alone time and should be required to write a check equal to a game's salary to the charity of the NBA's choice. Assuming anyone his age writes checks anymore.
LeBron James, based on historical precedent, should have gotten a two-to-three-game ban. Was it surprising it's less than that? Not particularly. After all, he's LeBron James, the closest thing to Michael Jordan the NBA has had since, well, Michael Jordan. That implies a different set of standards.
But it would have been wrong if the NBA penalized James and Stewart equally in terms of suspension length, much less hitting Stewart with a longer ban. This case has a clear instigator and a reactionary similarly easy to identify.
Stewart could have handled himself more responsibly. But to paint him as being wholly in the wrong when he was the victim of James' act of irresponsible behavior is doing the NBA's work for it. Put another way: If Isaiah Stewart pursued Ricky Rosterfiller after that player hit him in the face, no one would think twice. But since it's LeBron James, the player who isn't a nationally recognized brand is somehow at fault.
It makes no sense.
Like Sportscasting on Facebook. Follow us on Twitter @sportscasting19.