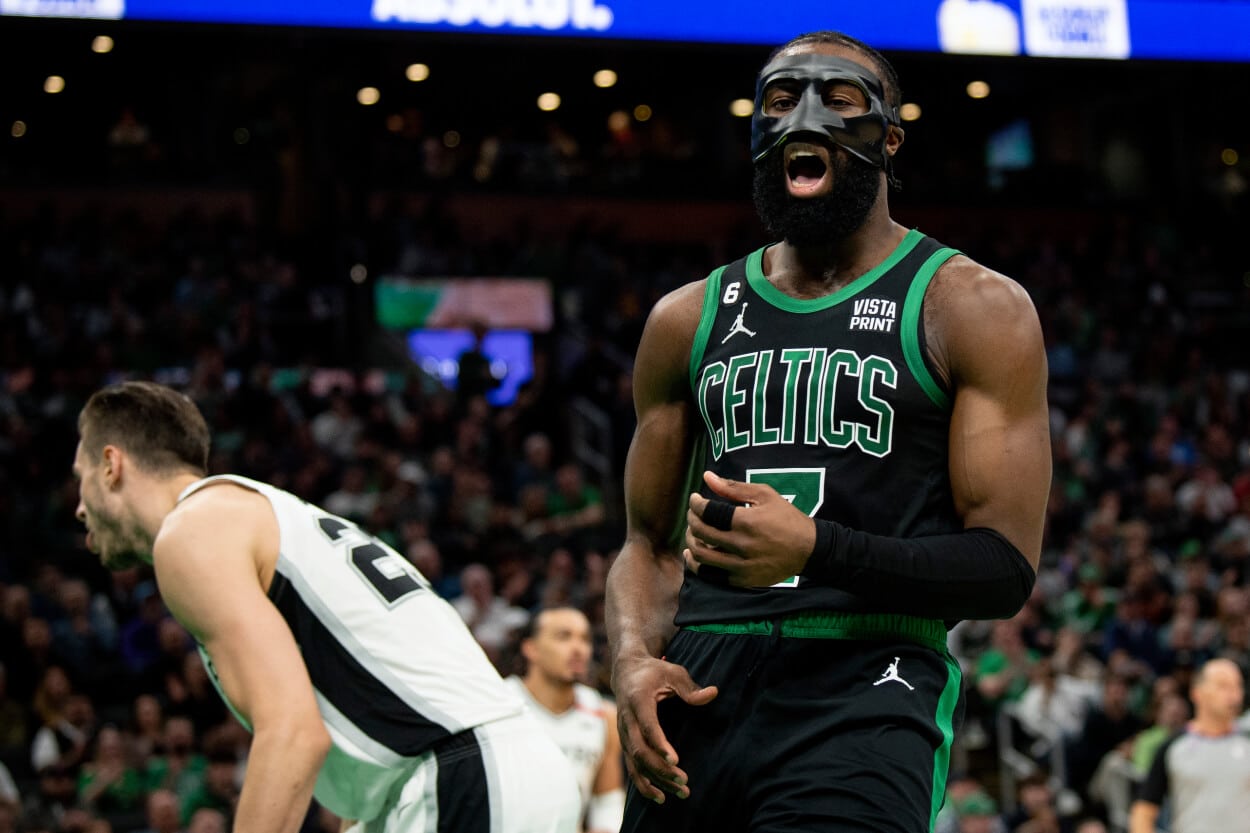 Led By Paul Pierce, Boston Celtics Fans Show Jaylen Brown Some Love
Boston Celtics star Jaylen Brown got some love from the home crowd Sunday after his 41-point, 13-rebound performance.
There has been a lot of Jaylen Brown talk around Boston these days. Much of that chatter is speculation on the Boston Celtics guard's future with the team. After this season, Brown will have one year left on his current deal. He's been non-committal on his desire to re-sign with the Celtics, but after Sunday's win over the San Antonio Spurs, Celtics fans, led by former Boston star Paul Pierce, gave Brown some love.
Jaylen Brown hasn't sounded convincing about re-upping with the Boston Celtics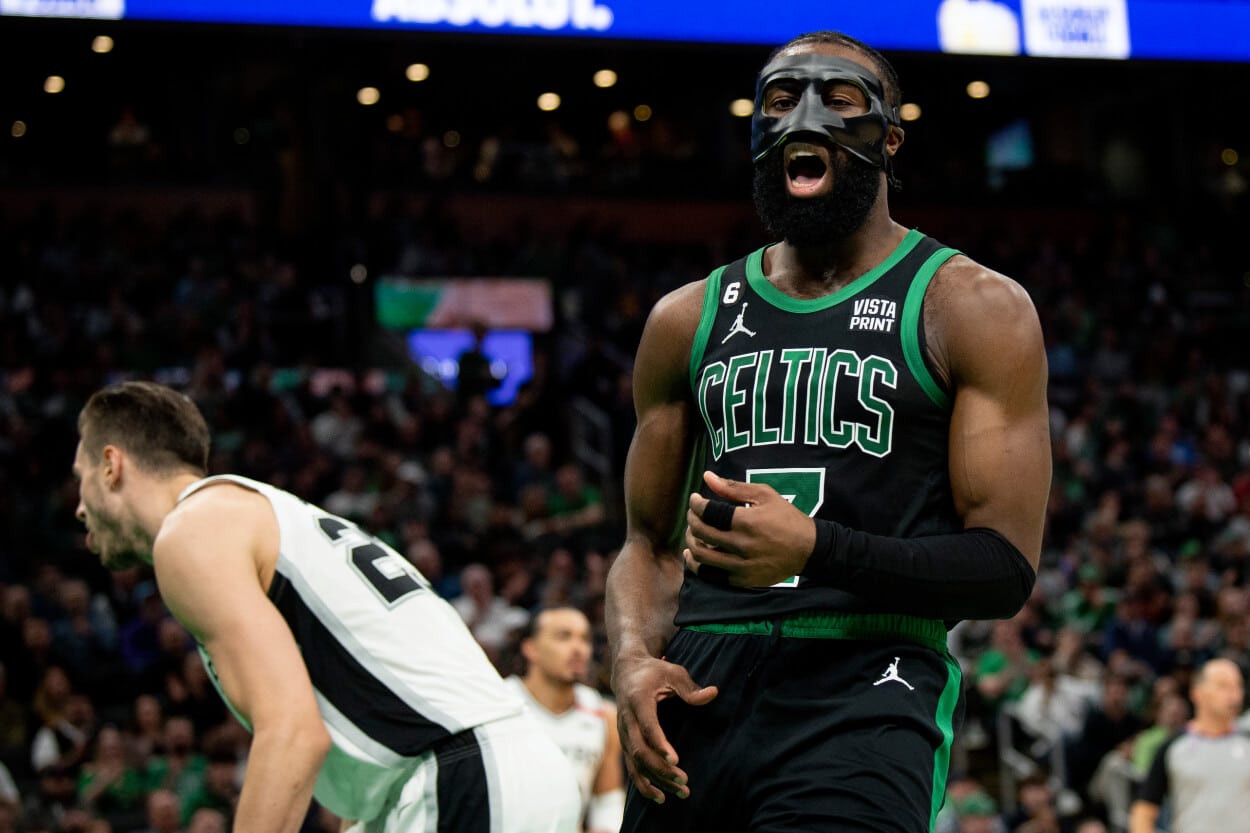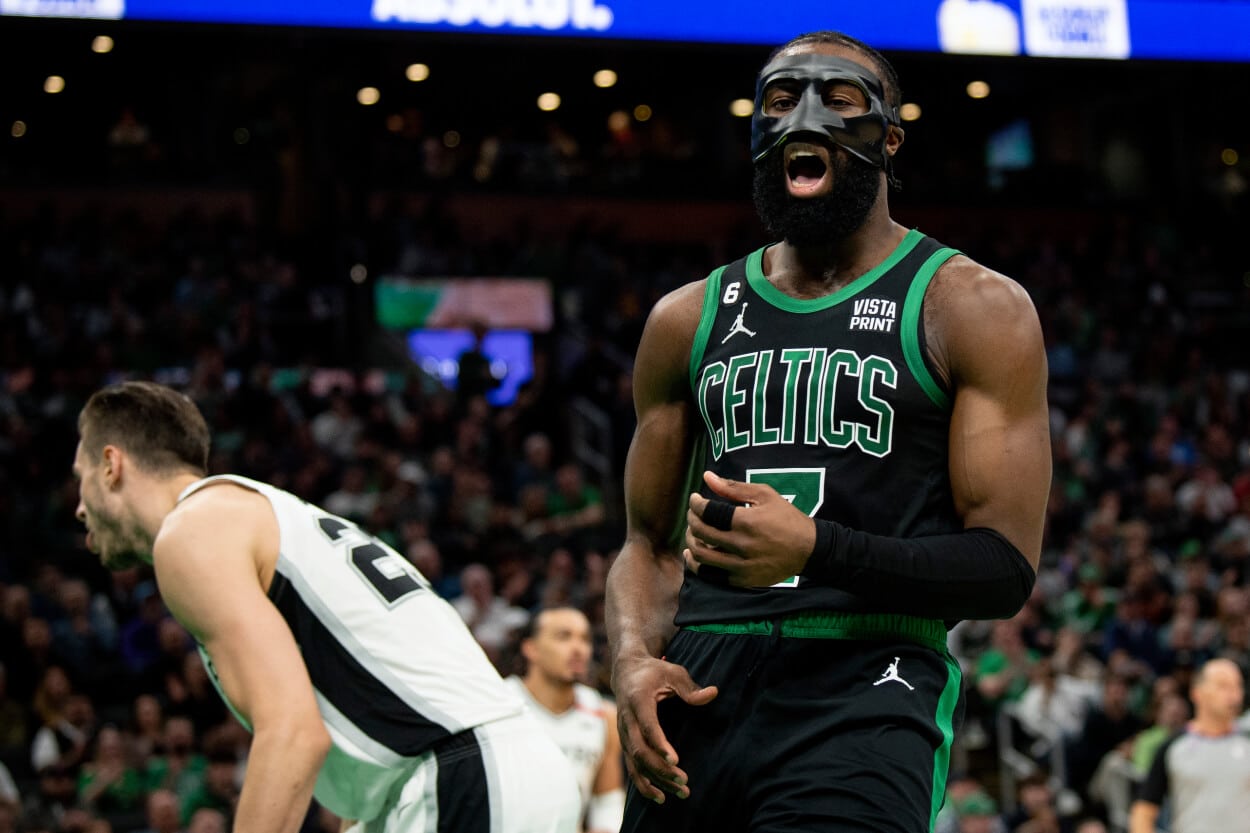 The Boston Celtics could have a decision to make next season. If Brown fails to commit to an extension with the team or shows any inclination he's opting for free agency, the Celtics have no choice but to try to trade the seven-year veteran. While the immediate goal is to win a championship this season, Brown's future remains on the minds of many.
Brown has recently talked about his future with the team but didn't say a whole lot. In an interview with Logan Murdock of The Ringer, he gave no indication one way or another when asked about his plans beyond next season. Murdock asked if he wanted to stay in Boston for the long haul.
"I don't know. As long as I'm needed. It's not up to me," he said. "We'll see how they feel about me over time and I feel about them over time. Hopefully, whatever it is, it makes sense. But I will stay where I'm wanted. I will stay where I'm needed and treated correct."
Brown recently called out a portion of Celtics fans, calling them "extremely toxic" in an interview with The New York Times.
"It's not the whole Celtic fan base, but it is a part of the fan base that exists within the Celtic nation that is problematic," Brown said. "If you have a bad game, they tie it to your personal character. 
"I definitely think there's a group or an amount within the Celtic nation that is extremely toxic and does not want to see athletes use their platform, or they just want you to play basketball and entertain and go home. And that's a problem to me."
Led by Paul Pierce, the Celtics crowd showed its appreciation for Brown on Sunday
It's no secret Brown has played in the shadow of Celtics star Jayson Tatum for most of his career. The two are arguably the NBA's best duo, but Tatum is widely considered Boston's top player. Brown is in the midst of his best season and just might want to test the free-agent waters and find a team that will pay him a No. 1 salary and make him the go-to player.
The Celtics would be foolish to let Brown walk, but the decision might not be in their hands.
Against the San Antonio Spurs on Sunday, Brown showed exactly why he'd be a coveted free agent. With Tatum sitting out, Brown took charge. He scored 41 points and had 13 rebounds in Boston's 137-93 victory. He made 18 of 29 shots from the floor.
As he left the game and headed to the bench, Pierce stood up from his courtside seat and led an ovation for Brown. Brown acknowledged the crowd and then clapped along as Boston won its third straight.
After the game, Brown spoke about that special moment.
"Since I've been here in Boston, I've always taken pride in doing what I've been asked to do," Brown said, per Boston.com. "Whatever challenge there's been, I've always met that challenge with excitement and a willingness to be a part of a team. When you get an opportunity to be the guy that everybody is kind of leaning on, it's a privilege, it's an honor. So I don't take those moments for granted."