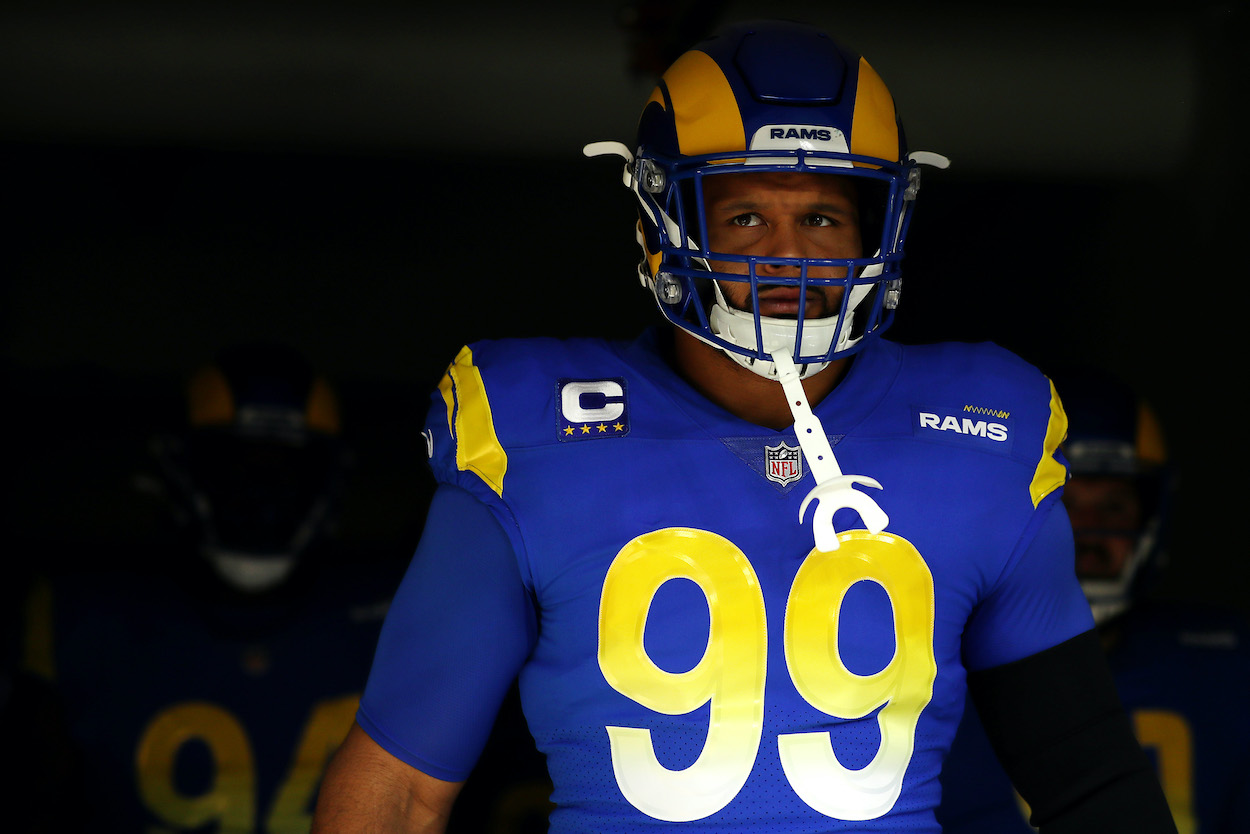 Legendary Browns OT Joe Thomas Remembers the Exact Moment He Realized Aaron Donald Was a 'Bad Motherf*****'
Joe Thomas is one of the best offensive linemen in the last two decades, but even he was impressed by Aaron Donald.
Aaron Donald is one of the scariest and most unstoppable defensive players to ever step foot on an NFL field. From training with knives in the offseason to beating double teams with ease, Donald has become one of those rare football players no one wants to mess with.
Joe Thomas, who made 10 Pro Bowls in 11 seasons as the starting left tackle on the Cleveland Browns, still remembers the time a rookie Donald blew him away with one simple move. It was at that point that Thomas knew Donald was a "bad motherf*****" and a defensive force for years to come.
Aaron Donald is an alien on the football field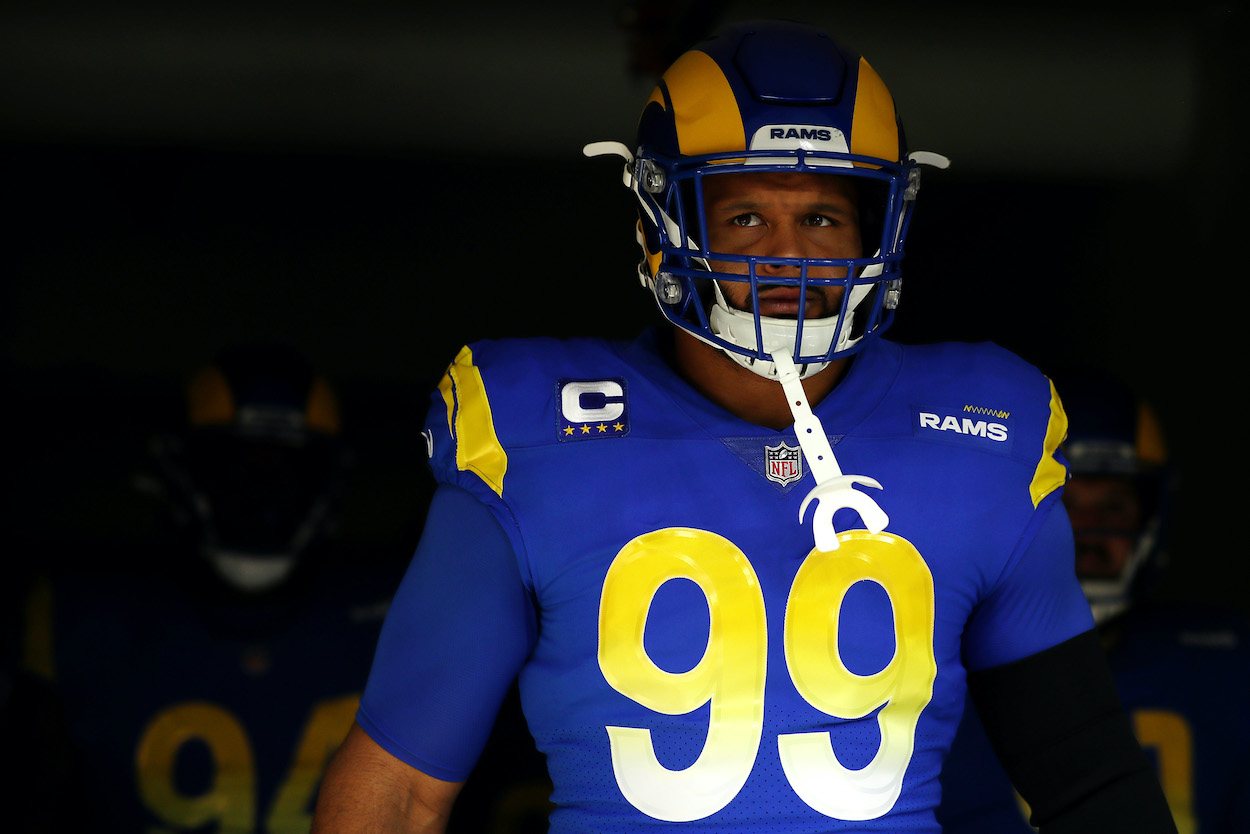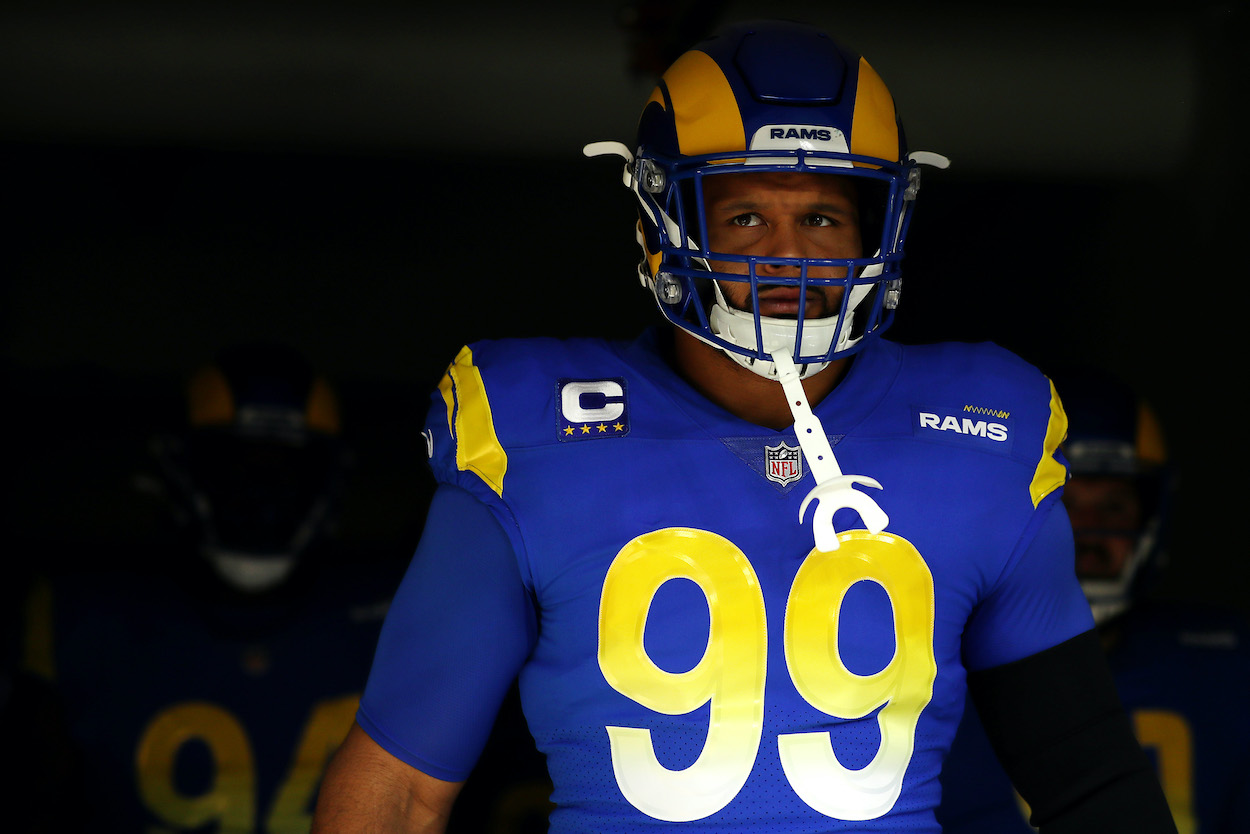 No defensive tackle in today's NFL impacts the game the way Donald does. The Los Angeles Rams superstar hasn't just been the most dominant interior defensive lineman in the NFL for years, but he's been arguably the most unstoppable defensive player in the league ever since he stepped on the field in 2014.
In eight years with the Rams, Donald has racked up eight Pro Bowl nods, seven All-Pro selections, and four Defensive Player of the Year awards.
In 2018, he even led the NFL with 20.5 sacks. As a defensive tackle!
Donald's dominance year after year cannot be understated, but Thomas' memory of his first matchup with the LA star will tell you everything you need to know.
Joe Thomas remembers the moment he knew Donald was a "bad motherf*****"
There aren't many left tackles who were better than Thomas over the last two decades. The longtime Brown made 10 Pro Bowls and six All-Pro teams in 11 seasons, and he never feared any man on the other side of the line.
That was until he met Donald.
Thomas first went up against Donald when the DT was a rookie in 2014, and he reminisced on that day in a recent interview on The Ryen Russillo Podcast.
"This dude's a rookie. He's 280 pounds! I'm not afraid of this guy. I'm not losing one bit of sleep going into this game," Thomas remembers thinking before the game. But he was quickly proven wrong.
The Browns were running power against the Rams that day, which involves a backside guard pulling and a fullback leading the way for the running back. On the other side, the center and tackle work together to double-team the defensive tackle.
"[I've] never have been beat on that in my entire life. It's impossible," Thomas explained. "You can't slip between me and the center, and the center was Alex Mack, who was also an All-Pro. And Aaron Donald literally, when the ball was snapped, he got in (Browns LG Joel Bitonio's) hip pocket, and it was like a Houdini move where both Alex and I crashed down to try to pin him, and he got underneath us and in between us and ran into the backfield and tackled the running back almost at the same time he was getting handled the ball."
"That was the moment where I was like, 'Oh my god, this guy is not human. He is built from another planet because he just beat an All-Pro center and an All-Pro left tackle on a double team on the most routine, easy block in the world.'

At that point, I knew this dude was gonna be a bad motherf*****."

Joe Thomas
Well, he was right about that.
How the Bengals can slow down Donald and the Rams in Super Bowl 56
No one's been able to contain Donald, Von Miller, and the rest of LA's beastly defensive line all season long. The Cincinnati Bengals have struggled all year to protect Joe Burrow, so the trenches could very well decide Super Bowl 56 next weekend.
Thomas gave an outline on how to slow down this vaunted unit.
"You've gotta run at those guys, right?" he said. "Von is incredibly slippery. He's an amazing pass-rusher. He's very good against the run because of his slipperiness, but if you make him try to hold the point and you're running at him, you're putting big bodies on him, he's not a big guy. So, he struggles a little bit holding up in those situations.
"I think for Cincinnati, the game plan is gonna be, they're gonna try to shift in motion. Depending on where Aaron Donald and Von Miller are gonna line up at the beginning, you can do a motion where you set the formation in one direction. You motion away so you can either get a tight end to those guys or a tight end away, depending on how you want them to line up, and then you can get some favorable double teams on Aaron Donald on the inside."
You taking notes, Zac Taylor?
Like Sportscasting on Facebook. Follow us on Twitter @sportscasting19.