Legendary Coach Bear Bryant Heard 'No' for 2 Decades Before He Was Able to Integrate Alabama Football
There was a time in college football when Black and white players couldn't play alongside each other. This was true for an even longer period of time in the American south. This may be unbelievable if you watch any SEC football game today — the majority of the players on both teams are typically Black. But for longer than many would care to admit, segregation was a fact of life. 
One of the most legendary coaches of all time, Bear Bryant, played a huge role in desegregating southern college football. He wasn't able to do it instantaneously, however. Bryant's battle was a tough one, but he persevered. 
Bear Bryant's career overview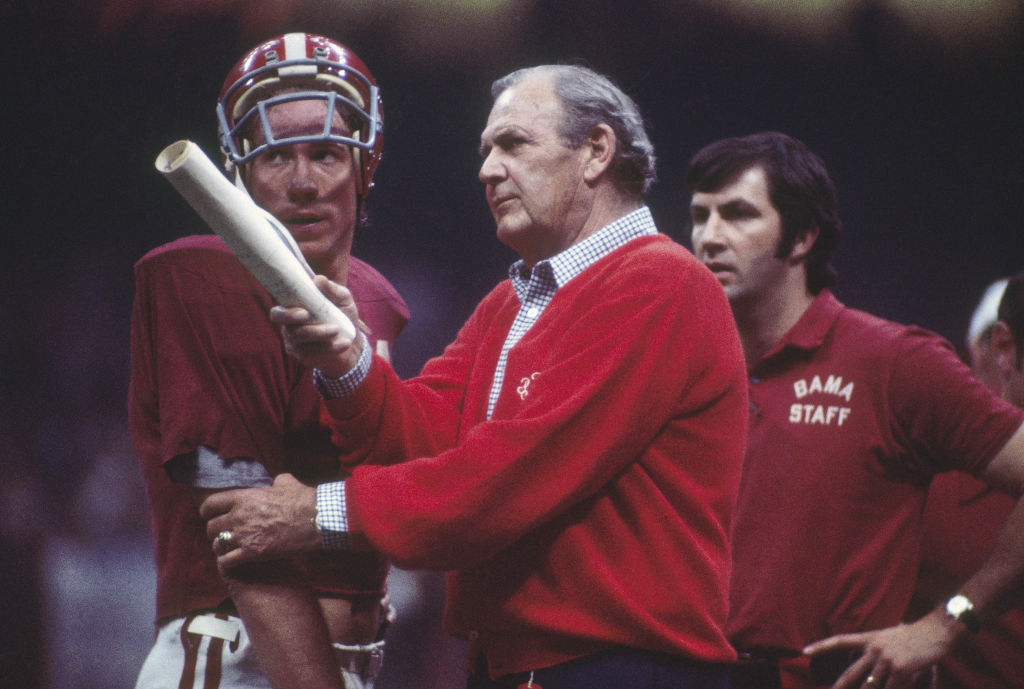 Bryant is famous for being one of the greatest coaches in college football history. According to Biography.com, he was born in 1913 in Arkansas. He played for the Crimson Tide in the '30s.
He'd later coach at Maryland, Kentucky, and Texas A&M. It was at Texas A&M that he took his team through a hellish training camp — those who made it out were referred to famously as "The Junction Boys." 
Bryant won six championships in 25 seasons at the helm of Alabama, leaving quite a mark on their storied history. If one needed any additional evidence that Bryant lived for football, consider that the man passed away only a month after coaching his last game. 
Bear Bryant's uphill battle to desegregate Alabama football
RELATED: Nick Saban Already Lost the SEC Without Alabama Taking the Field
According to The Atlantic, it had been Bryant's goal for years in the '60s to integrate the Alabama football team. The problem came in the form of the head of the state government.
Governor George Wallace was staunchly opposed to integration. Bryant's efforts to circumvent this evil, dastardly practice came in the form of scheduling a 1970 game against USC in Alabama. USC had several Black players and were able to trounce the Crimson Tide, showing the Tide and their faithful just how far behind they were in terms of desegregating.
Bryant wanted to prove a point, and he had. The late former USC quarterback Craig Fertig said that he thought he saw a bit of happiness in Bryant's face following the blowout loss.
The eventual success of integrating the Crimson Tide
RELATED: The Winningest College Football Coaches of All Time
Bear Bryant's push for integration did not begin in Alabama. He tried — to no avail — to do the same thing at Kentucky. He was met with resistance there as well. According to Bleacher Report, Bryant suggested to Black players that they play for schools in the northern part of the country.
Bryant was eventually able to integrate the Alabama team because of his stunning defeat at the hands of USC. By showing the administration and the state that they couldn't compete with a fully integrated team, he forced their hand. It's sad that it took football reasons for those in charge to allow for it to happen, but it's a good thing it happened either way.
Bryant shouldn't receive too much acclaim for simply doing the right thing. More appropriately, it helps to marvel at just how audaciously racist the powers that be were in not letting him integrate sooner.
Bryant's tireless efforts to include Black players on his roster helped the sport break down an important barrier. Who knows how much longer it would have stayed in place if not for a coach of Bryant's stature advocating for change?