Legendary Golfer Greg Norman Is the Fittest He's Ever Been at 65 Years Old
Between golf powerhouses like Jack Nicklaus and the emergence of Tiger Woods, Greg Norman was one of golf's superstars. Known for being one of golf's biggest moneymakers in the '80s and '90s, the "Great White Shark" reached a level few could dream of as a pro golfer. Now 65 years old, Norman has a second career as a fitness guru, and he claims to be in the best shape of his life. How did he achieve this?
Greg Norman's growth
Norman was born in Mt. Isa, Queensland, Australia in 1955. When he was a teen, he took an interest in golf while following his mother to the local club. That interest eventually became a full-blown passion. By 1976, he was a certified pro. He cited Nicklaus's book, Golf My Way, for helping him learn what it took to be a champion golfer, reports the World Golf Hall of Fame.
While it took nearly a decade for Norman to become the powerhouse he's known as now, once he got a taste of victory, it was hard to contain what happened next. He was golf's leading money winner three separate times and won countless accolades throughout his career. However, aside from these winnings he also had a reputation as a choke artist.
A catch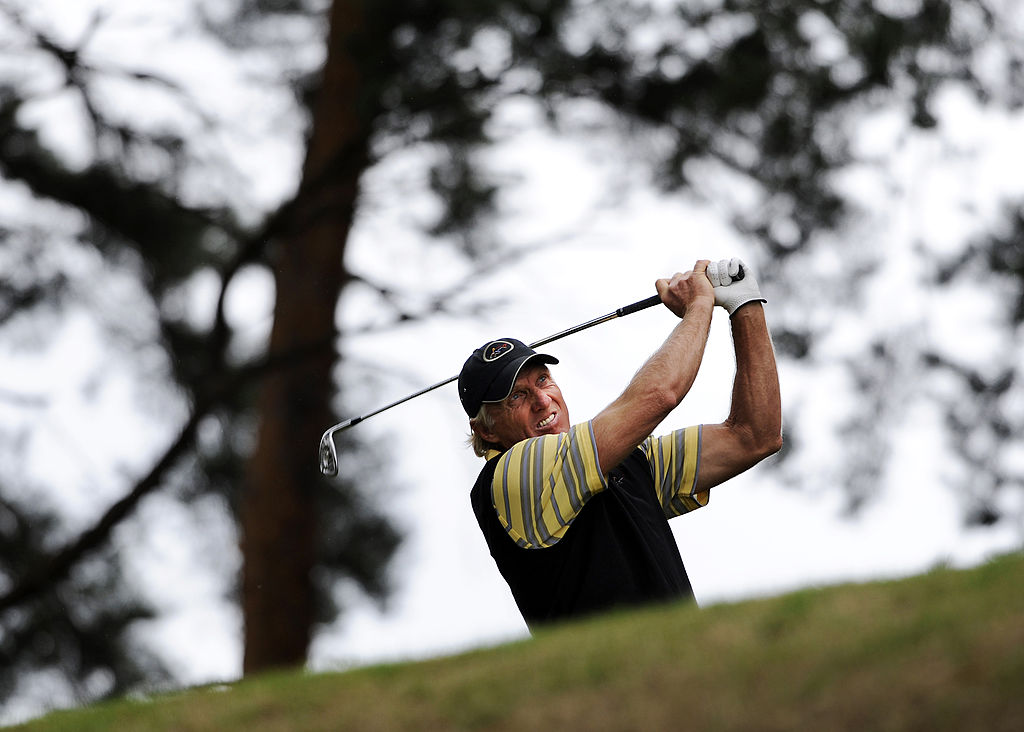 RELATED: Greg Norman's First Divorce Is Still 1 of the Biggest in Sports History
Despite his wins in several big events, Norman won just two major championships in his golf career. Compare this to his seven second-place finishes, and it makes people wonder why he wasn't able to win more. There was never any question that Norman was one of the best, but his inability to make it over the top more speaks to this, explains ESPN.
Despite this, Norman enjoyed a long career and came close to winning a third major in 2008 at the Open Championship. Despite so few majors, Norman boasted 91 career victories, 31 second-place finishes, and 11 third-place finishes. The 1995 PGA Player of the Year spent 331 weeks at No. 1. Now in retirement, Norman has other interests.
Greg Norman away from golf
RELATED: John Daly Lost a Staggering $1.65 Million in a Single Day of Gambling
Golf is not historically known for requiring peak physical fitness. While some golfers, like Tiger Woods, made physical fitness a part of their routines, others get by on talent alone. Now in retirement, Norman is taking his fitness more seriously than ever, and he feels great.
In a series of videos on his website, Norman details how he made this possible. He claims that one trick is knowing when to eat for fuel and when to eat for enjoyment. According to Norman, he found the proper balance. This helps guide his fitness journey, but his fitness habits don't end at the table, however.
Norman's fitness routine
"Sometimes if I'm fully energized," Norman explains on Shark.com, "I'll do a complete body workout, a full two hours."
This routine starts with 40 minutes on an elliptical, versa climber, or sprinting. Then, if he does some weight-lifting, he does three sets of 12-24 reps on the weights. Sometimes, he will do one workout of heavyweights and light reps only to do lighter weights with more reps the next day. The key, however, is to switch it up and keep a diverse workout plan. 
Still on the road, Norman tries to get anywhere from five to seven workout days a week. If he is away from home, he tries to go places with a gym where he can get at least do a couple of workouts. If he can't find the proper equipment, he'll use his briefcase or whatever else is available. This devotion helps Norman keep up his stamina. He explains this on his website. 
"I do a lot of golf course design work, where I walk a lot of virgin sites with sand dunes and mountainous terrain," Norman writes. "I've found that my stamina is pretty unbeatable, to tell you the truth. Sometimes I'll start out on one of these virgin sites and a lot of people will want to follow me, and I'll look back after a couple of hours and there are maybe two or three people left."
Now away from golf and 65 years old, Norman might be busier than ever. Between business trips and appearances across the world, he has to stay sharp to keep up. His dedication can help anyone who struggles to make time. He consistently updates his site for those who are interested in following his footsteps.