Legendary QB Warren Moon Is Skeptical of Colin Kaepernick's Comeback Chances
Although Pro Football Hall of Fame quarterback Warren Moon wants to see Colin Kaepernick in the league again, the Houston Oilers legend remains skeptical it will happen.
Article Highlights:
Pro Football Hall of Fame quarterback Warren Moon doesn't believe an NFL team will sign Kaepernick
Moon told TMZ Sports he thinks the owners already made up their minds on the former San Francisco 49ers star, who last suited up in January 2017
Although Kaepernick has remained steadfast in his desire to play again, the reality is the odds have been stacked against him for years
The 2022 NFL offseason has lacked no shortage of excitement in the quarterback carousel. Seattle Seahawks legend Russell Wilson is now on the Denver Broncos, the Cleveland Browns traded the farm (and potentially their souls) for Houston Texans star Deshaun Watson, and Tom Brady ended his 40-day retirement to rejoin the Tampa Bay Buccaneers.
The absence of Colin Kaepernick's name, at least for a segment of football fans, likely still stings.
Despite not suiting up for a team since Jan. 1, 2017, Kaepernick and his fanbase have remained hopeful that one of the league's 32 teams will finally give him another opportunity. Although Pro Football Hall of Fame quarterback Warren Moon is among that group, the Houston Oilers legend recently revealed a reality that Kaepernick, who will turn 35 in November, must eventually accept.
Warren Moon doesn't believe an NFL team will sign Colin Kaepernick
To be clear, Moon doesn't think Kaepernick can't make a comeback. When he spoke with TMZ Sports on Friday, March 18, he even suggested the Seahawks bring him in after trading Wilson to Denver.
The problem, Moon explained, is the owners. Despite mounting pressure from select media members over the last five years, no owner has caved and signed Kaepernick even as a camp arm. 
"Those owners, they have a very close-knit unit, and once they make their minds up that they don't want to do something, it doesn't happen," Moon said.
That reality, Moon explained, is why he remains skeptical of Kaepernick's comeback chances. Even if the veteran quarterback still has the skills to succeed in the NFL, there is no reason to believe an owner or an organization will give him an opportunity.
"I just don't think the NFL wants that subject back into the league," Moon said, likely referring to Kaepernick's history of activism and social justice.
The odds have been stacked against Kaepernick for years, and there's no reason to believe things will change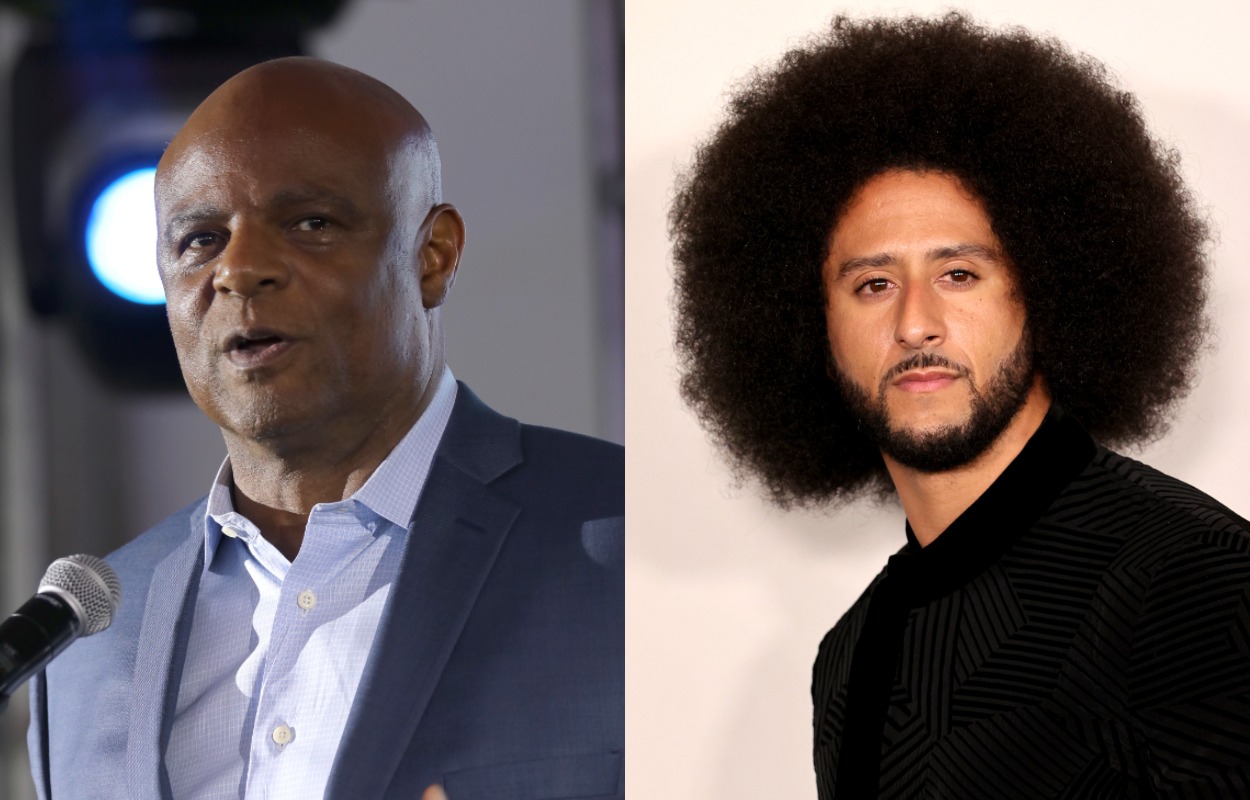 Dating back to the spring of 2017 when Kaepernick opted out of his contract with the San Francisco 49ers, fans have taken to social media and demanded a team sign Kaepernick. Media members have openly wondered why lesser quarterbacks or inexperienced young signal-callers play on Sundays when the 2012 NFC champion remains unsigned.
The truth is exactly what Moon said: the owners.
Kaepernick could have gone to Canada, the Alliance of American Football, or the Fan Controlled Football League and dominated in any of those venues. It wouldn't have mattered. Even if he signs with the new-look USFL this week and is clearly the league's best quarterback when games start in April, it will have no impact on his NFL future.
The league's owners decided years ago that Kaepernick was too dangerous to touch. Movements and political parties weaponized his decision to kneel for the national anthem during the 2016 season. He effectively ended any chances he had of ever playing for the Miami Dolphins when he praised Cuban dictator Fidel Castro. This is the same quarterback who wore socks depicting police officers as pigs.
If a team planned on signing Kaepernick, it would have done so already. The fact no organization added Kaepernick in the summer of 2020, even after NFL Commissioner Roger Goodell publicly apologized to the veteran quarterback, should have provided the reality that the vast majority of football fans have accepted: Kaepernick will never suit up in the NFL again because the owners aren't willing to approve such a signing.
Yet, a segment of football fans and media members refuse to give up hope. If Colin Kaepernick was Colin Smith and hadn't played professional football in over five years, a team might be mocked for signing him to play quarterback. Why, then, is a portion of the football world so reluctant to let go of the idea that Kaepernick's NFL days are almost certainly behind him?
Kaepernick, to his credit, has continued making it clear he feels he's ready to play
To his credit, Kaepernick hasn't given up on his dream to play in the NFL again. He's recently worked out with several players, including Seahawks star receiver Tyler Lockett, and showcased the highlights on social media and YouTube.
But how far will those videos truly take him? Ourlads previously listed 97 quarterbacks who were on 53-man rosters in Week 18 of the 2021 campaign. Those 97 signal-callers didn't include players on injured reserve such as the Cleveland Browns' Baker Mayfield and the New York Giants' Daniel Jones.
Kaepernick was not among those 97 quarterbacks.
If a team were willing to sign Kaepernick in 2017, it would have done so regardless of the potential outrage. The same goes for 2018, 2019, 2020, and 2021. Why would anything change in 2022 or 2023?
Moon outlined the truth that Kaepernick's most devoted supporters need to accept, preferably sooner rather than later. Even if he can play and even if he deserves the opportunity, no organization will sign him. Ever.
Like Sportscasting on Facebook. Follow us on Twitter @sportscasting19.