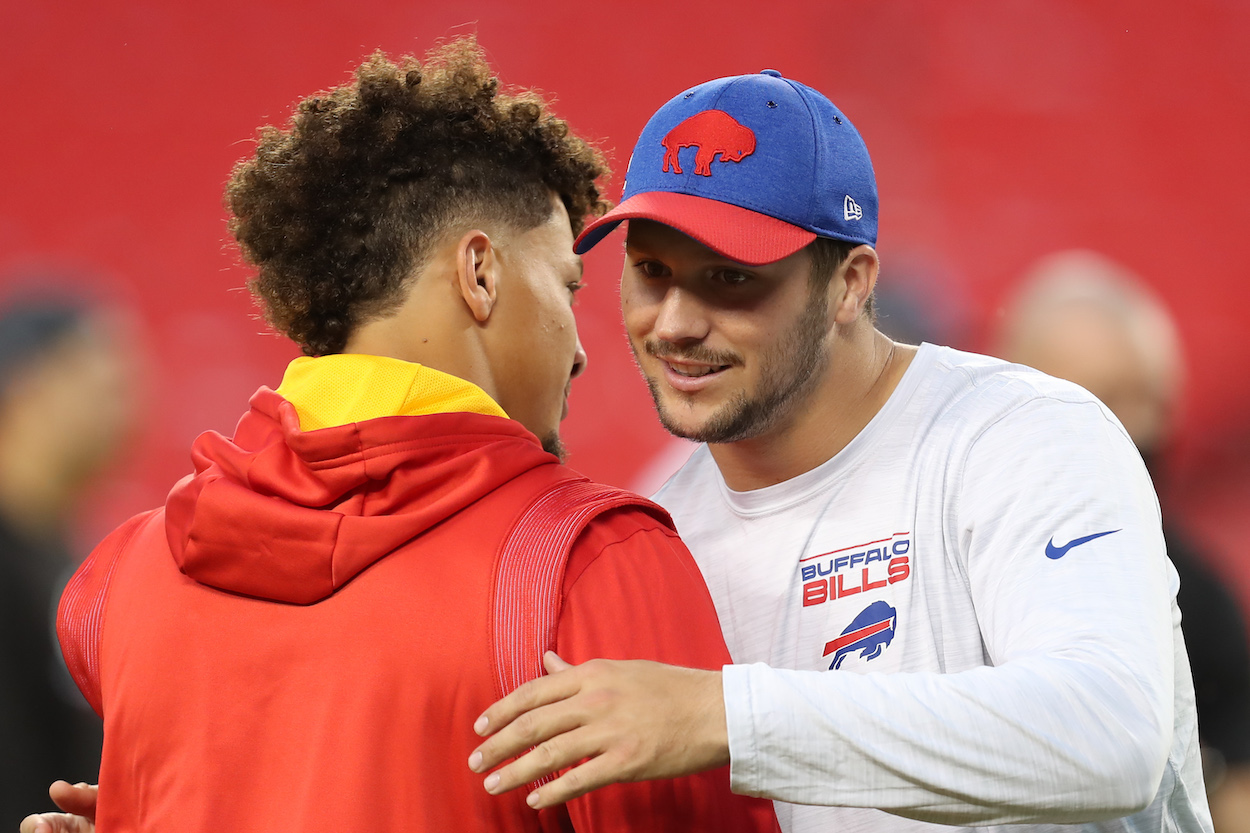 Legendary WR Randy Moss Just Compared Patrick Mahomes and Josh Allen to 2 Future Hall of Famers
Hall of Fame wide receiver Randy Moss compared the Patrick Mahomes versus Josh Allen rivalry to Tom Brady and Peyton Manning.
With kickoff set to begin at 6:30 ET, the Divisional Round matchup between Patrick Mahomes and Josh Allen is one of the more anticipated NFL games to take place this weekend. Mahomes and Allen are two of the best quarterbacks in the NFL, and the Kansas City Chiefs and Buffalo Bills have two of the best rosters in the NFL.
Many expect the winner of Chiefs-Bill to go on and win the AFC Championship Game. Joe Burrow and the Cincinnati Bengals are by no means pushovers. However, the Chiefs and Bills — on paper — are on a different level.
Patrick Mahomes vs Josh Allen is becoming a hot rivalry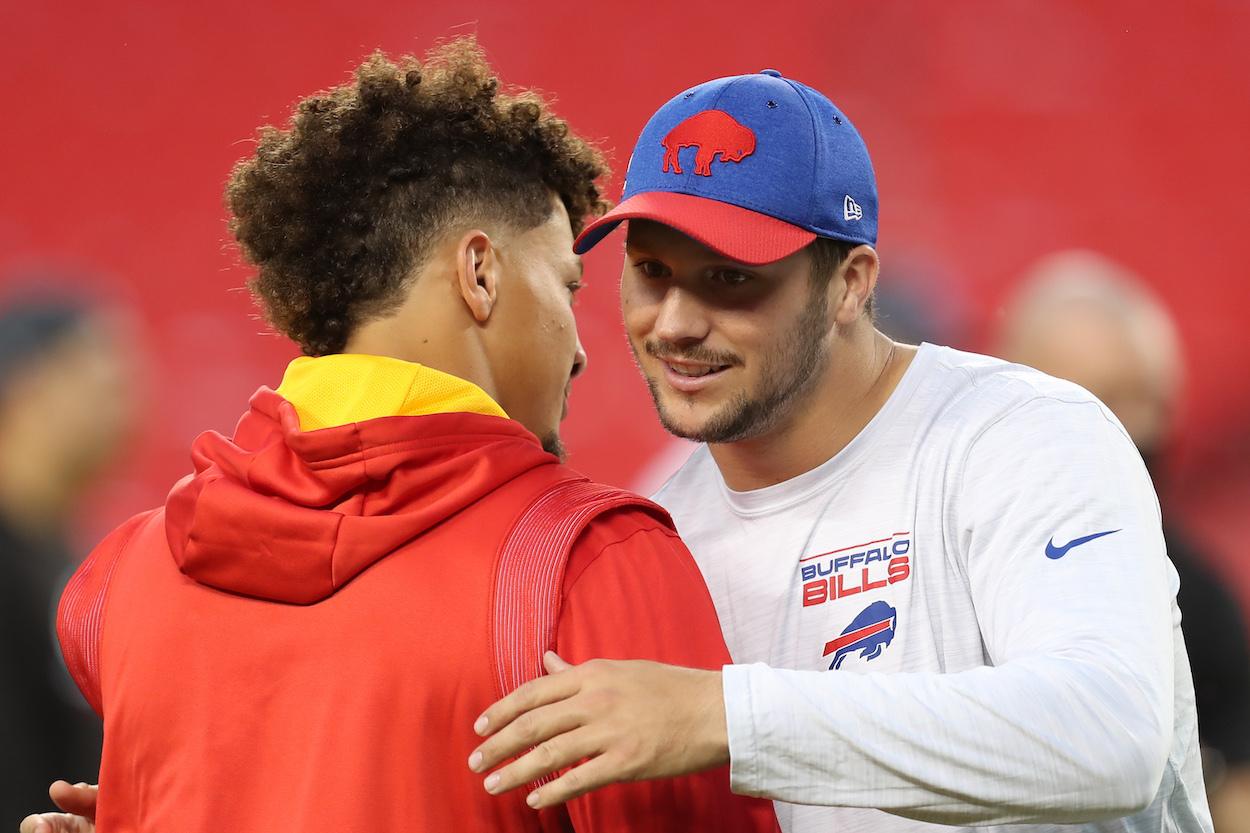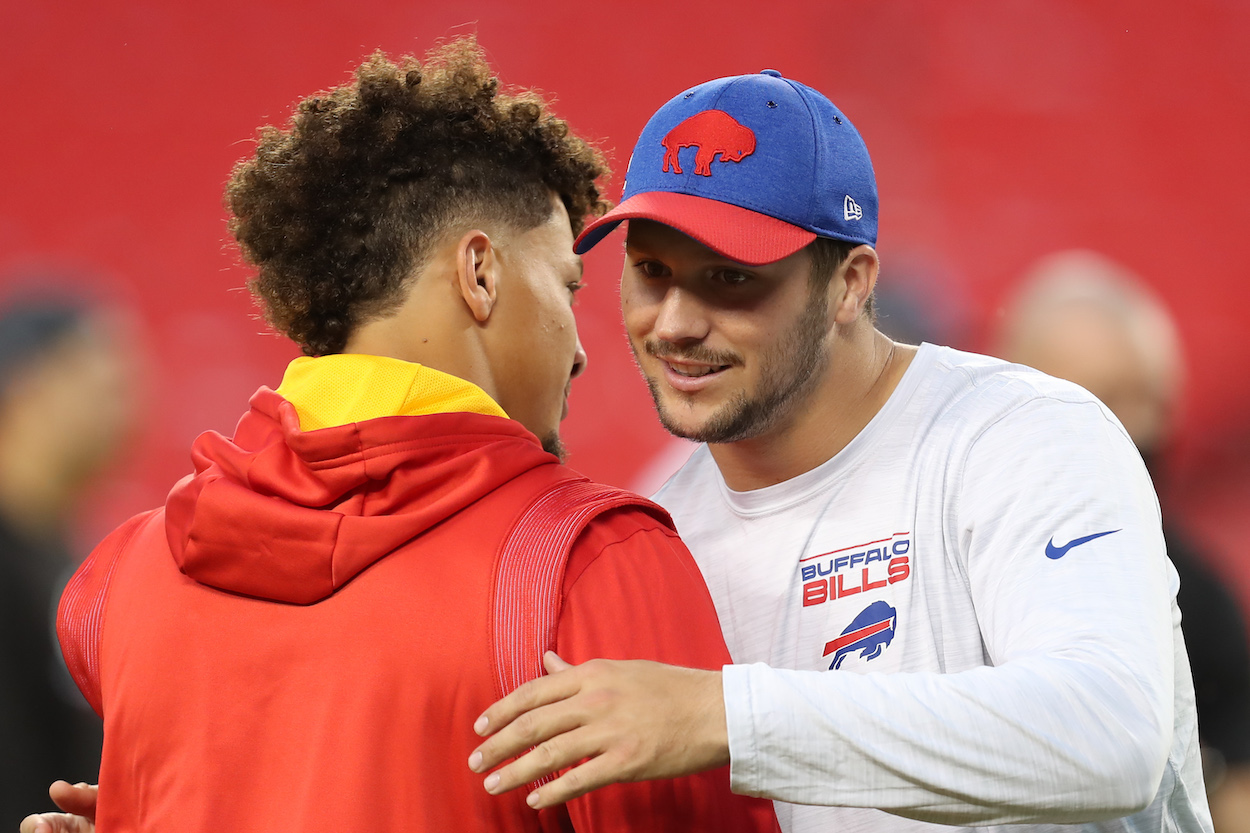 Since the two quarterbacks took over their respective franchises in 2018, the similarities between Mahomes and Allen have been impossible to ignore. They both have rocket arms with above-average mobility — the perfect build of a modern-day QB.
Front offices all around the NFL are constantly trying to find the "next" Mahomes or Allen. It's a true testament to the elite abilities each player posses.
Thus far, Mahomes is the clear leader in this newfound rivalry. He's reached two Super Bowls and won one in 2019. Allen has yet to advance past the Championship Round.
Last year's AFC Championship Game, in particular, was a defining moment for Mahomes. He racked up 325 passing yards and three passing TDs while leading the Chiefs to a 38-24 victory over the Bills. Allen only passed for 287 yards while also throwing a costly interception.
Legendary WR Randy Moss thinks Mahomes-Allen is the next Brady-Manning
As Mahomes and Allen continue to meet each other in the postseason, more and more people are starting to point out the similarities this rivalry has with an iconic AFC QB battle in the past — Tom Brady versus Peyton Manning.
When speaking about the topic on ESPN's NFL Countdown, Hall of Fame wide receiver (and former teammate of Brady) said he believes the Mahomes-Allen rivalry is well on its way to being compared to Brady-Manning.
"When you sit up here talking about the hype [surrounding] a game," Moss said. "Could this be, really, and I don't mean this as a joke, the next Brady-Manning for over the next 10 years? Could this be that type of matchup?"
It's worth noting that none of Moss' counterparts at ESPN disagreed with him during the show. Everyone seemed to agree that Mahomes and Allen are on that type of trajectory.
Who ends up as Brady in this scenario?
Manning got his licks against Brady on several occasions. However, the reality of the situation is that it was always a more one-sided rivalry. Brady secured six Super Bowl rings while playing in the AFC. Manning only snagged two.
Up to this point, Mahomes appears to be on the more Brady-like pathway while Allen is lagging behind. A win this weekend in Kansas City would go a long way toward making it a more comparable rivalry.
Either way, this certainly has the makings of an all-time great rivalry, assuming both players stay in the AFC for the next decade.
The only person capable of messing up this dynamic is Joe Burrow, as he is attempting to stake his own claim as the best young QB in the AFC.
All stats courtesy of Pro Football Reference.