Leighton Vander Esch Verbally Attacking Refs Could Come Back to Bite the Cowboys
The Dallas Cowboys had a chance to emphatically stake their claim as a top contender in the NFC this past weekend. They had an opportunity to improve their win total to 12 games, and they were taking on an Arizona Cardinals team that had been slumping for the past few weeks.
If there was ever a time for Dallas to win a big game and announce its presence right before the postseason kicks off, it was now.
The Cardinals beat the Cowboys 25-22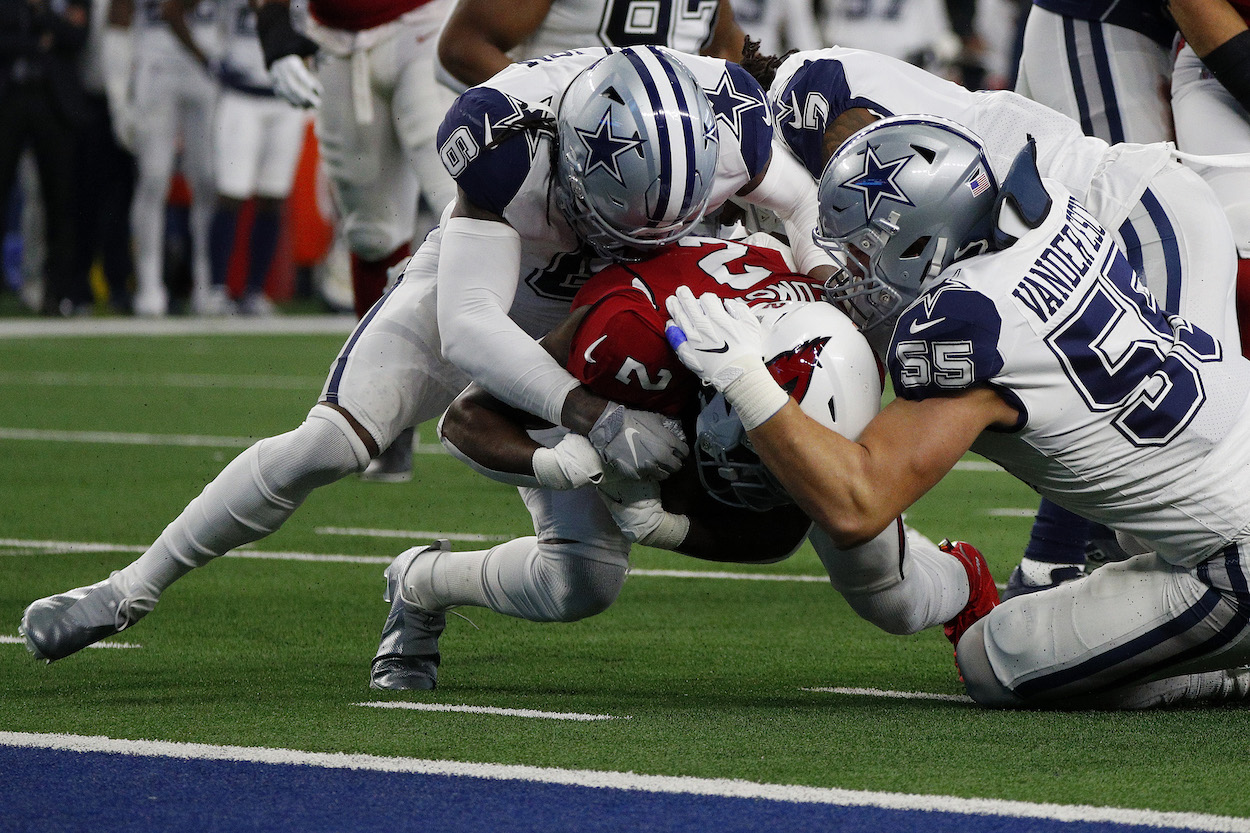 Unfortunately for Dallas, it could not secure that elusive 12th win in Week 18. It fell victim to Kliff Kingsbury and the Cardinals 25-22, allowing Arizona to gain some much-needed momentum late in the year.
The Cowboys played a complete game, for what it's worth. Dak Prescott passed for three touchdowns and 200-plus yards, and the Dallas defense held starting Cardinals running back Chase Edmonds to just 2.9 yards per carry. On paper, this is a game Dallas probably should have won.
However, Kyler Murray exploded back onto the scene with a big-time performance in a big-time spot. He racked up 300-plus yards of total offense and passed for two touchdowns. Ultimately speaking, his strong performance was enough to secure the road win for the Cardinals.
LB Leighton Vander Esch blames the refs for the loss
After the loss, it didn't take long for Cowboys players to start complaining about how the game was officiated. Starting linebacker Leighton Vander Esch was particularly upset.
"It was totally a fumble," Vander Esch said. "I just don't understand how with the technology that we have today, even if we don't have timeouts, or whatever it may be, to . . . [not be able to] challenge it. It's so obvious. Certain things are so obvious in games that refs are messing up. Why aren't they fixing it? It doesn't make any sense to me. To me, we're playing more against the refs than we are other teams."
"If you look around the league, this isn't just the first time it's happened. There's other guys around the league that have been dictated from. I don't know if it's incompetence or what it is. Doesn't make sense to me, and it feels like it's not hard to fix that."
Vander Esch was referring to a late-game fumble that never got called because the Cowboys were out of timeouts (and unable to challenge the ruling on the field). Had the fumble been called correctly on the field, the Cowboys would have had a chance to win at the last second.
Cowboys WR CeeDee Lamb also chimed in after the frustrating loss, claiming that the refs "dictated" the game.
The Cowboys need to focus on the playoffs
Blown calls are always frustrating, especially this late in the season. However, the Cowboys (Vander Esch in particular) need to focus on the matter at hand, which is making a deep run in the playoffs.
Making an enemy of the officials less than two weeks before the playoffs kick off is a pretty terrible idea in the grand scheme of things.
Referees are human, and they could easily note this public outburst by Vander Esch and the Cowboys. Who's to say it won't come back to bite them in the postseason?
All stats courtesy of Pro Football Reference.