Leonard Fournette Was Forced to Live on a Bridge During Hurricane Katrina: 'We Saw a Lot of Dead Bodies'
Hurricanes have the ability to destroy not just property but also the lives of residents. Back in 2005, this happened to the Bayou region of the U.S. Hurricane Katrina decimated New Orleans. One of the people affected by this later became a star NFL running back: Leonard Fournette. At the time of the storm, Fournette was not yet an adult.
The story of what the Fournettes dealt with is truly harrowing. Let's look at what happened and how Fournette survived the ordeal to become a possible Super Bowl winner.
The Fournette family's struggle post-Hurricane Katrina
Fournette and his entire family grew up in the Louisiana area and were greatly impacted by Hurricane Katrina. According to ESPN, the family included not just Fournette's immediate family, but also his extended family members as well.
The group became stuck on the New Orleans' Claiborne Avenue Bridge for four days and five nights with nowhere else to go. It was not uncommon — countless people and families were left without homes as a result of the disaster. The Fournettes were forced to do whatever they could to find food and water, moving through water up to their waistlines.
As Fournette recalled it, the family had to keep close to survive due to the harsh cold. "We had covers and we had certain things we took with us," he told ESPN. "We were wet, the wind was blowing, it was cold, so everybody kind of bundled up together."
The horrors Leonard Fournette family witnessed
RELATED: What Happened to 'Bucco Bruce,' the Tampa Bay Buccaneers Original Logo?
Fournette's brother Lanard was also there. According to ESPN, he said that the family saw its share of devastation and human death during the horrific ordeal:
"There weren't people killing each other, but I did see a dead body in the water, right under where we were sleeping. It was a dead body laying there for days. I'd never seen a dead body at that age. It was right there. That messed my head up."
Fournette said that the family relocated to Baton Rouge and then Texas, but later returned to see their house totally destroyed. "We stayed there for about five months, then went back to our house in New Orleans," Fournette described. "It was demolished. It was standing a little bit, but we had to start all over. Same house, but we had to start over."
Fournette's path to NFL success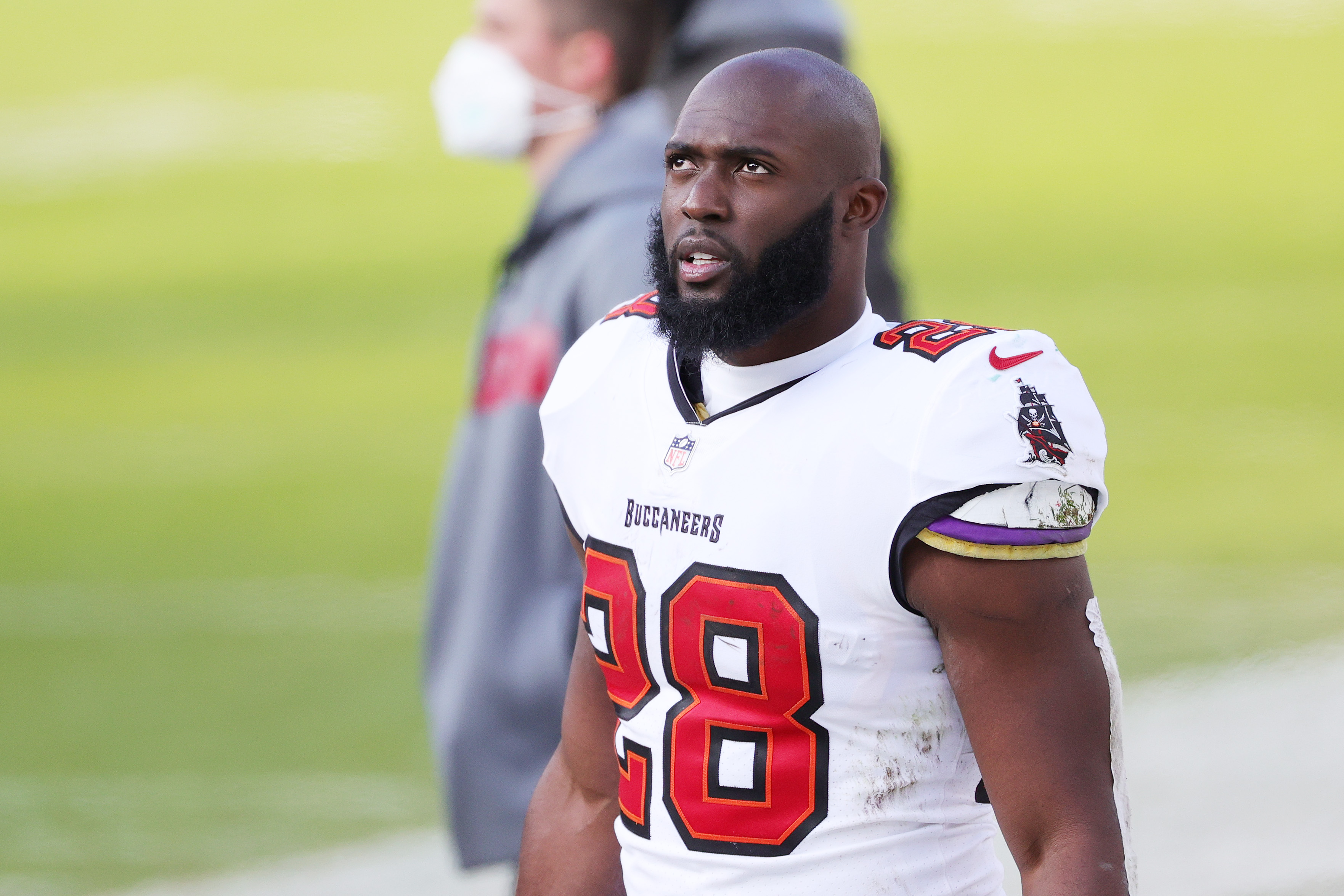 RELATED: Leonard Fournette's Shocking Departure From Jaguars Could Change the NFL
Fournette was able to persevere through his early life hardship to become a success on the football field. He starred as a running back for LSU before the Jacksonville Jaguars selected him in the 2017 NFL draft. Fournette was one of the top players in college football during his run with the Tigers. Unfortunately, his NFL career got off to a less than stellar start. He was never quite able to get on track in Jacksonville, feuding with former team executive Tom Coughlin.
After the Jags cut Fournette, he found himself a free agent. He signed with the Tampa Bay Buccaneers. This year, he's excelled with the team, becoming a viable offensive weapon in their running attack. Along with quarterback Tom Brady, he's helped lead the team to a Super Bowl LV appearance. The jury is still out on whether they'll win the game, but to come this far is an achievement in and of itself.
No matter how things play out this year, Fournette has had an incredible ride. He's gone from living under a bridge during one of the worst natural disasters in U.S. history to potentially becoming a Super Bowl champion. That's the type of story that would make a great movie.